India Hands Over Indigenous Motorbikes To Lebanon As Part Of Bilateral Aid
4 October, 2022 | Pranay Lad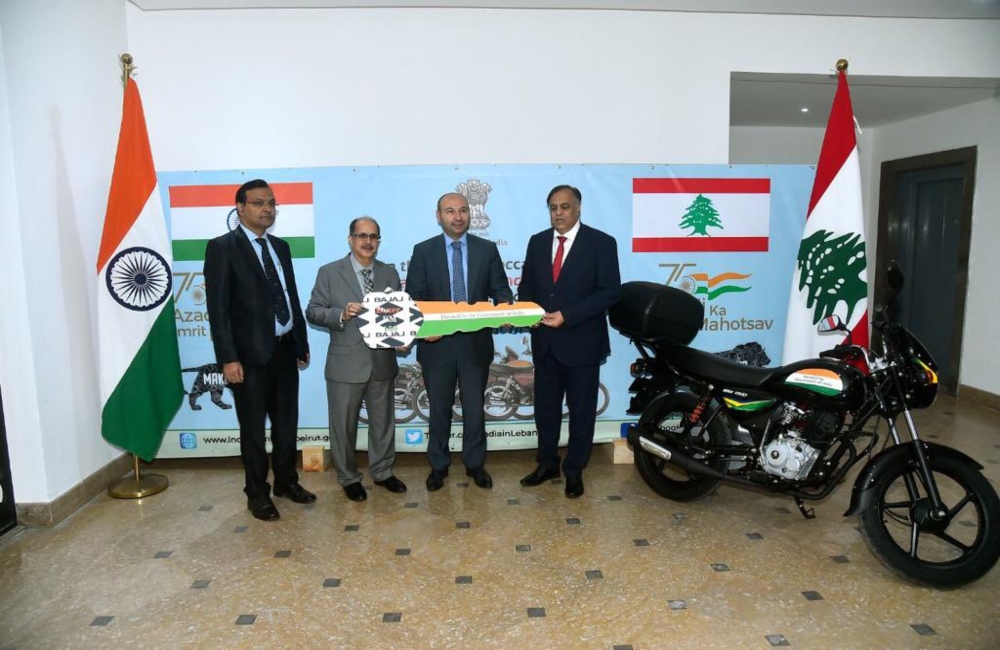 According to the Ministry of External Affairs (MEA), India gave Made in India motorcycles to the Lebanese government as part of bilateral assistance on Monday.
Arindam Bagchi, a spokesman for the External Affairs Ministry, tweeted, "As part of India's bilateral assistance, Secretary also handed over Made-in-India motorcycles for the Ministry of Foreign Affairs & Emigrants of Lebanon and Beirut Governorate." Dr. Ausaf Sayeed, Secretary (CPV & OIA), received these Made in India motorcycles during his visit to Lebanon on October 3–4. In a news statement, MEA stated that "he visited Syria on October 2, 2022, before to his formal visit."
He spoke with Dr. Abdallah Bou Habib, Lebanon's Minister of Foreign Affairs and Emigrants, about a variety of bilateral, regional, and global matters of shared interest.
"Hani Chemaitelly, Secretary General of the Ministry of Foreign Affairs and Emigrant was another person he met with. During the conference, the parties recognised a number of crucial areas for bilateral cooperation, including commerce, interpersonal relations, vocational training, etc. The Governor of Beirut City will also be met by the Secretary (CPV & OIA) "announced the government.
India provides bilateral aid as part of Additionally, the Secretary (CPV & OIA) presented motorcycles made in India to the Ministry of Foreign Affairs and Emigrants as well as the Governorate of Beirut. A camp for the fitting of prosthetic limbs (Jaipur Foot) has also been organised shortly in Lebanon, according to the secretary of CPV and OIA.
George Bouchekian, the minister of industry, attended a high-level business seminar at which Secretary (CPV & OIA) also took part. Food and agrobusiness, medicines, gems and jewellery, electronics, solar batteries, compact automobiles, etc. were among the opportunities for improving trade that was noted.
The Indian Battalion's contribution to the United Nations Interim Force in Lebanon was valued by the Lebanese side as well (UNIFIL).

The Secretary's (CPV & OIA) trip to Lebanon has revived bilateral ties and paved the path for even closer ties in the future.
Read more: T'gana CM KCR likely to announce national party on Dussehra