India is third best market after US and France, says Saint-Gobain CEO
12 April, 2023 | Vaishali Sharma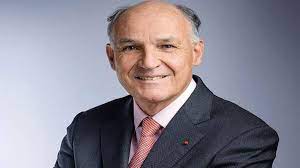 The CEO of India also oversees all of Asia for us, as does Saint Gobain's group CFO.
While in France to chair the India-France Business Summit, Saint Gobain CEO Benoit Bazin met with Commerce Minister Piyush Goyal. Saint Gobain CEO Benoit Bazin told ANI that the meeting with Commerce Minister Piyush Goyal covered the future of India, how to accelerate economic growth and Saint Gobain's presence in India.
Over the last 25 years, India has grown at a double-digit rate, and it is now the third-largest profit contributor to Saint Gobain Worldwide. After the United States and France, India is now ranked third. Asia is overseen by our India manager. The CEO of India also oversees all of Asia for us, as does Saint Gobain's group CFO. Our Group CFO is from India, after 350 years. This demonstrates the essence and significance of India to Saint Gobain's future.
"We discussed the plan to multiply by three times in the next ten years. second, we are advocating for green buildings in India, light and sustainable construction, for good summer comfort, and acoustic, and air quality," he said while speaking to ANI.
Some of the main topics discussed between Saint Gobain CEO and Commerce Minister Piyush Goyal included decarbonizing and reducing carbon dioxide (CO2) emissions, as well as assisting India to achieve carbon neutrality within the next decade. When asked about their plans for green energy in India, Benoit Bazin stated that by 2024, Indians will have 60% renewable electricity and 100% by 2027. He went on to say that Saint Gobain promotes a circular economy and recycled products while also decarbonizing their processes.
India is a fantastic country. It's a republic. There is a sizable demographic. In terms of growth, India's future looks promising. Saint Gobain's success over the last 25 years demonstrates that you can be profitable while also growing. You have a tremendous talent pool in R&D, manufacturing, and digital. It's a fantastic place to do business with fantastic people. For me, the main asset is India's fantastic teams and demographics for the next decade.