Operation Kaveri: India rescues 279 more citizens, Minister of State welcomes 6th batch
27 April, 2023 | Anupam Shrivastav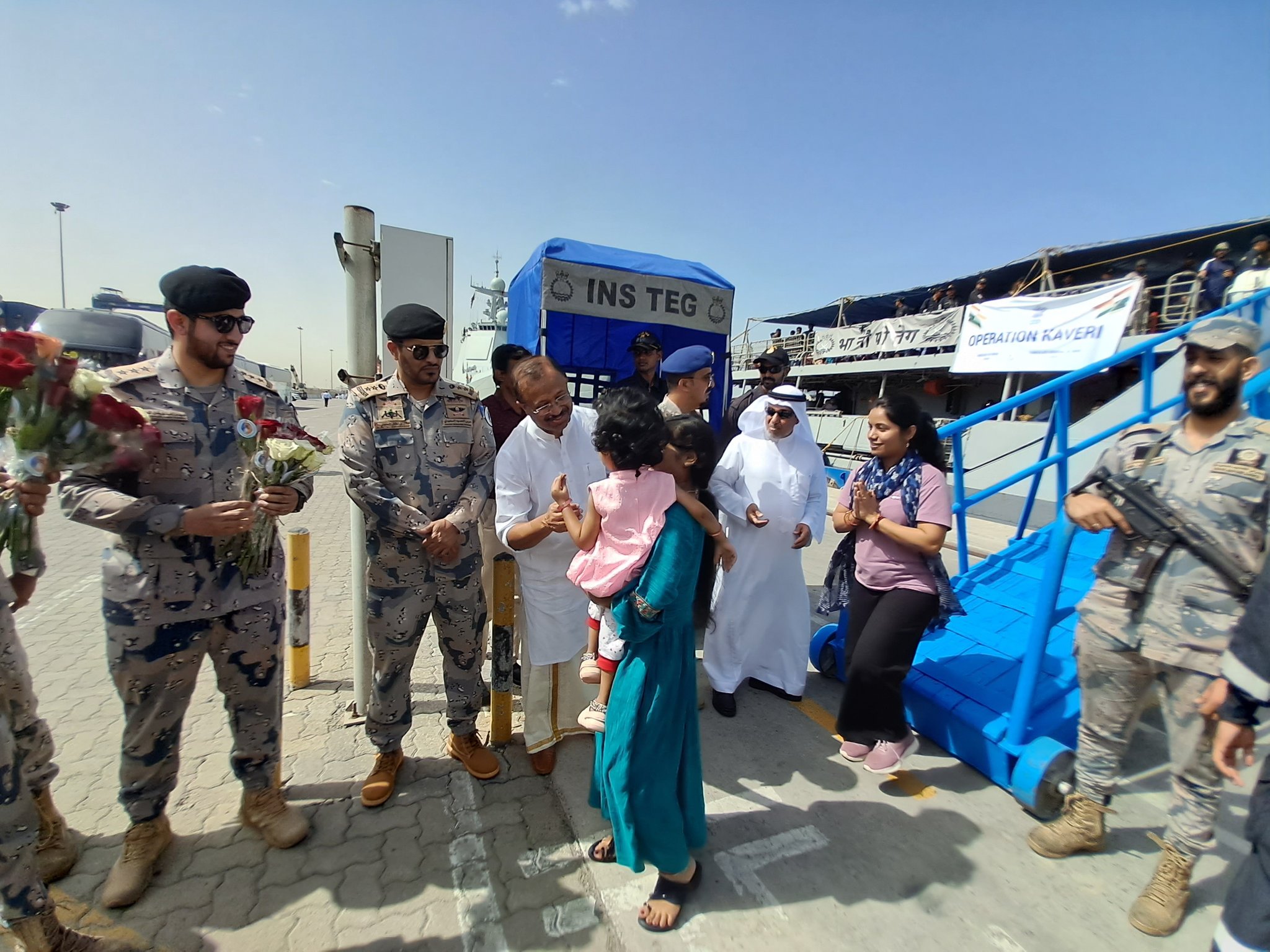 Minister of State V Muraleedharan received another batch of Indians at Jeddah harbor on Thursday.
Operation Kaveri continues successfully as India rescues another 297 citizens from war-torn Sudan with the help of INS Teg in port city of Jeddah. The batch has been welcomed by Minister of State External Affairs V Muraleedharan upon arrival. Minister of State along with other Indian Navy personnel met the rescued Indians and enquired about their well-being.
In a tweet minister said "Operation Kaveri continues in swift pace. Happy to receive 297 Indians at Jeddah carried by INS Teg. With this second ship and total six batches, around 1,100 Indians rescued from Sudan have arrived in Jeddah. Repatriation to India of those arriving today will commence shortly."
No matter where Indian get stuck, India rescues its citizens: MoS
Minister Muraleedharan interacted with Indian citizens while receiving them at Jeddah harbor. He also promised Indian government's commitment and assured them of every type of assistance from their side.
"Prime Minister Narendra Modi has especially sent me here to welcome you all. For the last three days, I am here and it is good to see you coming back from Sudan."
"I am here to convey PM Modi's greetings to you all. He has said that wherever in the world, Indians are troubled, it is the responsibility of the Government of India to save them," Minister said.
Addressing the rescued Indians, Muraleedharan said "You have undergone a lot of difficulties coming back from a strife-torn area but now the Indian Navy has taken care of you,"
India rescues its citizens thanks to Indian Navy, PM Modi: Evacuee
Vipin Harilal Mehta, one of the evacuees of Operation Kaveri, "We were stranded in the place where conflict had broken out. We reached Port Sudan by bus and as we reached there we came to know that under the leadership of PM Modi, Operation Kaveri is being carried out to save us."
Mehta also thanked the Indian Navy for their prompt operation, "The real heroes, Indian defence personnel saved us and we did not face any problems. We have now reached Jeddah, from where we will go to our home. We are grateful towards our Prime Minister."
The auditorium, where the evacuated Indians awaited further assistance, reverberated with applause for the Indian Navy.
As ceasefires are declared in Sudan, the Government of India is carrying out Operation Kaveri to rescue Indians who have become stuck in the conflict-torn Northeast African country. So far, over 1,100 Indians have been rescued.