Indian Coast Guard Successfully Conducts Bold Mission to Rescue Chinese Citizen
17 August, 2023 | Akshara Tyagi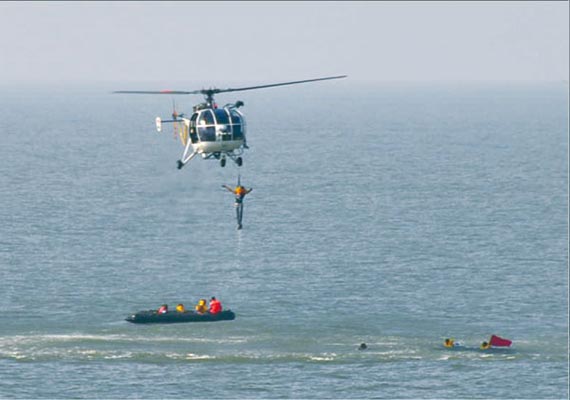 Indian Coast Guard rescues Chinese man from Panamanian research vessel.
Amidst adverse weather and the cover of night, the Indian Coast Guard bravely executed a mission to rescue a Chinese individual from the research vessel MV Dong Fang Kan Tan No 2, flying the Panamanian flag. The vessel was on its way from China to the UAE when a passenger complained of chest discomfort and exhibited signs of a heart-related emergency on Wednesday.
"In a daring operation, @IndiaCoastGuard #ALH MK-III evacuates a #Chinese national from MV Dong Fang Kan Tan No 2 around 200 Km mid-sea amidst challenging night conditions & extreme weather. Patient was reported chest pain &cardiac arrest symptoms," Indian Coast Guard said on Twitter
On Wednesday, the Indian Maritime Rescue Coordination Centre in Mumbai received a distress call about a crew member on the vessel experiencing a cardiac arrest and high blood pressure, necessitating immediate medical intervention.
Prompt communication was established with the vessel, offering vital telemedicine guidance. After assessing options for swift evacuation and ongoing medical care, the decision was made to airlift the patient. The CG ALH MK-III helicopter successfully carried out the evacuation operation, ensuring the patient's safety during the transfer.
Upon evacuation, the patient received initial first-aid treatment and was subsequently handed over to a designated agent for further medical attention. The remarkable teamwork demonstrated by CG ALH and CGAS Daman, even in challenging nighttime conditions, exemplified the Indian Coast Guard's dedication to their motto "We Protect." This successful mission not only saved the life of a foreign national at sea but also reaffirmed the Coast Guard's unwavering commitment to their mission.
Also Read: President Joe Biden and the First Lady to Visit Wildfire-Affected Hawaii to Assess the Progress of Recovery Efforts
Catch all the Latest Business News, Breaking News Events and Latest News Updates on NewsX)