Vietnam seeks to attract more Indian tourists
22 August, 2022 | Pranay Lad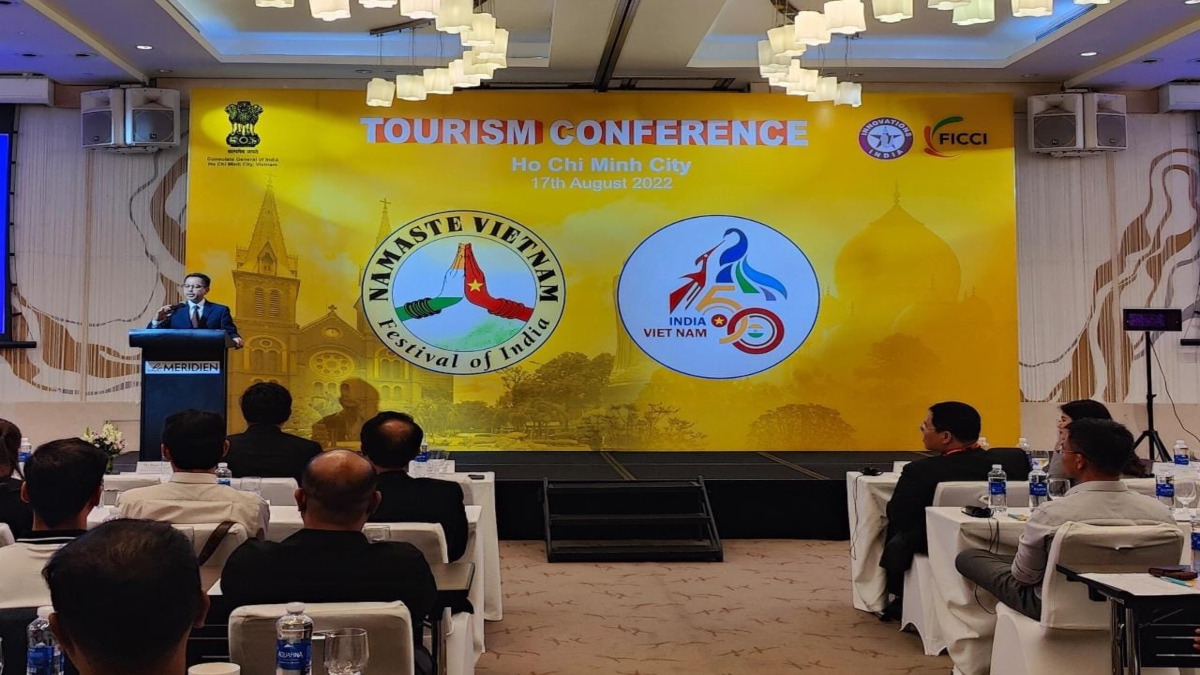 Indian tourists : Government officials and business executives from both countries gathered last week at the India-Vietnam Tourism Promotion Conference, which was held on August 17 in Ho Chi Minh C...
Indian tourists : Government officials and business executives from both countries gathered last week at the India-Vietnam Tourism Promotion Conference, which was held on August 17 in Ho Chi Minh City, to explore how they might encourage inbound travel from India. The conference, which was sponsored by the Indian Consulate General in Ho Chi Minh City, was attended by Pranay Verma, the Indian Ambassador to Vietnam, and Pham Van Thuy, Vice Chairman of the Vietnam National Administration of Tourism (VNAT).
34 travel businesses from both countries conducted conversations and exchanged tourist data to increase demand for travel by Indians to Vietnam, realising that commercial ties between travel firms in both countries are essential to expanding the travel industry in Vietnam.
Along with attracting tourists for leisure, Vietnam is eager to market itself as a MICE (meetings, incentives, conferences, exhibitions) destination and as a location for international weddings.
On a trip planned by B2B travel agency Asia Destination Management in July, 460 business executives spent three days in Hi Chi Minh City (Asia DMC).
Through several bilateral conferences and other events, such as sponsored business trips, Vietnam has aggressively encouraged Indians to visit their nation. VNAT is hopeful that these initiatives would open up a 1.4 billion-person market for the tourism business.
Twenty million Indians travel overseas for vacation each year, according to Tran Phong Binh, Deputy Director of Tourism Marketing Department, VNAT. Vietnam is home to several well-known tourist locations, including Ha Noi, Ha Long Bay, Sa Pa, Hue, Da Nang, Nha Trang, and Ho Chi Minh City. Vietnam can draw tourists from India who wants to travel and unwind.
In his remarks, he made note of the fact that there are still few Indian tourists travelling to Vietnam, and that increased connection between the two nations is a key factor in increasing this number.
The promotion of travel relies heavily on direct flights between locations because most people do not appreciate waiting for a connecting flight for hours at a time in a foreign country's airport. A direct flight from an Indian city to a Vietnamese city takes roughly five to six hours, but if you connect through Bangkok or Singapore, the trip may take ten or twelve hours.
The two low-cost airlines Vietjet Air and IndiGo now run about 12 weekly direct flights connecting cities in the two nations. Flag carrier Vietnam Airlines began offering twice-weekly and three-times-weekly direct flights in June between New Delhi and the two largest Vietnamese cities, Hanoi and Ho Chi Minh City.
Vietjet Air has revealed that it will offer flights to New Delhi and Mumbai from the Vietnamese city of Da Nang. Da Nang is widely renowned for its immaculate beaches, but it also offers easy access to the historic city of Hue and the charming old village of Hoi An. Hue was the national capital of Vietnam from 1802 to 1945 and is well-known for its well-preserved old city with city walls.
About 170,000 Indian tourists arrived in Vietnam in 2019 before the COVID-19 epidemic prompted a worldwide travel ban. In terms of Vietnam's overseas source markets, this put India in position 16.
In 2019, Vietnam welcomed 18 million tourists, which was a record-breaking number. China was the main source of tourists that year, accounting for 5.8 million arrivals and 21% of the total. South Korea, Japan, and Taiwan were next with 4.3 million, 952,000, and Taiwan, respectively (926,000).
It is therefore not surprising that Vietnam is eager to explore new markets given that the country's primary traditional travel market is still subject to varying degrees of COVID-enforced travel limitations because of its stringent disease mitigation policy.
When compared to its neighbours, achievement has been uneven in this area.
Vietnam has welcomed 602,000 visitors in the first half of the year since it began operating without a quarantine in the middle of March. Thailand saw 2.2 million visitors at that time, Malaysia 2 million, Singapore 1.5 million, and the Philippines 814,000.
This year, Vietnam hopes to welcome five million international tourists or around 30% more than before the outbreak.
The tight visa requirements are another barrier mentioned by industry executives in addition to a scarcity of planes.
According to Pham Ha, CEO of luxury cruise line Lux Group, "Many international visitors had cancelled their plans to Vietnam since they could not secure an entrance visa." The existing visa regulations provide significant obstacles to Vietnam's tourist revival.
With a maximum stay of 15 days, Vietnam has reinstated its pre-pandemic visa exemption policy, but only for 13 countries, including markets in Western Europe. Instead of the three-month visas that were issued before the epidemic, it only offers one-month single-entry e-visas for other markets, including India. Visitors cannot get a visa upon arrival, except for those going on business. It is necessary to apply for the e-visa online, and it may take up to seven working days to be approved.
Despite the difficulties, Indians appear to have embraced this unusual location.
Vietnam's ambassador to India, Pham Sanh Chau, said earlier this month in New Delhi at the Outbound Tourism Summit hosted by the Federation of Indian Chambers of Commerce and Industry (FICCI) that the number of visas given by Vietnam to Indian citizens has increased by 24 times.
"In India, we used to grant 250 visas per day before the epidemic. But lately, we did it in a day, Pham added, issuing 6,000 visas.
Rajeev Kale, president, and national head, of Holidays, MICE, Visa with Thomas Cook (India), stated at the same conference that Vietnam is experiencing an increase in interest from families, young professionals, millennials, and couples in addition to business travellers. Indians are willing to change their travel plans to include more affordable and practical short-haul locations.
Read More: EAM Jaishankar unveils bust of Mahatma Gandhi in Paraguay
STUDY IDENTIFIES NATURAL TREATMENTS THAT ARE EFFECTIVE AGAINST COVID-19