India's Prime Minister Narendra Modi, Arrives at Bharat Mandapam in Pragati Maidan for G20 Summit
9 September, 2023 | Akshara Tyagi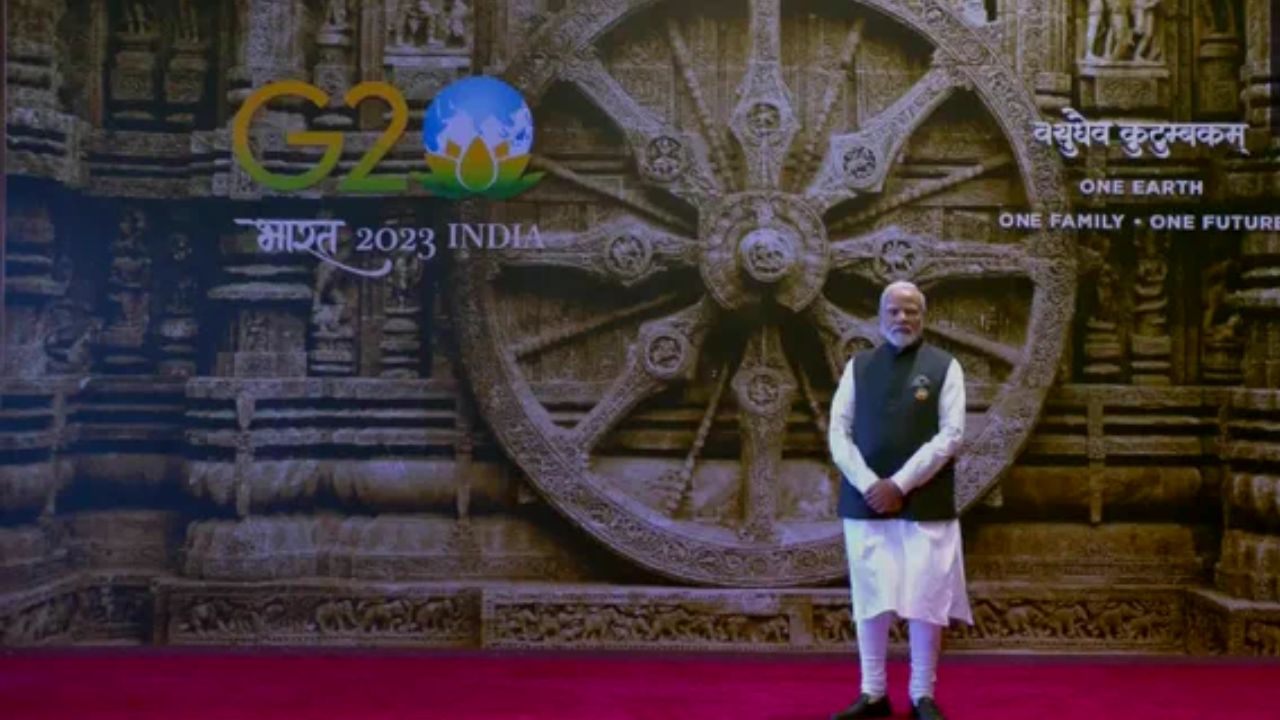 Prime Minister Narendra Modi arrived at Pragati Maidan's Bharat Mandapam ahead of the G20 Summit
Prime Minister Narendra Modi arrived at Pragati Maidan's Bharat Mandapam ahead of the G20 Summit held in the national capital. He was welcomed by External Affairs Minister S Jaishankar and National Security Advisor Ajit Doval.
India, as the host of the G20 Summit, faced challenges due to divisions within the group concerning the Russia-Ukraine conflict.
Leaders from around the world, including US President Joe Biden, UK Prime Minister Rishi Sunak, Japan PM Fumio Kishida, Australia Prime Minister Anthony Albanese, and UN Secretary-General Antonio Guterres, arrived in the national capital the day before the Summit.
More than 30 heads of state, top officials from the European Union, invited guest countries, and 14 heads of international organizations attended the Summit.
The Summit began with world leaders arriving at Bharat Mandapam from 9.30 am onwards. The first session, 'One Earth,' commenced around 10.30 am and focused on accelerating climate action and achieving global net-zero emissions as soon as possible.
The theme of this year's G20 Summit, "Vasudhaiva Kutumbakam" or "One Earth · One Family · One Future," underscores the interconnectedness of all life on Earth.
Following the 'One Earth' session and lunch, another session called 'One Family' took place at 3 pm as part of the Summit's agenda. In the evening, President Droupadi Murmu hosted a dinner attended by foreign delegates, parliamentarians, ministers, and former senior leaders of the nation.
Notably, Chinese President Xi Jinping and Russian President Vladimir Putin did not participate in the weekend summit, with China represented by Chinese Premier Li Qiang and Russia by Foreign Minister Sergey Lavrov.
India hosted the G20 Summit for the first time, focusing on inclusive growth, digital innovation, climate resilience, and equitable global health access during its presidency.
The Summit featured participation from countries such as Nigeria, Argentina, Italy, the African Union (represented by Comros), South Africa, Bangladesh, the United Kingdom, Japan, Saudi Arabia, South Korea, Egypt, Australia, the United States, Canada, China, the UAE, Brazil, Indonesia, Turkey, Spain, Germany, France, Mauritius, the European Union, and Singapore.
Prime Minister Narendra Modi expressed confidence that the gathering of world leaders at the G20 Summit would pave the way for human-centric and inclusive development.
Also Read: World leaders flock to Delhi; PM Modi expresses confidence in G20 Summit charting new path in inclusive development
Catch all the Latest Business News, Breaking News Events, and Latest News Updates on NewsX