ISI role, foreign funding suspected: Punjab IGP as hunt for Amritpal Singh continues
20 March, 2023 | Pragati Singh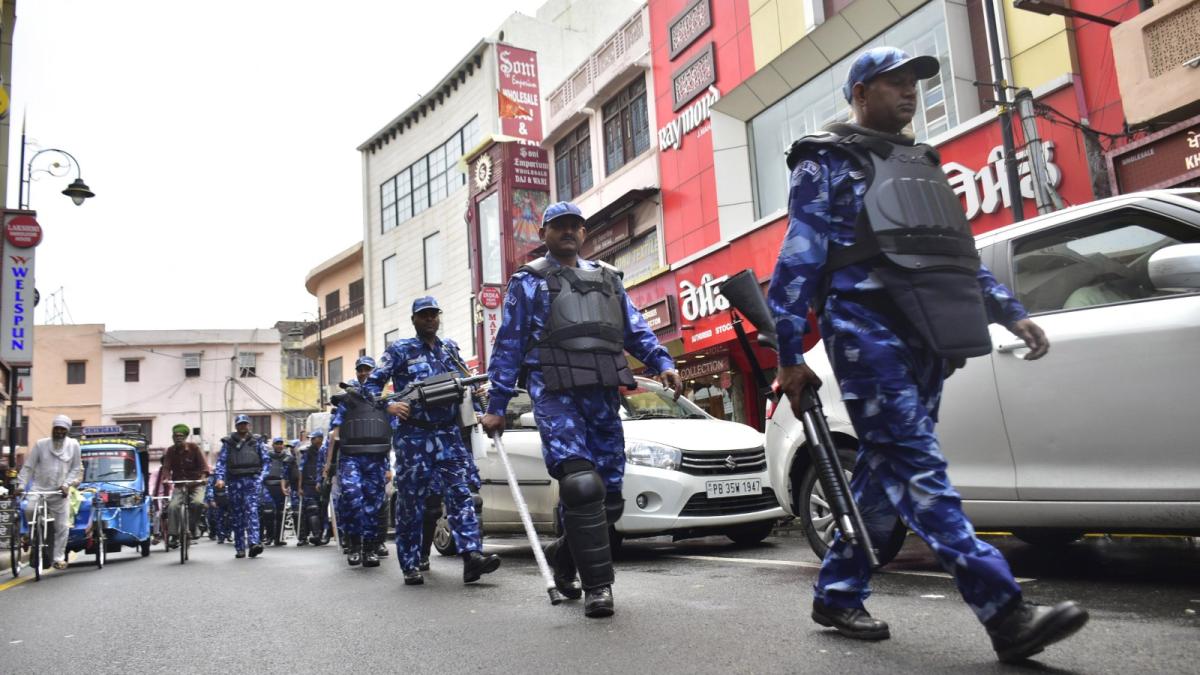 The police also held flag marches around the state to preserve law and order and instill trust in the public.
Punjab Inspector General of Police (IGP) Sukhchain Singh Gill revealed on Monday that they have a very strong suspicion of an ISI angle and foreign sponsorship in 'Waris Punjab De,' despite the fact that 114 persons have been detained so far and the hunt for fugitive Amritpal Singh is still ongoing.
"We have a very strong suspicion of an ISI angle, based on the facts and circumstances that have come to light so far. We also have a very strong suspicion of foreign funding. Going by the circumstances, it seems that ISI is involved and there is foreign funding as well," Punjab IGP said in a press briefing. He also said that a total of 114 people have been arrested so far since the crackdown has launched.
"So far, 114 elements, who attempted to disturb peace and harmony, have been arrested. A total of 78 of them were arrested on the first day, 34 on day two and the remainder were arrested last night," he said.
Meanwhile, he stated that the NSA (National Security Act) has been used against the five persons detained and transported to Dibrugarh. In addition, he stated that after four close aides of pro-Khalistan leader Amritpal Singh were seized and flown to Assam's Dibrugarh, one more inmate, Harjeet Singh, who is also the uncle of the Khalistan sympathiser, is on his way to Dibrugarh.
He also advised social media platforms and other outlets to verify news before spreading it. The top officer, however, underlined that the fugitive, Amritpal Singh, is still at large.
"Police are making all efforts to nab him. Several rumours are being spread. Punjab Police is clearly stating that the arrest is yet to be made and efforts are underway to arrest him," IGP Gill added.
During the crackdown, which began on Saturday, internet, SMS, and dongle services were also suspended until Tuesday noon. Earlier in the day, Punjab Police said that Amritpal Singh's uncle and driver had surrendered to them.
Earlier, central agency sources said Daljeet Singh Kalsi, alias Sarabjeet Singh Kalsi, an accused adviser and financier to Amritpal Singh, was detained on Sunday. Punjab Police also confiscated the car used by 'Waris Punjab De' head Amritpal Singh to flee, as well as numerous other vehicles and munitions.
Meanwhile, a large police force has been positioned outside Amritpal Singh's home in Amritsar's Jallupur Khera village. According to the police, security has also increased throughout the state. The police also held flag marches around the state to preserve law and order and instill trust in the public. Jalandhar Commissioner Kuldeep Singh Chahal acknowledged the extremist leader's status as a "fugitive" late Saturday evening.
The police crackdown occurred nearly three weeks after Amritpal supporters battled with uniformed officials at the Ajnala police station on the outskirts of Amritsar on February 23, seeking the release of one of Amritpal's close aides, Lovepreet Toofan.
Hundreds of his fans attacked the Ajnala police station, brandishing swords and high-calibre guns and threatening the officers with severe repercussions if Lovepreet Toofan, who had been detained for allegedly assaulting and abducting a man, was not released.