ISRO Successfully Launches First Solar Mission, Aditya-L1, After Historic Moon Landing
2 September, 2023 | Akshara Tyagi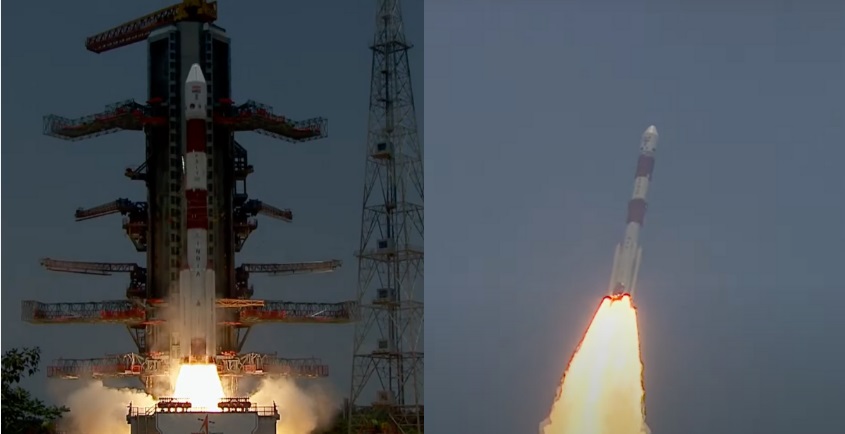 The PSLV-C57.1 rocket successfully launched the Aditya-L1 orbiter from Sriharikota, Andhra Pradesh, at 11.50 am
The PSLV-C57.1 rocket successfully launched the Aditya-L1 orbiter from Sriharikota, Andhra Pradesh, at 11.50 am on Saturday, following the historic lunar landing mission, Chandrayaan-3.
ISRO made history by placing a lander on the uncharted lunar South Pole. The Aditya-L1 mission is set to reach its observation point in four months, orbiting Lagrangian Point 1 (L1), situated 1.5 million km from Earth toward the sun. It will carry seven distinct payloads, four for sun observation and three for measuring plasma and magnetic fields.
The largest and most challenging payload, the Visible Emission Line Coronagraph (VELC), was developed in collaboration with ISRO at the Indian Institute of Astrophysics' CREST campus. This strategic location allows continuous sun observation without eclipse interference, aiding real-time research on solar activity and space weather.
The primary goals of India's solar mission encompass understanding solar corona physics, solar wind acceleration, solar atmosphere dynamics, solar wind distribution, Coronal Mass Ejections (CME) origins, and near-earth space weather effects.
A coronagraph like VELC enables the observation of the sun's fainter corona continuously, distinguishing it from the sun's disk, particularly during total solar eclipses.
India's recent achievement of landing on the moon's surface with Chandrayaan-3 marked the fourth country, after the US, China, and Russia, to do so.
The 'Vikram' lander and 'Pragyan' rover carried out various tasks on the lunar surface, including detecting sulfur presence and recording temperature.
Chandrayaan-3 aimed for a safe, soft lunar landing, rover movement, and in-situ scientific experiments, following the challenges faced by Chandrayaan-2 during its 2019 lunar landing attempt, ultimately falling short of its primary mission objective.
Also Read: Aditya-L1 solar mission: Astronomers hail 'very important day'
Catch all the Latest Business News, Breaking News Events, and Latest News Updates on NewsX