ISRO successfully tests 2000kN Semi-Cryogenic Engine at agency's Mahendragiri facility
12 May, 2023 | Anupam Shrivastav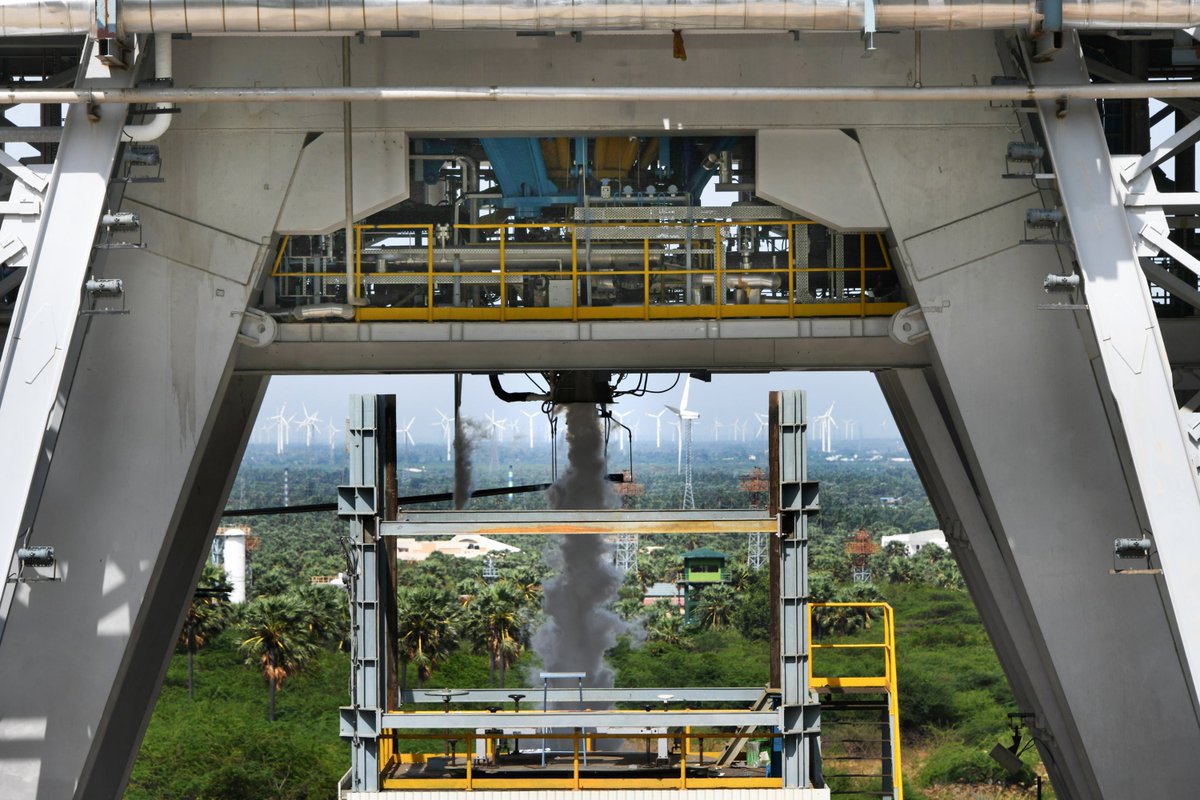 ISRO has begun testing of its semi-cryogenic engines with first test, held on May 10, 2023, at IPRC, Mahendragiri, a key step towards building a 2000 kN thrust engine to power future launch vehicles.
Indian Space Research Organization on Thursday reached a big milestone as it successfully tested the 2000kN semi-cryogenic thrust engine that would enable heavier satellites of the GSAT series to be launched into space. The test was carried out ISROs newly inaugurated Propulsion Complex (IPRC) Mahendragiri Facility in Tamil Nadu which is specifically designed to test semi-cryogenic engines.
On Wednesday, the first test was performed on an intermediate configuration of the 2000kN Semicryogenic Engine. The Power Head Test Article (PHTA) intermediate configuration involves all engine systems with the exception being the thrust chamber.
The test is the first among many that are supposed to validate the design of the propellant feed system, which includes the low- and high-pressure turbo-pumps, the gas generator, and control components, according to the Bengaluru-based space agency.
ISRO's Liquid Propulsion Systems Centre (LPSC) has undertaken the design and development of a Semicryogenic engine with a thrust of 2000 kN, that will power the booster stages of future launch vehicles and works on a Liquid Oxygen (LOX)-Kerosene propellant combination.
Mahendragiri test demonstrated chill-down operations for a span of 15 hours
The ISRO stated that Wednesday's test is a major breakthrough before incorporating the entire engine and qualifying it.
The Indian Space Agency said, "This test demonstrated the complex chill-down operations spanning about 15 hours duration that was conducted successfully, meeting all the required conditions for engine start." ISRO further went on to say "After the chill down of the LOX circuit, the feed circuit of kerosene was filled, and LOX was admitted into the gas generator by opening the injection valve. Successful performance of the test article helps derive the sequence of operations for further tests,"
The IPRC test facility located in Mahendragiri is a state-of-the-art PLC-based control and data acquisition system, which is capable of testing semi-cryogenic engines that produce 2600 kN thrust and will support the successive tests as well as qualification of the fully integrated Semi-cryogenic engine and stage.
With this test, ISRO has demonstrated the effective operation of the test facility at Mahendragiri and the power head test piece on the first try.