India was cautious of US for five decades before overcoming presumptions: EAM Jaishankar
22 September, 2022 | Pranay Lad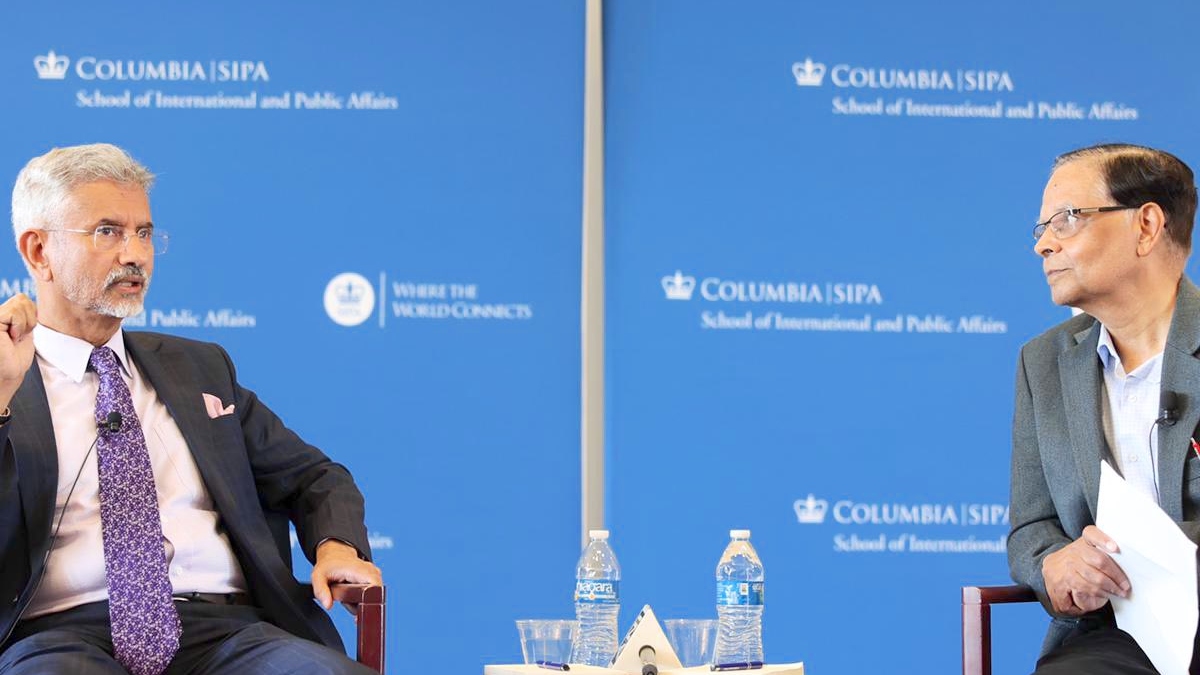 India's overall foreign policy judgement of the US was one of great caution for nearly five decades, but the nation has finally transcended the presumptions to establish a different relations...
India's overall foreign policy judgement of the US was one of great caution for nearly five decades, but the nation has finally transcended the presumptions to establish a different relationship with America, according to External Affairs Minister S Jaishankar on Wednesday.
Jaishankar added that he wanted to convey the idea that it was in India and China's best interests to work out a compromise.
Arvind Panagariya, a former vice chairman of Niti Aayog, and Jaishankar were speakers on the topic of "India in the developing global order" at Columbia University's School of International and Public Affairs in New York.
"Look at our stance on the United States… I'd guess between the late 1940s and 2000, the year Clinton visited India. I'm not saying we were at fault or that the US was at fault, but for about 50 years we had a very wary attitude toward them for a variety of reasons. Although it was a very significant connection, the US's broader foreign policy was viewed with extreme caution, if not outright mistrust, he added.
The validity of such a viewpoint was called into doubt as the world started to change, as a matter of fact. Even the nuclear agreement from 2005 to 2008 was difficult for us because, on the one side, the US was providing some very obvious advantages.
We were held back by a deep-seated historical mistrust of the United States that may have been supported. We kind of agreed that this is a gift horse that we should probably avoid looking at too closely, he continued.
Jaishankar gave the responsibility for changing India's relationship with the US to Prime Minister Narendra Modi.
In order to have a different relationship with the US, it has taken a lot of work on our part to get past the preconceived notions, and one of the major changes that PM Modi has done is…
He is not someone who is genuinely cut off from the US because of ideological baggage or a particular worldview, the speaker claimed.
The growth of China, according to Jaishankar, has caused the greatest transformation in the world in our lifetimes. There's no doubt about it. The analogy helped to somewhat temper India's rapid rise… If India is judged on its own merits… It's wonderful.
However, China has grown more quickly and radically over the same period of time. How do two emerging powers in close proximity to one another create a modus vivendi in a fluid scenario is the problem we face today. That is a very difficult issue. I was also utilising the opportunity to really convey the idea that it is in our best interests to work together to find a solution.
Panagariya stated that China seems to have pulled its weight a little bit more than India when comparing the economic paths of the two countries over the previous few decades; Jaishankar responded that Panagariya's assertion was a "understatement".
"I believe there were three major things that went wrong for us; the Partition was obviously the first, followed by the delay in using the nuclear option and the delay in economic reforms…
During this time, China's territory expanded. Early in 1964, China used its nuclear option; in 1974, we took a half-hearted action; and in 1998, we had to repeat the process.
The year 1974 was challenging enough, but when it was extended to 1998, Pakistan was given the opportunity to catch up, according to Jaishankar.
I would contend that China had a better strategy in many aspects.
Our approach to globalisation and accepting the entire world was seriously misguided. We did not develop our local supply chain, we did not assist MSMEs, and we believed that the global economy would treat us fairly, he continued.
Managing China, according to Jaishankar, has not been simple. "Getting Japan into the game hasn't been easy, and reassuring Russia hasn't been either; those are the inevitable obstacles of a changing world."
"This year has been a display of it," he continued, "in an intriguing way, it's like a high trapeze act with numerous balls in the air. We have attempted to successfully solve both the Indo-Pacific and Eurasia challenges that we have faced.
Jaishanker responded, "With the hurdles, the history of India, the Partition, etc., moving into dual citizenship is not something that can be done easily and securely. There are factors that call for caution as well.
When asked when India may be expected to receive a permanent seat on the UN Security Council, Jaishanker responded, "It's a really hard process… The United Nations is a creation from 80 years ago. In that time, the number of independent nations has quadrupled. It will have the third-largest economy and the most populous society in the world in a few years, therefore it is plainly bad for us and bad for the relevant global council to not have that country represented in those bodies. There seems to be more backing for India going there.
Read more: UP Assembly to reserve the day today for women MLAs