UNSC: Jaishankar takes stern stance on Russia, targets Beijing also
23 September, 2022 | Pranay Lad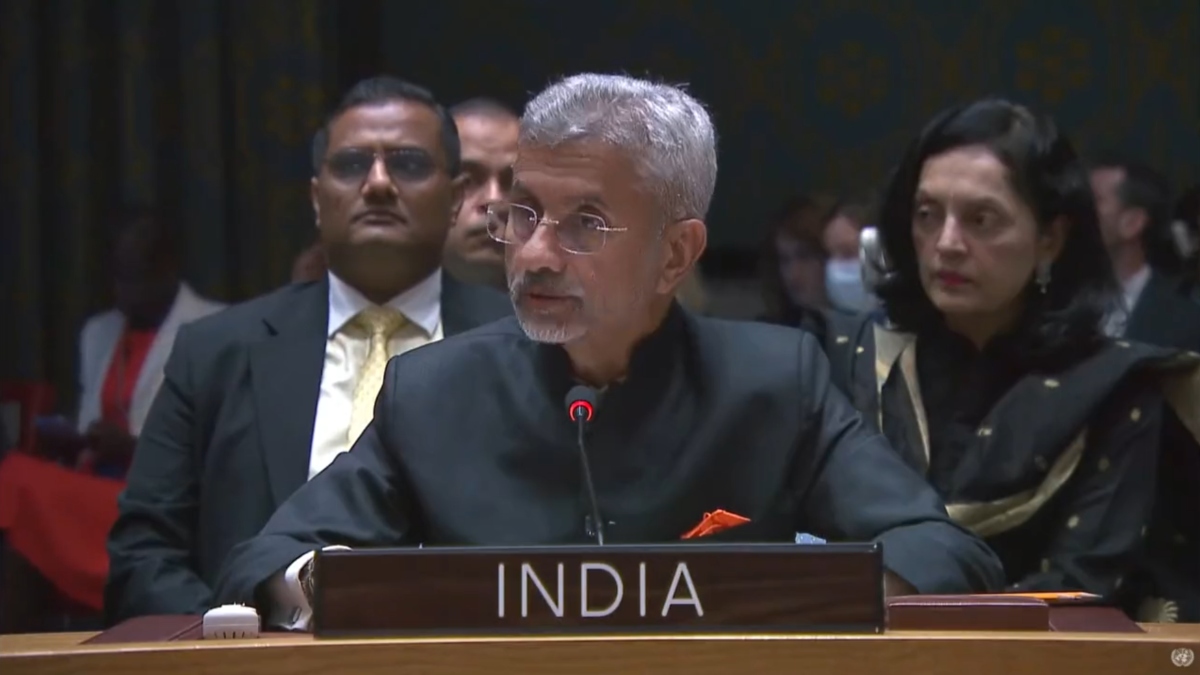 In his remarks before the United Nations Security Council (UNSC) session on Ukraine on Thursday, Minister S. Jaishankar attacked China and Russia, but he avoided naming them. Since the invasion of ...
In his remarks before the United Nations Security Council (UNSC) session on Ukraine on Thursday, Minister S. Jaishankar attacked China and Russia, but he avoided naming them. Since the invasion of Ukraine seven months ago, this is one of his hardest statements on Russia.
Let me emphasise that even in combat situations, there can be no excuse for violating human rights or international law, Jaishankar added, recalling Prime Minister Narendra Modi's admonition to Russian President Vladimir Putin that "this cannot be an era of war." It is essential that any instances of these acts be the subject of an impartial, independent investigation.
This was the stance we adopted in response to the murders in Bucha, and it remains the stance we adopt now. The Council will also remember that we had backed demands for an impartial investigation into the Bucha event at the time.
In light of Putin's oblique nuclear option threat, he also noted that the "nuclear issue is a specific fear."
Jaishankar stated: "The fight against impunity is important to the greater quest of establishing peace and justice," in relation to Beijing's move to prevent the naming of terrorists. On this matter, the Security Council must convey a clear and unequivocal statement. Politics should never ever be used as a shield to avoid responsibility. not even to encourage impunity.
Unfortunately, we have recently witnessed this in this very chamber when it comes to sanctioning some of the most feared terrorists in the world. This Council must consider the messages we are sending on impunity if heinous crimes committed in broad daylight go unpunished. If we want to maintain our credibility, there must be consistency.
In addition to UN Secretary General Antonio Guterres, US Secretary of State Antony Blinken, Chinese Foreign Minister Wang Yi, Russian Foreign Minister Sergey Lavrov, UK Secretary of State for Foreign, Commonwealth and Development Affairs James Cleverly, and foreign ministers from other UNSC members, the meeting was presided over by French Minister for Europe and Foreign Affairs Catherine Colonna.
China blocked a UN resolution earlier this month that sought to designate Lashkar-e-Taiba terrorist Sajid Mir as a global terrorist. Mir is wanted for his alleged role in the 26/11 terrorist attacks in Mumbai.
China has placed a hold on a US and Indian proposal to blacklist Abdul Rauf Azhar, the brother of Jaish-e Mohammed (JeM) chief Masood Azhar and a senior commander of the terror group with its stronghold in Pakistan, in August. The US imposed sanctions on Abdul Rauf, who was born in Pakistan in 1974, in December 2010.
And in June of this year, China had abruptly blocked a joint Indian-US move to add Pakistan-based terrorist Abdul Rehman Makki to the UN Security Council's 1267 Al-Qaida Sanctions Committee.
According to Jaishankar, the trajectory of the war in Ukraine is a major source of concern for the whole international community. The prospect for the future is much more unsettling. A specific worry is the nuclear issue.
"In today's globalised world, the conflict's effects are being felt even in far-off places. We have all felt the effects of it in terms of rising prices and genuine shortages of fuel, fertilisers, and food. There are valid reasons to be concerned about what lies ahead of us on this front as well. Particularly the developing world is suffering greatly at the moment. We must avoid taking actions that further trouble the already troubled global economy, which is why India reiterates its strong call for an immediate end to all hostilities and a return to dialogue and diplomacy. This cannot be a time of war, as Prime Minister Narendra Modi has emphasised.
He emphasised that the "urgent imperative" was to put an end to the violence in Ukraine and resume talks. "This Council is the most potent diplomatic emblem of our time. It must continue to fulfil its goal. The international law, UN Charter, and respect for the territorial integrity and sovereignty of all States form the foundation of the global order to which we all aspire. Without exception, these standards must also be upheld, he stressed.
Read more: Russians flee to border amid military call-up