US Treasury Secretary Janet Yellen says US sees India as a vital, indespencible partner
17 July, 2023 | Bhavnish Tawar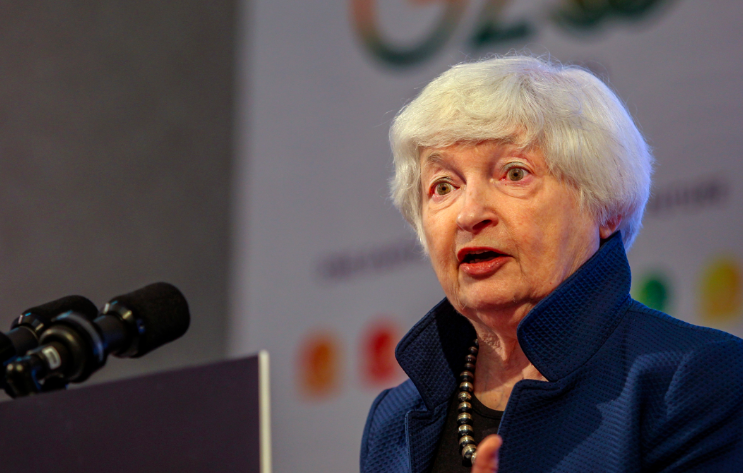 Janet Yellen highlighted discussions with China's new economic leadership team, emphasizing the need for collaboration between the two countries to tackle global challenges.
On Sunday, US Treasury Secretary Janet Yellen said that the US would use India further to strengthen its "friend-shoring" relationship with India. He also reiterated US efforts to counter Russia's efforts to circumvent US sanctions. At the same time, she expressed her desire for the United States to work with China to address global challenges.
Friendshoring is a crucial cornerstone of our approach to increasing supply chain resilience, and we see India as an essential partner in this. I want to use this trip to deepen the already meaningful India-US relationship by helping friends. Our relationship continues to grow," she said. "Friendshoring" is a growing trade practice focusing on countries whose supply chain networks are considered political and economic allies.
She said the United States is India's largest export market. Bilateral trade between India and the US has reached a record high, and she expects it to grow. "Frindshoring will be an important topic of discussion in the next part of our visit to Vietnam. Therefore, my objective is to strengthen bilateral economic ties, private sector action is an important part of finding shoring, and continued investment announcements in India will help boost manufacturing and the United States. We think it's the best place for export," she said.
Janet Yellen said she emphasized talks with her and China's new economic leadership team last week. During the meeting, she stressed the importance of our two countries working together to address the global challenges they face. "I have a lot of work to do, but this trip was an important start. I plan to build on our foundation in Beijing and take further action.
She touched on the tariffs introduced during the Trump administration, which she said were due to concerns about unfair trade practices on the part of China. Those concerns remain, she said. "It may be time to make some progress, but it would be premature to use this time for de-escalation efforts," she said.
On the Ukrainian issue, she said the U.S.-led coalition's support for Ukraine was clear. "We will continue to deny Russia access to military equipment and technology necessary for a war with Ukraine," she said.
India seeks broad neutrality on the war and generally refuses to blame Russia for the aggression launched by Moscow last February. Instead, it pushed for a diplomatic solution and significantly increased its purchases of Russian oil despite attempts by the West to pressure Moscow.
Janet Yellen also outlined several next steps toward the development of the World Bank and other multilateral development banks. Still, consideration of increasing capital to these institutions would be more relevant to expanding poverty reduction and the role of multilateral development banks.
It said it could only be considered after implementing reforms to expand its role beyond the She addresses global challenges such as climate change and pandemics. "We should build a better bank, not just a big bank," Janet Yellen said.
She said about global tax treaties; the United States is committed to implementing the global minimum corporate tax treaty in 2021, she said. "We are close to agreeing on the technical details of this redistribution and are committed to reaching an agreement soon," she said.