Japanese Prime Minister Kishida arrives in Delhi for the G20 Summit
8 September, 2023 | Akshara Tyagi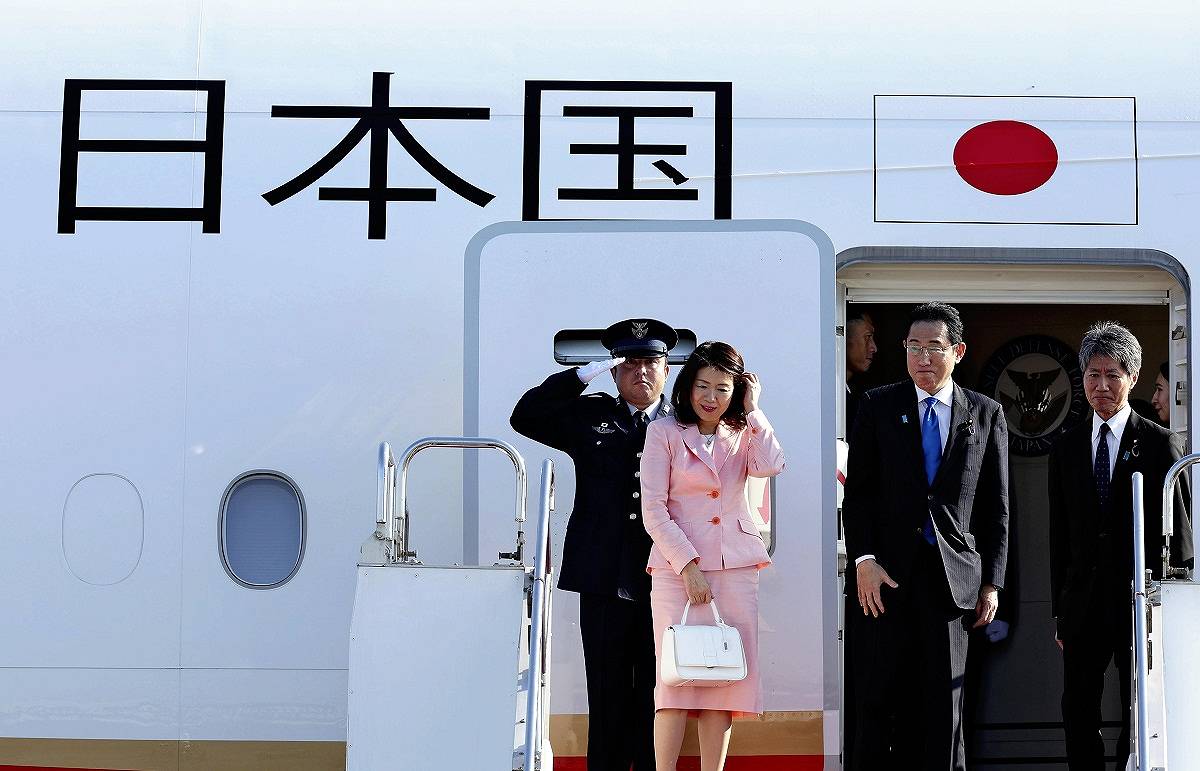 Japanese Prime Minister Fumio Kishida arrived in India on Friday to participate in the G20 Leaders' Summit taking place in the national capital
Japanese Prime Minister Fumio Kishida arrived in India on Friday to participate in the G20 Leaders' Summit taking place in the national capital. Upon his arrival at the airport, Kishida was welcomed by Minister of State in the Ministry of Consumer Affairs, Ashwini Kumar Choubey.
During the G20 summit in India, Kishida intends to demonstrate Japan's proactive commitment to addressing global issues, building on the outcomes of the G7 summit held in Hiroshima in May, as reported by Japanese media.
"The agenda in India will include global food security, which has been affected by Russia's invasion of Ukraine, as well as development, digital transformation and other international issues," according to NHK.
Earlier this year, Prime Minister Modi met with his Japanese counterpart in Hiroshima during the G7 Summit. During this summit, Prime Minister Modi engaged in discussions with partner countries on a wide range of topics, including peace, sustainability, food and energy security, health, gender equality, climate change, infrastructure resilience, and development cooperation.
The relationship between India and Japan has deep historical roots dating back to the 6th century when Buddhism was introduced to Japan. Over time, the ties between the two nations have grown stronger, especially in response to the challenges posed by a assertive China in the Asian region.
Both India and Japan are committed to a free and open Indo-Pacific, enhancing economic cooperation, and promoting people-to-people interactions. These commitments were reaffirmed during strategic discussions leading up to the G20 and G7 summits.
The two countries have established various security partnerships, including the '2+2' Dialogue involving Foreign and Defence ministers. They also regularly participate in joint military exercises such as the Malabar Exercise and have signed numerous partnership agreements, spanning from defense equipment trade to military logistics.
Japan ranks as India's 13th-largest trading partner, and India is Japan's 18th-largest. Japan's private sector investment in India has been steadily increasing, making it one of the top five foreign investors in the country.
The collaborative efforts of India and Japan to promote a free, open, and prosperous Indo-Pacific region underscore the strength and potential of their ever-evolving relationship.
Also Read: German Ambassador: Absence of Chinese and Russian Presidents Won't Significantly Impact G20 Summit
Catch all the Latest Business News, Breaking News Events, and Latest News Updates on NewsX