BSF seized 14.47 kgs of silver jewellery on international border
23 October, 2022 | Pranay Lad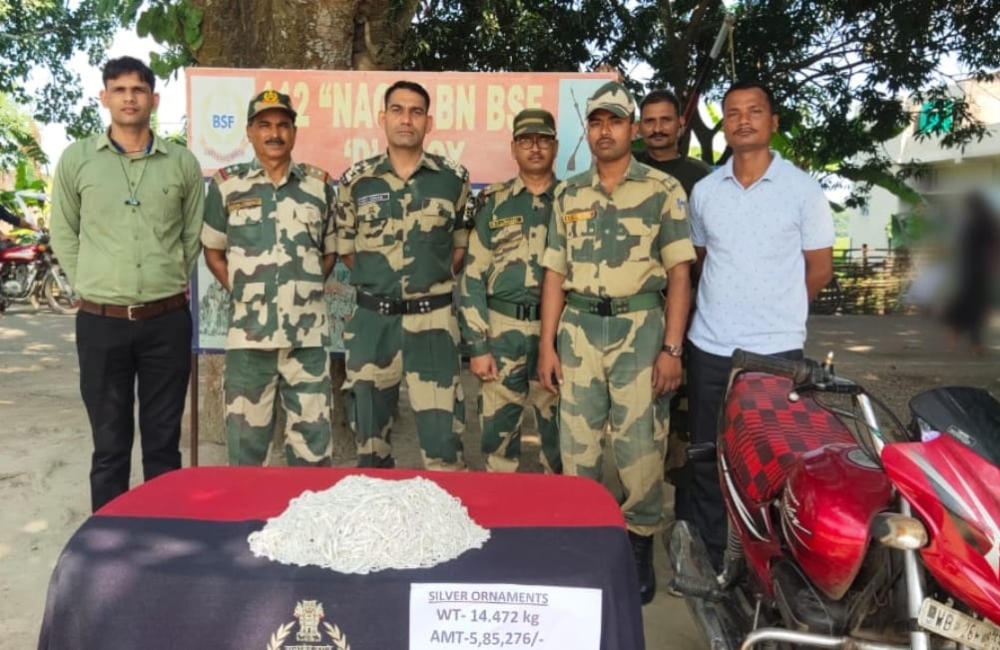 The Border Security Forces intercepted the smuggling attempts and confiscated 14.47 kg of silver jewellery at an international border.
According to Saturday's official announcement, 14.472 kg of silver jewellery with an estimated value of 5,85,276 rupees was confiscated by soldiers from the Border Out Post Hakimpur, 112 Battalion of South Bengal Frontier. 
The on-duty jawans noticed a bike rider approaching them as he travelled from the village of Swaroopdha to the village of Hakimpur. The bike rider abruptly got off the bike and fled as soon as the soldiers stopped him and checked the vehicle.
The soldiers then pursued him, but he escaped by using shrubs and rice fields for cover. When the soldiers searched the bike, 15 packages that were wrapped with brown tape came out of the tubes of both tyres.
When the parcels were unpacked, silver jewellery that the smuggler was trying to carry from India to Bangladesh was discovered inside. The bike and the jewellery were instantly seized by the jawans.
The customs office in Tentulia has received the confiscated silver jewellery in preparation for future legal action.
The Border Security Force is taking strong efforts to stop smuggling along the Indo-Bangladesh Border, according to the Commanding Officer of the 112 Battalion. He said that the fleeing smuggler is being sought after by our intelligence division, and he will be captured shortly.