JNU campus vandalised with anti-Brahmin slogans
2 December, 2022 | Riya Girdhar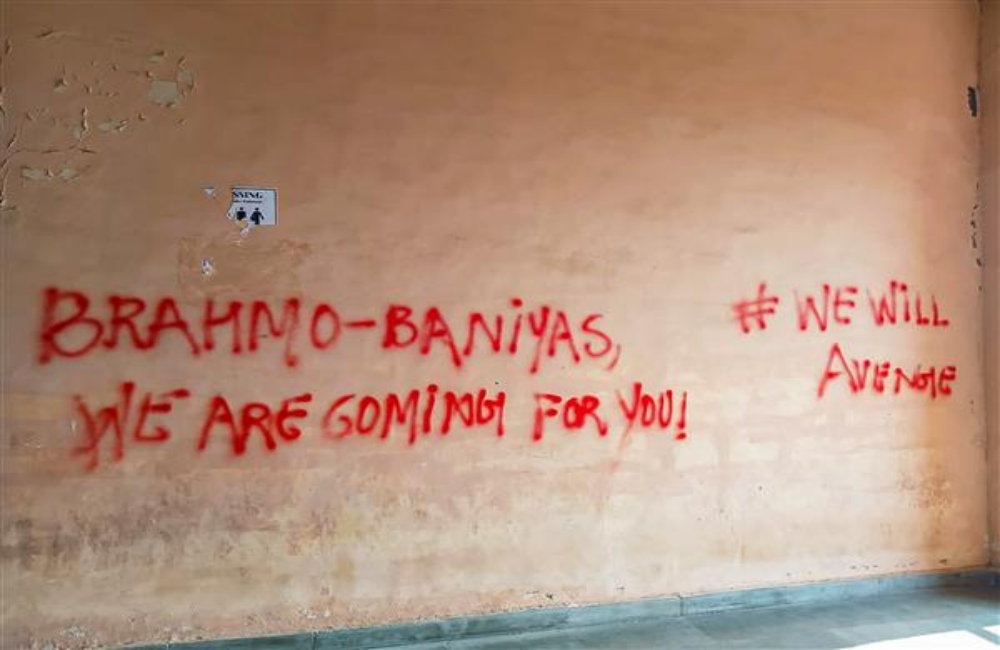 Students reported that anti-Brahmin and anti-Baniya sentiments had been written on the walls of the School of International Studies-II building at JNU.
Anti-Brahmin graffiti was written on many walls on the Jawaharlal Nehru University (JNU) campus on Thursday.
The School of International Studies-II building's walls, according to students, were defaced with anti-Brahmin and anti-Baniya slurs.
The School of International Studies and Grievances Committee has been ordered to look into the event and provide a report to Vice Chancellor Santishree D Pandit as soon as possible, according to the administration, which has denounced the incident. There Will Be Blood, "Brahmin Bharat Chhodo," "Brahmins Leave The Campus," and "Brahmino-Baniyas, we are Coming For You" are among the sayings that are written on the wall. We'll seek revenge. The administration said in a statement hours after the event that it would not accept such behaviour since JNU belongs to everyone.
The incident involving the defacing of walls and faculty rooms of SIS, JNU, by some unidentified forces has been handled seriously by the vice chancellor, prof. Santishree D. Pandit. According to the statement, the administration "condemns these exclusivist inclinations on campus."
"The VC has requested that the Dean, School of International Studies, and Grievances Committee investigate and report back as soon as possible. JNU promotes equality and inclusiveness. The VC affirms that there is zero tolerance for violence of any type on campus," it said.
Akhil Bharatiya Vidyarthi Parishad, a group connected with the RSS, charged the left with the vandalism.
"ABVP strongly opposes communist thugs' widespread vandalism of educational facilities. On the walls of JNU's School of International Studies-II building, communists have scrawled insults. To scare free-thinking teachers, they have vandalised their offices, according to Rohit Kumar, president of the ABVP JNU.