Karnataka Assembly polls: Congress panel likely to meet on March 17 to select candidates
16 March, 2023 | Pragati Singh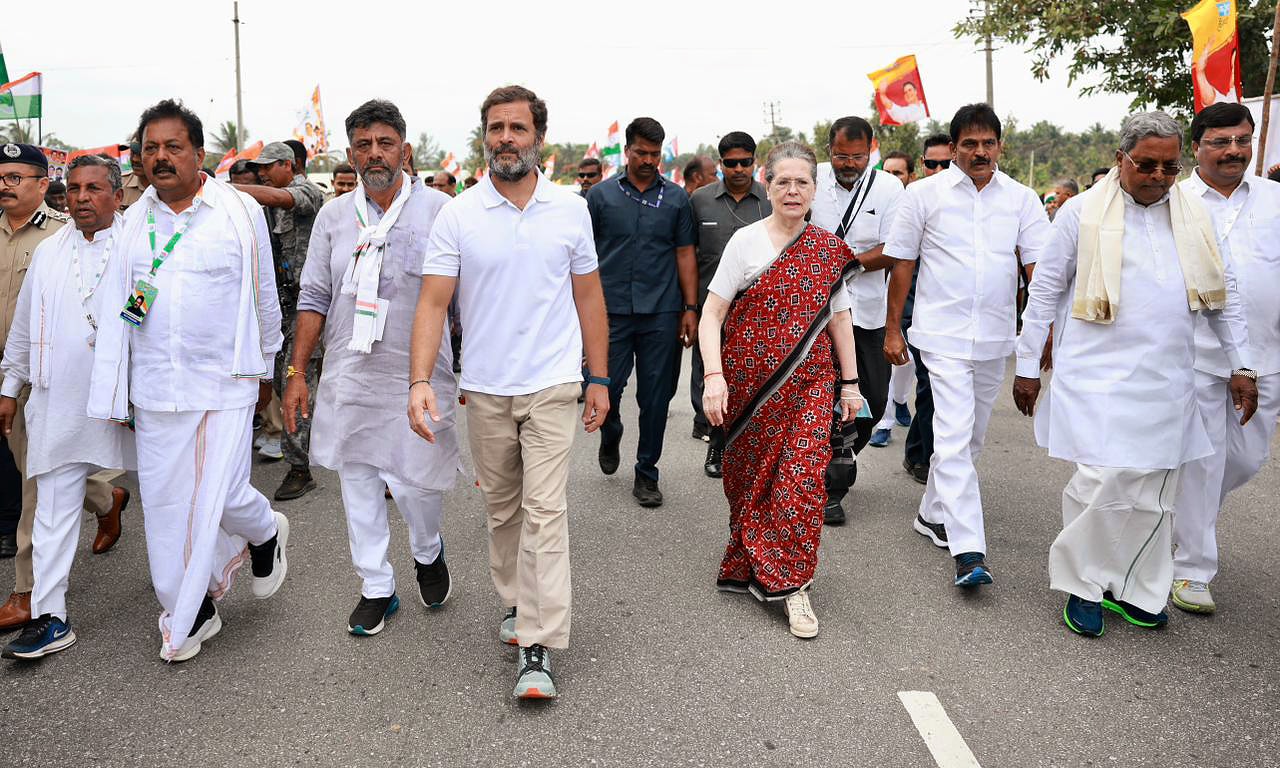 CM claimed that Congress did nothing for the people during its tenure and instead worked to divide society.
According to sources, the Congress Central Election Committee will meet in the national capital on March 17, Friday, to select candidates for the upcoming Karnataka Assembly elections. Karnataka will hold elections later this year. While the BJP has already begun campaigning in the southern state where it is in power, Congress leader Rahul Gandhi will campaign in Belagavi on March 20.
Earlier, on March 9, top Congress leaders met in Karnataka's Vijayapura district to discuss ticket distribution for constituencies as part of the party's preparations for the upcoming election. Congress general secretary Randeep Singh Surjewala, the party's Election Ticket Scrutiny Committee chairman Mohan Prakash, Karnataka Pradesh Congress Committee president DK Shivakumar, and former chief minister and Leader of Opposition in the Karnataka Assembly Siddaramaiah were among those present at the meeting.
Previously, on March 6, Karnataka Congress chief DK Shivakumar touted his party's chances in the upcoming elections, claiming that the ruling BJP would be unable to secure more than 65 seats.
"We're confident of securing good numbers in the elections. We know the BJP will not get more than 65 seats. From what I have gathered from my sources, the BJP's tally might even come down to 40 seats," Shivakumar told reporters, recalling the time when the saffron party won a paltry 40 seats under the chief ministership of BS Yediyurappa.
According to Shivakumar, everyone in his state, including farmers, believes the BJP will not win more than 65 seats this time.
"We have almost finalised 75 percent of seat allotments. A decision on all seats will be taken soon after we will send the names of candidates to the high command for its approval," he added.
In an exclusive interview with ANI on March 2, Karnataka Chief Minister Basavraj Bommai stated that the BJP will win the Assembly elections with a full majority and that the Congress' attempt to seize power through false promises will fail.
On Congress's chances in the elections, Bommai stated that the grand old party is making a desperate attempt to win the polls, but they will fail because their track record while in power has been poor. The CM claimed that Congress did nothing for the people during its tenure and instead worked to divide society.
"They did nothing for the SCs and STs. That is why they are not in the government. Now they are trying to wrest power by making promises that are impossible to meet. They are saying they will give Rs 2,000 to each household and for that, they require Rs 24,000 thousand crores. How will they raise this huge amount? The Congress is desperate to win the polls, which is why they are making such false promises," Bommai said earlier this month.