'Khalistan Referendum' is ISI conspiracy, nothing to Sikhs in India: Former pro-Khalistan leader
17 March, 2023 | Pragati Singh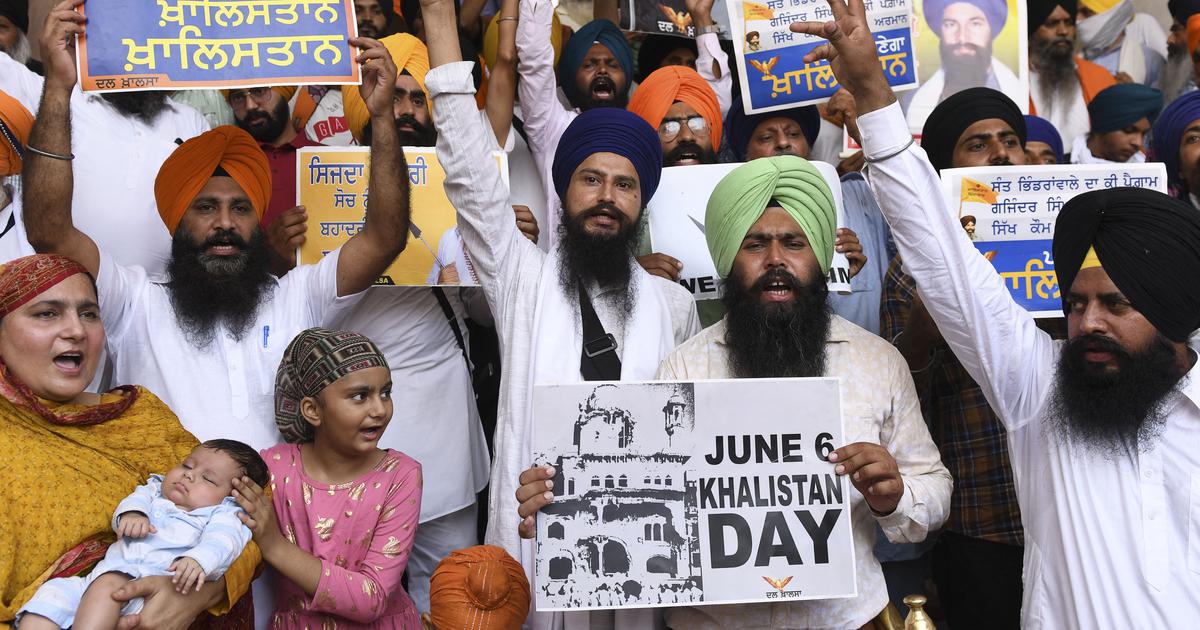 The Indian consulate in Brisbane, Australia, was forced to close on Wednesday due to safety concerns after an unplanned assembly of Khalistani sympathisers.
Dal Khalsa founder Jaswant Singh Thekedar has called attempts at a Khalistan referendum in a few Western nations by a group outlawed by India "pakhand" and the work of Pakistan's ISI, saying it is an attempt to mislead people and has nothing to do with Sikhs in India.
In an interview with ANI, Thekedar, a UK-based Sikh separatist leader, further stated that Pakistan is Khalistan's main enemy and that "certain Sikhs are working as tools" in the hands of the Pakistan government. He stated that the people of Punjab do not want a referendum.
"The referendum you are talking about, those in Punjab do not demand it. It's an organisation 2020, they talk of referendum on the instructions of ISI. Referendum does not mean… if Indian passport holders or Indian citizens want it then it is understandable, but it is not that Canadian, American or British people vote. They do not have any right," he said answering queries.
"It is 'pakhand' (sham) to mislead people. People are understanding it as a source of income for them," he added.
When asked about rumours last year of Khalistani slogans being painted on the walls of the Indian Consulate in San Francisco, California, he maintained such an act had never occurred.
"It is not right (to write Khalistan Zindabad) on the consulate building. It was never done in the past, during the movement in the past 40 years. As I said, there is an ISI role in it. They are misleading them, hiring people and getting this done. There is no hand of Sikhs in this," he said.
The Indian consulate in Brisbane, Australia, was forced to close on Wednesday due to safety concerns after an unplanned assembly of Khalistani sympathisers. The Ministry of Foreign Affairs announced on Thursday that India's Honorary Consulate in Brisbane has been "paused for a short time," that the subject has been raised with Australian authorities, and that teams from both countries are in contact.
When asked about 'Warris Punjab De' chairman Amritpal Singh, whose supporters stormed Ajnala Police Station in Amritsar last month demanding the release of his partner, Thakedar stated Amritpal Singh does not understand Sikh history and will fail.
"He (Amritpal Singh) himself, when he was in Dubai, was clean-shaven. He was not a (traditional) Sikh. He does not know anything about Sikh history. I must add that several Amritpal like him will come because those who are used by ISI, they are not used for lifetime. When they feel that a person is no longer of use, they keep other people in line. They pick others then," he said.
"Amritpal is not a Khalistani, he knows nothing about it. But this is for sure, he has earned a lot on the name of Khalistan. I don't think he will succeed further," Thekedar added.
He said Pakistan government now thinks that they do not need to fight with India. "Some Sikhs are working as tools in their hands. They think they do not need to get into war in which thousands will die (on their side). They now use and feed people, and disturb the Indian government."
According to Thekedar, every problem has a political answer.
"Those who were previously pro-Khalistan, their committee should be constituted by the Indian government. If solutions like these are found, the Khalistan movement will end."
He also chastised the Aam Aadmi Party government in Punjab for the state's law and order crisis.
"The Punjab government is not capable of dealing with this. There is no face in it which can handle this. I feel they, by not taking right actions, are giving a boost to this movement," Thekedar said.
He further stated that Pakistan is an enemy of Khalistan and seeks to sow discord.
"Pakistan knows that if a country of Sikhs comes into being, they will next come to Lahore only. They will come to Nankana Sahib and Panja Sahib. They themselves won't let this happen. Pakistan is the real enemy of Khalistan," Thekedar said.
He claims that Pakistan has never granted political shelter to a Sikh since the country does not want them to have any status.
"The Khalistanis know that Pakistan wants us to get killed and use us. They know it internally," he added.
In response to a question, he stated that the "movement" in the United Kingdom is nearly over.
He stated that the Indian government should meet demands such as the release of Sikh political prisoners in order to build goodwill and deter those who want separatism to rise.