Mallikarjun Kharge officially takes charge as Congress president
26 October, 2022 | Pranay Lad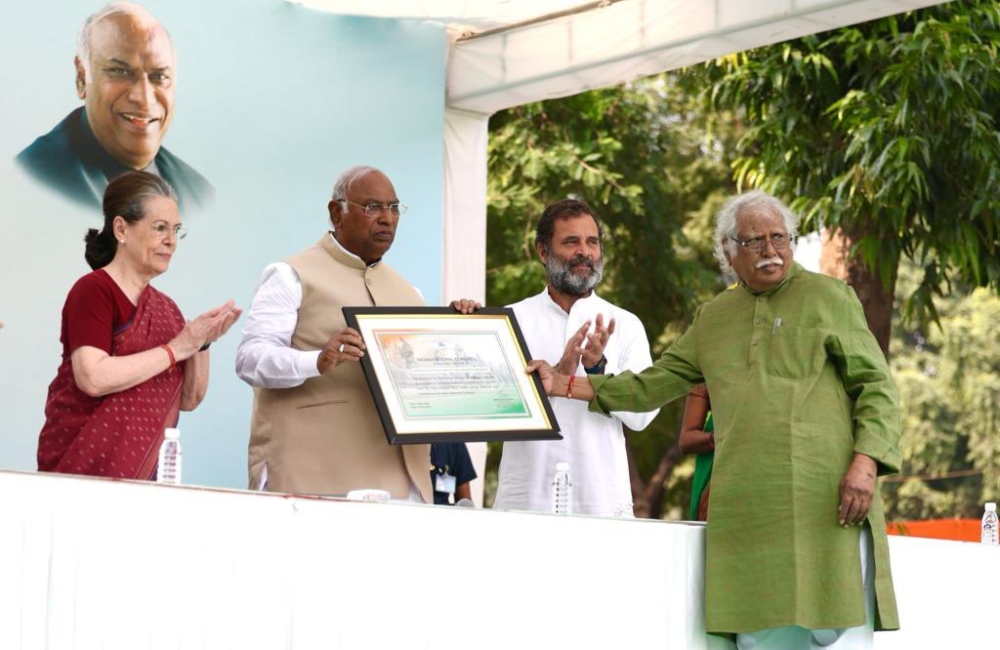 At the All India Congress Committee headquarters in the capital, seasoned Congressman Mallikarjun Kharge officially assumed leadership of the party on Wednesday.
The certificate of election for the top position was given by Madhusudan Mistry, head of the Congress Central Election Authority. Mistry remarked, "I hope other parties learn a lesson from the Congress and organise presidential elections by secret ballot."
Priyanka Gandhi Vadra, the general secretary of the party, former party president Sonia Gandhi, MP Rahul Gandhi, and other prominent officials and MPs attended the event.
Kharge met the former prime minister Manmohan Singh at his house yesterday before the function at the Congress headquarters today. He visited Rajghat, Mahatma Gandhi's monument, this morning to pay respects. Along with former deputy PM Jagjivan Ram, he also paid homage to Jawaharlal Nehru, Lal Bahadur Shastri, Indira Gandhi, and Rajiv Gandhi at their monuments.
Kharge has a difficult job ahead of him as the party confronts several organisational and electoral issues after he was chosen as the first chairman of the Congress outside of the Nehru-Gandhi dynasty in 24 years.
Kharge, a guy with extensive managerial and organisational expertise, entered the race for the party's top position when Rajasthan Chief Minister Ashok Gehlot decided not to run.
Shashi Tharoor won 1072 votes, while Kharge, 80, who was viewed as the "establishment's candidate" against him, received 7,897.
Kharge is a Dalit politician who rose from the bottom up. After S Nijalingappa, who led the Congress as president in 1968, Kharge will be the second leader from Karnataka to assume the top party position.
In his more than five decades of involvement in politics, Kharge has served as a union minister, a leader of the Congress in both the Lok Sabha and the Rajya Sabha, and he has held a number of positions in Karnataka, where he was a nine-time MLA.