Know India's top Green Entrepreneurs and their ways to fight single-use plastic
2 July, 2022 | Pravina Srivastava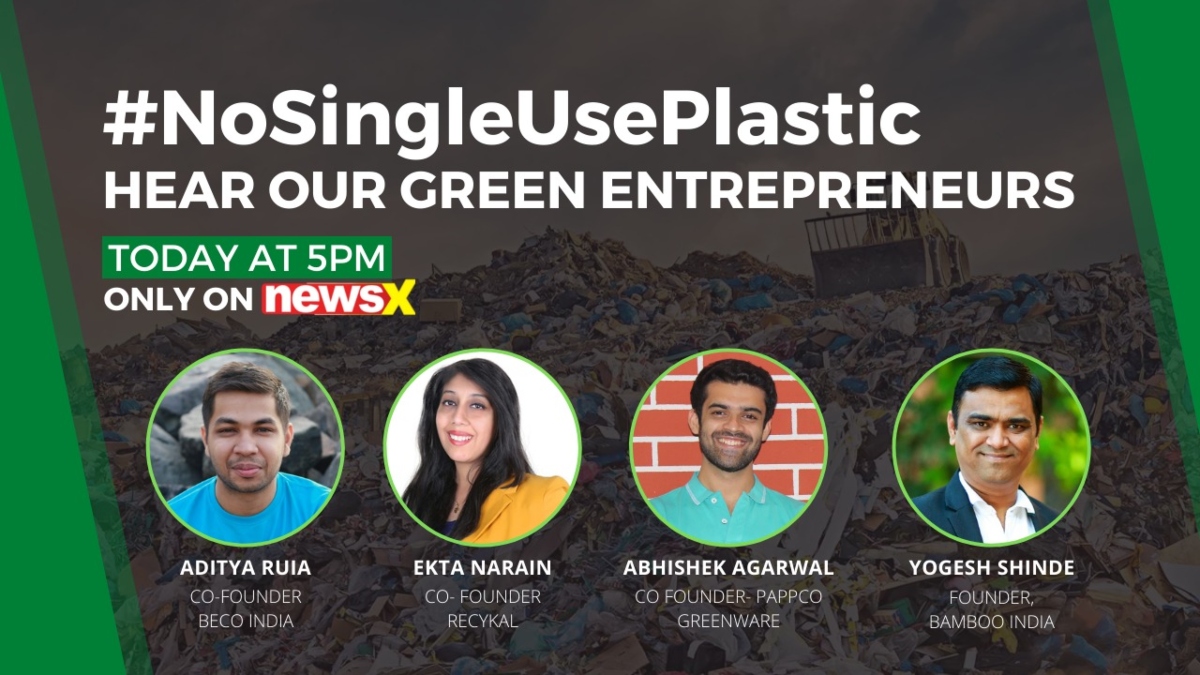 NewsX brings together top CEO's to discuss their work and future plans for a greener India
Finding the solutions for underlying problems is crucial during the times of global crises. India has contributed to the prevention of environmental tragedies by imposing bans on all plastic items completely. However, it is crucial to replace plastic consumption with alternatives in culture where it has been around for a long time.
NewsX recently discussed the solution to the plastic crisis with four startup CEO's that are bringing fresh entrepreneurial hope to India with their sustainable products.
Beco India offers chemical-free and environmentally friendly substitutes for detergents, floor cleaners, bamboo tissues, and many more products. The components used to create each product are derived from plants.
Aditya Ruia, the company's founder, believes that as the population grows and consumption rises, it is more crucial than ever for each of us to make better, wiser, and environmentally friendly decisions—not just as consumers, but also as companies and policymakers.
As plastic never entirely dissolves, recycling it is another crucial aspect. Recykal, India's first tech-driven waste management ecosystem solution, aids the country in battling its rising garbage. Recykal helps in addressing India's mounting waste issue. The World Economic Forum has given it widespread recognition for its recital.
Cofounder of Team Recykal, Ekta Narain said that there are fewer formal recyclers in India but with the government's attention and initiatives, this sector has been greatly boosted.
Pappco Greenware is a startup with solutions to go plastic-free as it embraces reducing the use of plastic. This Mumbai-based firm produces eco-friendly food packaging and Paper straws.
Abhishek Agarwal- Co-founder of Pappco Greenware said "Our primary goal is to make it easier for eateries to deliver meals in plastic-free containers."
Bamboo is the best alternative to plastic. By offering innovative bamboo goods like bamboo toothbrushes, bamboo earbuds, corporate gift items, and more, Bamboo India aims to transform the concept of bamboo from The Poor Man's Timber to Wise Man's Timber.
Yogesh Shinde, its founder, said "India is the second-largest producer of bamboo in the world, but the sad fact is that we only export 4% of the market for bamboo goods worldwide. I reasoned, though, why not employ bamboo and develop a bamboo civilization."
Earlier on Friday, marks the start of the Center's ban on some single-use plastics, which is intended to cut down on plastic waste.
Single-use plastics are products that are typically discarded after being used just once and are not recycled. They make a major contribution to plastic pollution. Single-use plastic products are well recognized to have negative impacts and risks on both terrestrial and marine ecosystems.
Among the prohibited items are stirrers, earbuds with plastic sticks, balloons with plastic sticks, plastic flags, candy sticks, ice cream sticks, polystyrene (thermocol) for decoration, plates, cups, glasses, cutlery like forks, spoons, and knives, straws, trays, wrapping or packing films around sweet boxes, invitation cards, and cigarette packets.
(Watch the whole episode on NewsX Youtube.)