LIVE Update: Gujarat, Himachal Pradesh Assembly Election Results
7 December, 2022 | Pravina Srivastava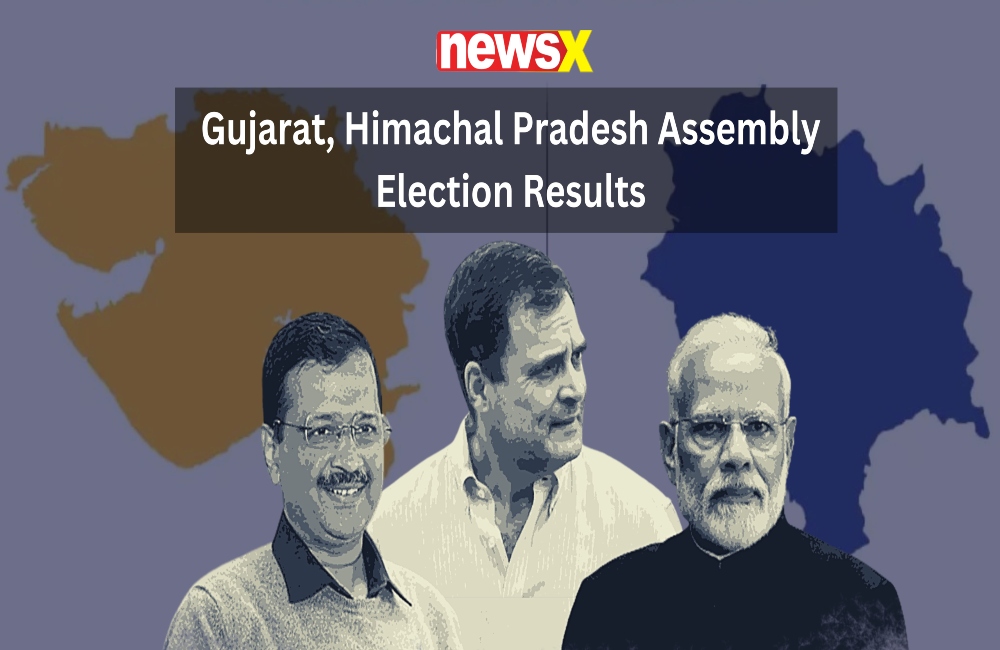 The results of the Gujarat and Himachal Pradesh Assembly elections is to be declared today.
The results of the Gujarat and Himachal Pradesh Assembly elections is to be declared today. Gujarat voted in two parts, the first on December 1 for 89 seats distributed over 19 districts, with a 63.3 percent voter participation, and the second on December 5 for 93 seats, with an estimated 64.65 percent voter turnout. Meanwhile, in Himachal Pradesh, one round of voting on November 12 witnessed a voter participation of more than 74%.
The main parties in the race are: BJP, Congress, AAP, AIMIM, TMC, CPI, BTP and NCP
Here's all the latest updates:
7:30pm: BJP in Gujarat wins by 740,393,619 votes
BJP under Modi has won 740,393,619 votes across all polls. That's more than Indira, FDR & JFK combined. By 2024, it'll be 1 BN+ votes.
7:20pm: PM Modi's victory speech
"I want to thank Election Commission for conducting elections peacefully. The difference between the number of votes for BJP & Congress was less than 1%": PM Modi.
He further added "Five generations were consumed since the time of Jansangh in order to form this party, lakhs of people worked for the country by sacrificing their personal lives. BJP makes its strategy only by relying on the organization capacity of its workers. For so many years, BJP has maintained the values and ideals and has not compromised with them."
7:00pm: Bhupendra Patel set to take oath as Gujarat CM again
Following the BJP's huge victory in Gujarat Assembly elections, Bhupendra Patel is ready to take the oath of office for the second time as Chief Minister.
6:04pm: Gujarat Latest Update
BJP National President J P Nadda along with Union Home Minister Amit Shah & Union Defence Minister Rajnath Singh reaches BJP headquarters at Pandit Deen Dayal Upadhyaya Marg, New Delhi.
5:30pm: CM Bommai attributes BJP's victory in Gujarat
Chief Minister Basavaraj Bommai attributed the BJP victory in Gujarat Assembly polls to good governance.
Talking to reporters here on Thursday, he said the BJP is leading and the party is all set to achieve an unprecedented victory in Gujarat. It will win the maximum number of seats when compared to all the previous polls. It was known in post-poll analysis.
5:00pm: PM Modi congratulates Gujarat BJP workers
"To all hardworking @BJP4Gujarat Karyakartas I want to say – each of you is a champion! This historic win would never be possible without the exceptional hardwork of our Karyakartas, who are the real strength of our Party" tweets PM Modi.
4:32pm: Jairam Thakur submits resignation
Jairam Thakur submits his resignation as the Chief Minister of Himachal Pradesh to the governor in Shimla.
4:26pm: Election Results Trend
Gujarat:
BJP- 156
CONG- 17
AAP- 5
OTH- 4
Himachal Pradesh:
BJP- 26
CONG- 39
AAP- 0
OTH- 3
4:15pm: CM Jairam Thakur reaches Raj Bhawan
Himachal Pradesh CM Jairam Thakur reaches Raj Bhawan in Shimla to tender his resignation to the Governor.
3:40pm: Amit Shah's wholehearted thanks to Gujarat
Union Home Minister Amit Shah offered appreciation to the people of Gujarat today as the BJP draws closer to a historic win in the state, saying the mandate demonstrates the "wholehearted" support of the party from all sections of society.
3:35pm: Election Results Trend
Gujarat:
BJP- 158
CONG- 16
AAP- 4
OTH- 4
Himachal Pradesh:
BJP- 26
CONG- 39
AAP- 0
OTH- 3
3:30pm: Jairam Thakur post results statement
I respect people's mandate & I want to thank PM & other central leadership during last 5 yrs. We'll stand for the development of the state irrespective of politics. We'll analyse our shortcoming and improve during the next term: Outgoing CM Jairam Thakur
2:45pm: Cong sending top leaders to Chandigarh
The Congress is dispatching Chhattisgarh Chief Minister Bhupesh Baghel, who is also an observer for the Himachal polls, as well as other top figures like Bhupinder Hooda and the party's Congress in-charge Rajiv Shukla to the hill state, where the party appears to have a good chance of winning.
2:00pm: Himachal Pradesh Poll Results
In Himachal Pradesh, Congress win in Jubbal-Kotkhai, Kinnaur, Chamba & Shimla seats, leading in 36 seats. However, BJP win in Mandi, Nurpur, Pachad, Paonta Sahib & Sundernagar, leading in 20 seats.
Congress's Rajendra Rana wins from Sujanpur by 132 votes.
Congress's Indradutt Lakhanpal wins from Badsar by 13157 votes.
Suresh Kumar of Congress is ahead by 327 votes from Bhoranj.
Congress's Sukhwinder Sukhu ahead from Nadaun.
Independent Ashish Sharma won from Hamirpur Sadar by 13051 votes.
Meanwhile, BJP demands recount in Sujanpur.
1:50pm: Gujarat Chief Minister's Oath taking ceremony
Gujarat BJP Chief CR Patil announced that Gujarat CM will take oath at 2pm on 12th December. PM Modi and Union Home Minister Amit Shah will take part in the oath ceremony
1:48pm: Gujarat CM Bhupendra Patel on BJP's Gujarat win
"The results of Gujarat Elections are quite clear. People have made up their minds to further continue with the journey of development in Gujarat. We humbly accept the mandate of the people. Every worker of BJP is committed to public service": Gujarat CM Bhupendra Patel
1:40pm: Hardeep Singh Puri on BJP's gain in Gujarat
Gujarat Election Result trends are the actual manifestation of development works done by the Bharatiya Janata Party: Hardeep Singh Puri
1:32pm : Nurpur, Himachal Polls Result
BJP's Ranbir Singh wins Nurpur seat, defeats nearest rival and Congress candidate Ajay Mahajan by 18,752 votes.
1:30pm: Latest Trends
Gujarat:
BJP- 157
CONG- 16
AAP- 5
OTH- 4
Himachal Pradesh:
BJP- 25
CONG- 39
AAP- 0
OTH- 3
People's unwavering faith in BJP and Modi won Gujarat: Nitin Gadkari on Gujarat Win
PM Narendra Modi is the architect of BJP's victory in Gujarat elections: CR Patil
1:22pm: Nalagarh, Himachal Results
Nalagarh's indipendent candidate KL Thakur win by huge margin from Congress' Hardeep Bawa.
1:20pm: Gujarat Results Update
As per the official EC trends, BJP has won 5 seats and is leading on 150 of the total 182 seats in the state.
It's a win of BJP's work, the removal of Art 370. We'll focus on the work to be done in next 20 yrs. There was no competition with AAP: Hardik Patel, BJP
1:10pm: BJP's Jamnagar North candidate, Rivaba Jadeja
Those who accepted me happily as a candidate, worked for me, reached out & connected to people – I thank them all. It's not just my victory but of all of us: BJP's Jamnagar North candidate, Rivaba Jadeja
As per EC's official trend, she is leading with a margin of 31,333 votes.
Meanwhile, AAP CM candidate Isudan Gadhvi trailing by 14761 votes from Khambhalia constituency.
12:58pm: Navsari, Gujarat Poll Results
Congress's Anat Patel wins 177 assembly seats with a huge majority
12:45pm: Gujarat swearing in ceremony most likely on December 10-11
Gujarat Swearing in ceremony is likely to be held on December 10-11. Sources state Bhagabhai Dhanabhai Barad of the Bharatiya Janata Party is leading against Solanki Devendrabhai Kanjibhai of the Aam Aadmi Party with a margin of 10,019 votes.
Meanwhile, BJP candidate Kantilal Amrutia is leading from Morbi assembly seat. Amrutia has got 54.19 per cent votes so far, according to the Election Commission (EC) data. The campaigning in the constituency took place amid the allegations of mismanagement against the BJP in connection with the Morbi tragedy.
12:35pm: Somnath, Gujarat Update
Mansinghbhai Meramanbhai Parmar of Bharatiya Janata Party is leading in Somnath against Chudasama Vimalbhai Kanabhai of Indian National Congress with a margin of 6,875 votes.
12:30pm: Meghwal speaks of reason to vote for BJP in Gujarat
Union Minister Meghwal feels good governance, development main reasons people vote for BJP
12:25pm: Gujarat Election Results
BJP's best performance so far in Gujarat, receives 53 percent votes.
Congress got 27 percent votes in Gujarat, Aam Aadmi Party got 12 percent votes.
12:20pm: Vikramaditya Singh on Himachal MLAs shifting party
We will do everything to protect democracy as BJP can do anything: Congress leader Vikramaditya Singh on being asked about shifting party MLAs out of Himachal Pradesh
Congress leads in 38 seats, BJP – 26 & 1 win, & Independent – 3
12:15pm: Viramgam Election Results
Hardik Patel leads by over 21,000 votes
12:00pm: Sundernagar, Himachal Poll Results
Bharatiya Janata Party candidate Rakesh Kumar wins Himachal Pradesh assembly election from the Sundernagar constituency.
12:00pm: Gujarat Leading Trends
BJP candidate from Dahod, Kanaiyalal Bachubhai Kishori wins with a margin of 29,350 votes.
Bhanuben Manoharbhai Babariya of Bharatiya Janata Party is leading in Rajkot Rural against Vashrambhai Sagathiya of Aam Aadmi Party with a margin of 49,592 votes.
11:50am: Gujarat Update
BJP candidate Bhikhusinh Chatiur Singh Parmar leads in Modasa against Thakor Rajendrasinh Shivsinh with a margin of 18,815 votes.
11:40am: Chintpurni, Himachal Election Results:
Congress marks its first win from Himachal as its candidate wins from Chintpurni seat.
11:30 am: Latest Trends
Gujarat:
BJP- 150
CONG- 20
AAP- 7
OTH- 5
Himachal Pradesh:
BJP- 27
CONG- 38
AAP- 0
OTH- 3
11:23 am: Hardeep Singh Puri on BJP's win in Gujarat
It's the manifestation of the kind of development-anchored work that BJP has been undertaking. It's a model for the whole country: Union Minister Hardeep Singh Puri
11:00- 11:20am: Latest Update
Gujarat Election Results:
Pabubha Virambha Manek of the BJP is leading in Gandhinagar North Dwarka against Congress' Ahir Mulubhai Ranmalbhai Kandoriya with a margin of 9,159 votes
Himachal Pradesh Election Results:
Congress leading on 33 seats, BJP on 30. Meanwhile, BJP candidate Rakesh Kumar wins from Sundernagar Assembly constituency.
10:45am: Seraj, Himachal Pradesh Poll Results
CM Jairam Thakur wins from Seraj Assembly constituency with 20,000 votes. Meanwhile, BJP and Congress leading on 32 seats each now as the neck-to-neck fight between the two parties continues in the state.
10:29 am: Defence minister Rajnath Singh
"There is pro-incumbency in Gujarat. We are creating a new record in Gujarat as the people of the state have immense faith in PM Modi": Defence minister Rajnath Singh on BJP gaining a clear lead in Gujarat.
10:18- 10:30am: Early Trends in Gujarat
Aam Aadmi Party's Isudan Gadhvi leads from Khambhalia in Saurashtra
BJP Kantilal Amrutia leading in Morbi with a total of 10,156 votes
BJP's Rivaba Jadeja is leading in Jamnagar North Assembly constituency
10:15am: Himachal Update
Congress ahead in Shimla, BJP leads in Shimla Rural. Congress candidate Harish Janartha leading in Shimla while, BJP's Ravi Kumar Mehta is leading in Shimla Rural.
Congress candidate from Shimla Rural and former CM late Virbhadra Singh's son, Vikramaditya Singh leading with a total of 7233 votes.
10:00am: NewsX calls Gujarat for BJP
Latest trends show BJP's biggest ever victory in Gujarat as it touches 150 mark. As per the Election Commission, early trends show BJP is leading in 142 seats, Congress leading in 20 and AAP in 7.
9:59am: Trends of Independent candidates in Himachal
1. BJP rebel KL Thakur leading in Nalagarh
2. BJP rebel Hoshiyar Singh leading in Dehra
3. Congress rebel Ashish Kumar leading in Hamirpur
9:45-9:50am: Leads and Trends
Himachal Pradesh: Rakesh Pathania is trailing by 2,667 votes on Fatehpur assembly seat of Kangra district.
Gujarat: EC announces BJP leading in 87 Gujarat Assembly constituencies, Congress in 13, AAP in 8.
9:30am: Trends of star candidates
Gujarat:
Alpesh Thakore : Leading
Hardik Patel: Trailing
Himachal:
Jairam Thakur: Leading
Satpal Singh Satti: Leading
9:25am: Latest Update
Gujarat: BJP leading in 61 seats, Congress in 11 seats, as per the Election Commission of India.
Himachal Pradesh: BJP leads on 20 seats, Congress on 13 and Independent candidates on 2 seats
9:05-9:20am: Leads and Trends
Gujarat:
BJP leads in Naroda and Godhra. Meanwhile, the face of AAP Gopal Italia is leading in Katargam. BJP's Hardik Patel is leading in the Viramgam assembly seat, Congress leader Lakhabhai Bharwad trailing
Himachal Pradesh:
Chief minister Jai Ram Thakur is leading by 3,763 votes from Seraj constituency. However, Vikramaditya Singh, the son of former Chief Minister Virbhadra Singh is trailing in Shimla Rural.
9:05am: Gujarat Initial Trends
As BJP leads from Morbi, AAP candidates are trailing in Katargam and Varachha Road behind BJP. These seats are in focus due to Patidar voters and AAP factor.
BJP leader Hardik Patel continues to trail behind his AAP challenger Kuvarji Thakor. BJP's Jitendra Vaghani is leading from Bhavnagar West assembly seat. Meanwhile Jignesh Mewani leads from Vadgam. BJP's Reena Kashyap leading by 700 votes from Pachhad.
9:00am: Himachal Trends
Jai Ram Thakur leads in Seraj Assembly constituency. Meanwhile, Chet Ram is trailing.
Counting of first 10 booths in Dharamshala completed, Congress's Sudhir Sharma leading.
Of the total 15 seats of Kangra district, Congress is leading on 9 seats while BJP on 6 seats.
8:40- 8:55am: Gujarat Trends
After 30 minutes of vote counting, trends indicate, BJP is leading in 34 Assembly seats, Congress is also leading in 34. Meanwhile, Congress is ahead on 3 seats in Gujarat
BJP's Alpesh Thakore is trailing
AAP's CM candidate Isudan Gadhvi is leading
BJP's Kantilal Amrutiya leads in Morbi
Congress ahead in 5 out of 14 seats in Saurashtra-Kutch.
BJP ahead in Surendranagar-Morbi seat 1-1
BJP ahead on 3 seats of North Gujarat
BJP ahead in 12 out of 35 seats in Gujarat
8:40 am: Gujarat Counting Trend
Counting of votes for a total of five seats in Valsad district will be held today
1) Valsad- 66.11% polling
2) Pardi – 63.57 % polling
3)Dharampur- 78% polling
4) Umargam -60.43 % polling
5) Cloth- 79.57% turnout
A total of 35 candidates are in fray for five seats in Valsad district
1) Direct fight between Bharatbhai Patel of BJP and Kamal Patel of Congress in Valsad seat
2) Direct fight between BJP's Kanubhai Desai and Congress' Jayshriben Patel in Pardi seat
3) Direct fight between Raman Patkar of BJP and Naresh Wadvi of Congress in Umargam seat.
4) Direct fight between Arvind Patel of BJP and Kishan Patel of Congress in Dharampur seat
5) Direct fight between Jitubhai Chaudhary of BJP and Vasant Patel of Congress in Kaprada seat.
8:30-8:40am: Gujarat Trends
The trend of four assemblies started from Sabarkantha.
Gajendrasinh Parmar ahead on Prantij seat.
VD Jhala ahead of Himmatnagar seat.
BJP's Hardik Patel is trailing from Viramgam
BJP ahead on provincial seat in ballot count.
8:27 am: Gujarat Election Results
As per the early trends, BJP is ahead in 14 Assembly segments and Congress in 12 seats. Congress Dr Bhim Patel leading from Vav constituency in early trends.
8:23 am: Gujarat election results trends
BJP is ahead in 33 seats and Cong is leading in 6
Gujarat:
BJP- 100
Cong- 45
AAP- 1
Others- 4
Himachal Pradesh:
BJP- 16
Cong- 15
AAP- 0
Other- 0
8:20 am: Gujarat Latest Trends
BJP's Harsh Sanghvi leads in Majura.
AAP's Gopal Italia leads in Katargam.
8:00- 8:15am Counting Update Update
8:10am: Himachal Update
Counting of votes begins in Himachal Pradesh Assembly elections. According to reports, Congress is planning to shift its winning MLAs to a resort after the results.
8:10am: Latest Update from Surat Gujarat
The BJP contender for Surat's 84th seat arrived at the counting place (Surat's Gandhi College). They are hoping for victory on eighty-four seats.
8:00am: Gujarat Latest Update
Today, the destiny of 69 contenders for seven seats will be known. Counting will take place in seven seats, ranging from 17 to 22 rounds.Central Security Force and police troops have been deployed.
Figures from polls Khambhat 67.61, Borsad 69.31, Evaluation 74.12
7:50am: Gujarat Update
Votes for Petlad and Sojitra seats are being counted. Khambhat, Borsad, Anklav, Umreth, Anand, and others Votes for Petlad and Sojitra seats are also being counted. Meanwhile, count of votes for the Anand district's seven assembly seats will also begin shortly.
7:38am: BJP's Hardik Patel on Gujarat
Govt being formed on basis of work. No riots/terrorist attacks here in past 20 yrs. People know BJP met their expectations. They press 'Lotus' as their future will be safe under BJP. It did good governance & strengthened this trust: BJP candidate Hardik Patel
7:25 am: Himachal Latest Update
Images from the counting hall in Mandi, Himachal Pradesh, where all preparations for voting have been made.
7:20 am: Gujarat Constituencies counting
Gandhi Engineering College:
Choryasi, Mangrol, Mandvi, Katargam, Surat West, Udhana, Bardoli, Mahuwa, Kamrej, Allpad
SVNIT College:
Limbayat, Varacharod, Majura, Karanj, Surat East, Surat North.
7:10 am: Chotaudepur, Gujarat Latest Update
Votes will be counted for three Legislative Assembly seats in the Chotaudepur district. The vote will be counted at the Government Polytechnic College Voting College. A heavy police presence have been set up on campus.
7:00 am: Gujarat Latest Update
There are two rooms for counting votes for the Limbayat seat, which has a maximum of 44 candidates in the state. 3 times 28 tables and 135 personnel have been set. Votes will be counted at Gandhi Engineering College and SVNIT for 16 seats, 12 in the city and 4 in the district. Out of 16 seats, 10 will be counted in Gandhi College and 6 will be counted in SVNIT.