Major Aashish Dhonchak's Mortal Remains Brought Home Amid Grief After Anantnag Encounter
15 September, 2023 | Anupam Shrivastava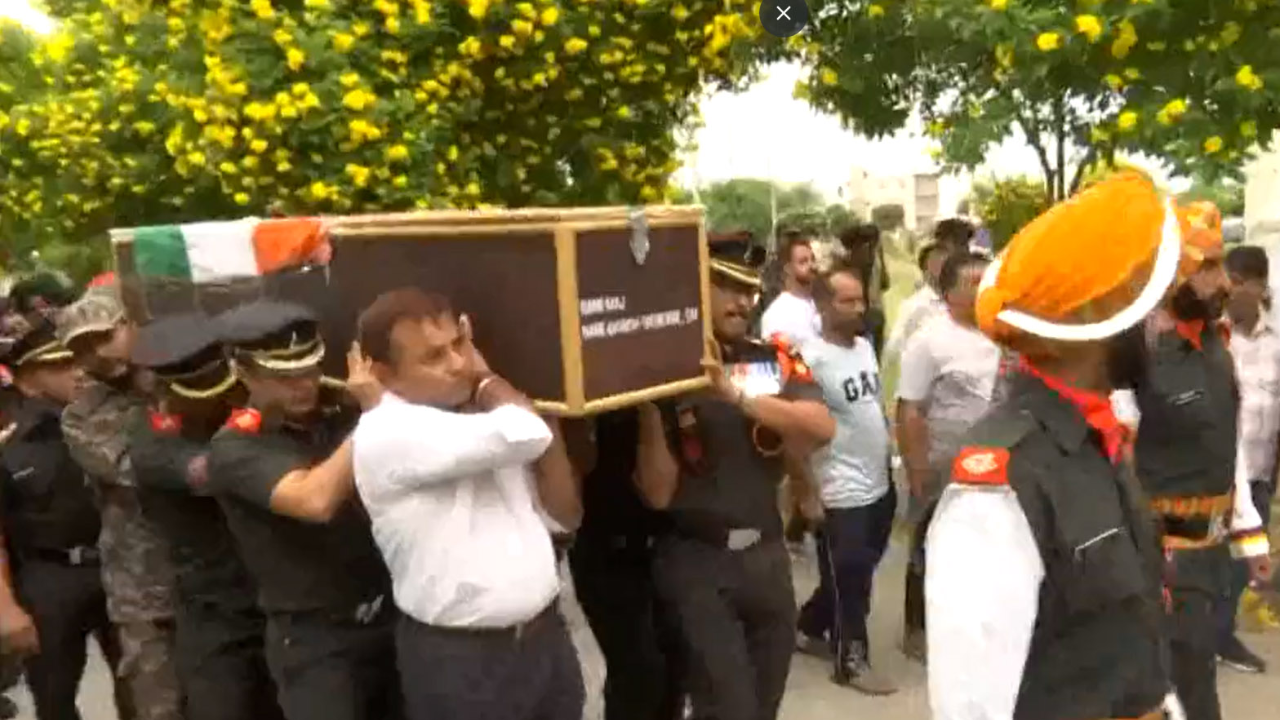 Major Aashish Dhonchak's death was not the only one; Colonel Manpreet Singh and Deputy Superintendent Humayun Bhat also lost their lives in the operation.
The mortal remains of Major Aashish Dhonchak, who tragically lost his life during an ongoing encounter with terrorists in Anantnag, Jammu and Kashmir, were transported to his Panipat residence on Friday.
Heartrending visuals circulated widely on social media, depicting soldiers solemnly bringing Major Dhonchak's body in a coffin. The footage captured local residents gathering in large numbers outside Major Dhonchak's home to pay their final respects.
Major Dhonchak, who fell victim to enemy fire during the encounter in the Kokernag area of Anantnag district, leaves behind a two-and-a-half-year-old daughter. He also had three sisters and had returned home on leave just two months ago.
The news of his demise cast a pall of sorrow over his native village, with locals learning of the tragedy on Wednesday evening.
Tragically, Major Dhonchak was not the only casualty in the encounter. Colonel Manpreet Singh, who commanded the Quick Response Team (QRT) of the Rashtriya Rifles, and Deputy Superintendent of Jammu and Kashmir police, Humayun Bhat, also made the ultimate sacrifice during the same operation.
DSP Bhat's last rites were conducted in Budgam on Wednesday evening. Jammu and Kashmir Lieutenant Governor, Manoj Sinha, expressed his condolences for the fallen officers and paid tribute to DSP Bhat in Budgam.
In a separate encounter, security forces successfully neutralized two terrorists in the Narla area of Rajouri, Jammu and Kashmir. During the operation, they discovered warlike supplies, including medicines with Pakistan markings. This encounter extended into Wednesday evening.
Meanwhile, the Indian Army, in collaboration with the Jammu and Kashmir Police, resumed the operation in the Kokernag area of Anantnag district.
Also Read: No Cheetah in Kuno National Park Died Due to Radio Collars: Project Cheetah Chief SP Yadav
Catch all the Latest Business News, Breaking News Events, and Latest News Updates on NewsX