Manipur's Viral Video Case: All Four Accused in 11-Day Police Custody Amid Outrage
21 July, 2023 | Don Tomslee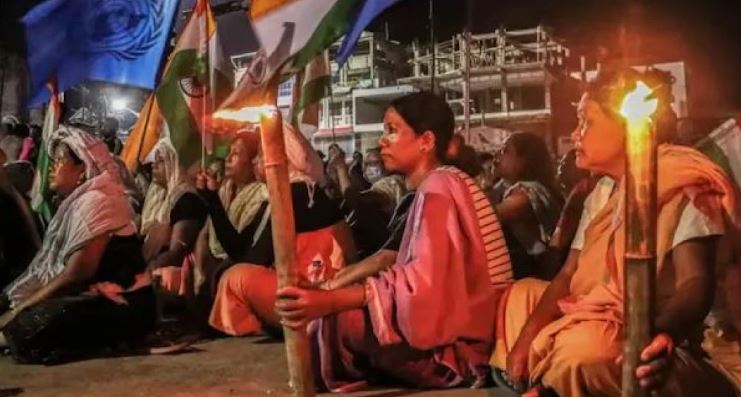 Officials claim that all four suspected people were taken into custody on Thursday.
All four suspects, who had been detained on Thursday in relation to the widely circulated video of naked women being paraded in Manipur, were remanded to police custody on Friday for an additional 11 days.
"All four accused were remanded to 11-day police custody," according to Manipur Police. Officials claim that all four suspected people were taken into custody on Thursday.
In the viral video case, four key suspects were apprehended. Today, three additional important suspects were apprehended for the horrible crime of kidnapping and gangrape in the Nongpok Sekmai PS, Thoubal District. So far, four people have been detained, according to a tweet from the Manipur Police on Thursday.
PM Modi has expressed grief over situation in Manipur
The event allegedly occurred on May 4, one day following ethnic unrest in Manipur.
After a similar video went viral, police swung into action and arrested 4 people, including the main accused.
A complaint of kidnapping, gang rape, and murder against unidentified armed men was filed at Nongpok Sekmai police station in Thoubal district on Thursday night after authorities took suo motu notice of the video. They said that they were making every effort to apprehend the offenders as soon as possible.
Before being released by the majority community's mob, the two ladies are said to have been sexually molested.
The occurrence, according to Prime Minister Narendra Modi, is "shameful for any civil society" and he expressed his sorrow about it in his remarks.
PM Modi declared, "No accused will be spared, and we will never forgive those who are responsible."
The All Tribal Students Union of Manipur (ATSUM) held a demonstration on May 3 in opposition to the planned inclusion of members of the Meitei group in the list of Scheduled Tribes (STs), which sparked the outbreak of violence in Manipur.