FIFA World Cup 2022: Messi Takes Home World Cup Trophy
19 December, 2022 | Pranay Lad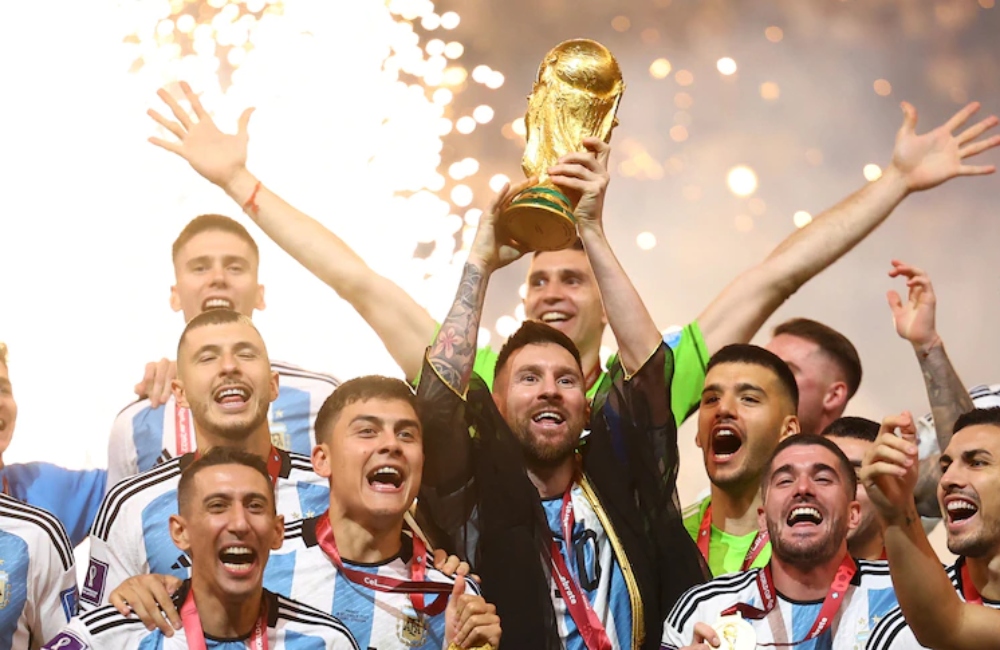 After the scores were knotted 3-3 in extra time, Lionel Messi's Argentina defeated France 4-2 in penalties.
Argentina overcame France 4-2 on penalties after the scores were knotted 3-3 in extra time, giving Lionel Messi his first FIFA World Cup victory and "completing football." Messi scored two goals and Kylian Mbappe three for France. Argentina only had one additional scorer, Angel di Maria. Later, Lionel Messi received the Golden Ball as well, making him the first player in history to do so.
In an amazing World Cup final on Sunday, Argentina defeated France 4-2 on penalties after Lionel Messi scored twice in a 3-3 game that also featured a hat-trick from Kylian Mbappe as the host nation overcame a 2-0 deficit.
It was a remarkable night of drama, intense emotion, and shifting fortunes that culminated in one of the greatest tournament finals in history as its two-star players gave commanding performances on the biggest platform of them all.
Messi's penalty and a spectacular goal by Angel Di Maria in the first half appeared to put Argentina in complete control, but Mbappe equalised with a penalty kick in the 80th minute and a volley a minute later to force extra time.
Messi gave Argentina the lead once more, but Mbappe equalised with another penalty, becoming the second player, after England's Geoff Hurst in 1966, to score a hat-trick in a World Cup final.
As a result, the game was decided by a shootout. Argentina's Emiliano Martinez stopped Kingsley Coman's attempt, and Aurelien Tchouameni missed the mark, giving Gonzalo Montiel the opportunity to win, which he gladly did.
Argentina has now prevailed in six of its seven World Cup shootouts, including the quarterfinal victory over the Netherlands last week when they also blew a 2-0 lead. France, on the other hand, has lost three of its last five shootouts, although two of those losses have been in championship games.
It meant that after playing in a record-tying 26 World Cup games, Messi, 35, finally got his hands on the trophy at the fifth and final attempt. This elevated him alongside Diego Maradona, the nation's first football god, who led them to their stirring second victory in 1986 after their first in 1978.
It appears even more unbelievable given that it occurred a month after his team's World Cup debut, which saw them suffer statistically the largest upset in tournament history when they were defeated by Saudi Arabia.
"I find it hard to understand that we endured so much in a flawless game. Unbelievable, but Lionel Scaloni, Argentina's coach, stated, "This team reacts to everything.
"I'm pleased with the job they did. This makes you feel sad, especially after the punches we took today. I want to encourage everyone to take in this historic occasion for our nation.