Mikes switched off in Parliament whenever we raise Adani issue: Mallikarjun Kharge
13 March, 2023 | Pragati Singh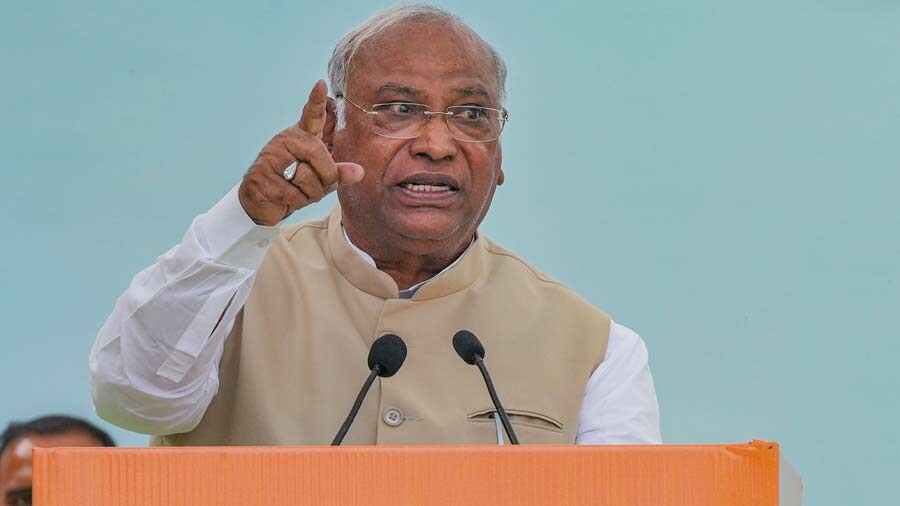 The Lok Sabha has also been adjourned until 2 p.m.
Congress President Mallikarjun Kharge slammed the BJP-led central government on Monday, alleging that microphones are turned off whenever the opposition raises the Adani issue in Parliament.
Talking to media persons outside Parliament, Kharge said, "There is no rule of law and democracy under Modi ji. They are running the country like a dictatorship, and then they talk about democracy." "We are demanding the constitution of JPC on the Adani stocks issue. When we raise this issue, then mikes are switched off and a ruckus erupts in the House," the Leader of Opposition in Rajya Sabha said. "Whatever Rahul ji has said about democracy, he raised it in the Rajya Sabha. This is wrong according to the rules," Kharge claimed.
"How can they raise questions about someone who's not even part of the house (Rajya Sabha)? The leader of the House spoke for 10 minutes and the LoP was given just two minutes, what rule is this? This is the end of democracy and that's what he (Rahul Gandhi) said in the seminar," Kharge said.
After a month's break, the second leg of Parliament's Budget session resumed on Monday. The Rajya Sabha was adjourned until 2 p.m. this afternoon shortly after it reconvened this morning. The Opposition erupted after House Leader Piyush Goyal demanded an apology from Rahul Gandhi for his remarks in London.
The Lok Sabha has also been adjourned until 2 p.m. The current Budget Session's second leg will last until April 6. Previously, during the previous session, the Opposition demanded a JPC investigation into the Adani-Hindenburg dispute, causing the Session to be repeatedly disrupted.
The concerned report, released on January 24 by the US-based short-seller firm Hindenburg Research, claimed that the Adani Group had weak business fundamentals and was involved in stock manipulation and accounting fraud, among other things.