Minister Piyush Goyal lauds GeM crossing Gross Merchandise Value of Rs 2 lakh cr in 2022-23
2 April, 2023 | Pragati Singh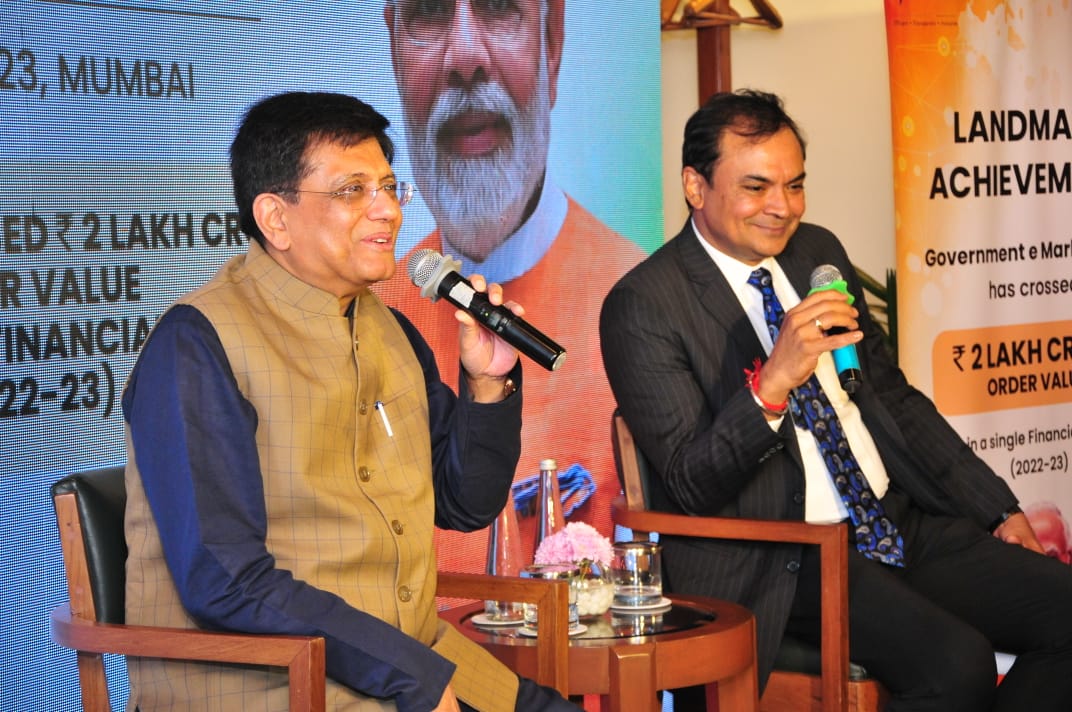 GeM is a symbol of the speed with which PM Narendra Modi has taken the country forward through modern technology.
Union Commerce and Industry Minister Piyush Goyal announced on Saturday that purchase of products and services on the government portal Government e-Marketplace (GeM) had surpassed Rs 2 lakh crore in the fiscal year 2022-2023, a great achievement. The Commerce and Industry Minister further emphasised GeM's function as a digital tool in the public and national interest.
"GeM is a symbol of the speed with which PM Narendra Modi has taken the country forward through modern technology," said the Minister.
He was addressing during a news conference about GeM's historic feat. Congratulations to GeM and its strong ecosystem of buyers and sellers, whose steadfast support was critical in achieving this historic milestone.
The Minister went on to say that the Prime Minister wants government departments to be run with the utmost integrity and transparency, with people from all over the country participating, and that women entrepreneurs, startups, and the MSME sector to be able to participate in government procurements in a fair and equitable manner.
"I am confident that GeM will grow faster, the future is very bright. I would like to appeal to more and more vendors to join GeM so that they too get a chance to participate in the government procurement process", he said.
"After the GeM portal was launched in 2017, business worth about Rs 400 crore was done, and in the second year, GeM did business of about Rs 5800 crore. The business through GeM has grown from around Rs 35000 crore two years ago and tripled last year to Rs 1 lakh 6 thousand crores," the Minister informed. Growing to Rs 2 lakh crores in 5 years shows that this experiment of the Prime Minister has been successful, he further stated.
The Minister also stated that India's total exports for the fiscal year 2022-23 had surpassed 750 billion dollars, with the ultimate amount anticipated to exceed 765 billion dollars. He reported that the recent G20 Trade and Investment Working Group Conference in Mumbai had constructive discussions.
The Union Minister stated that India has won the G-20 Presidency under Prime Minister Narendra Modi, and that it is an excellent opportunity to highlight the achievements of the rapidly emerging New India to the rest of the world. He stated that the Foreign Trade Strategy 2023, which was released yesterday in New Delhi, has been well received by industry and trade.
"A sense of stability is reflected in the foreign trade policy," he added.
Speaking about the vision and path ahead for GeM, P.K. Singh, CEO of GeM, praised all stakeholders who are the major drivers behind GeM's success. According to an official release, GeM has an astounding Rs 2 lakh crore of Gross Merchandise Value (GMV) as of March 31, 2023.
GeM has reached the Rs 3.9 lakh crore GMV mark cumulatively since its foundation, thanks to the enormous support of its stakeholders. According to the release, the total number of transactions on GeM has also surpassed 1.47 crore.
GeM meets the diversified procurement requirements of nearly 67,000 government purchasing organisations. Around 11,700 product categories with over 32 lakh listed products are available on the web, as are over 280 service categories with over 2.8 lakh service offerings.
According to numerous studies, the minimum savings on the platform are around 10%, which corresponds to a savings of Rs 40,000 crore in public money. The Prime Minister envisioned the Government e-Marketplace (GeM) as an online platform for public procurement in India.
The Ministry of Trade and Industry started the project on August 9, 2016, with the goal of developing an inclusive, efficient, and transparent platform for buyers and sellers to conduct fair and competitive procurement activities.