Human Rights Tarnished In Pakistan: 974 Missing People In Detention Centres
10 December, 2022 | Pravina Srivastava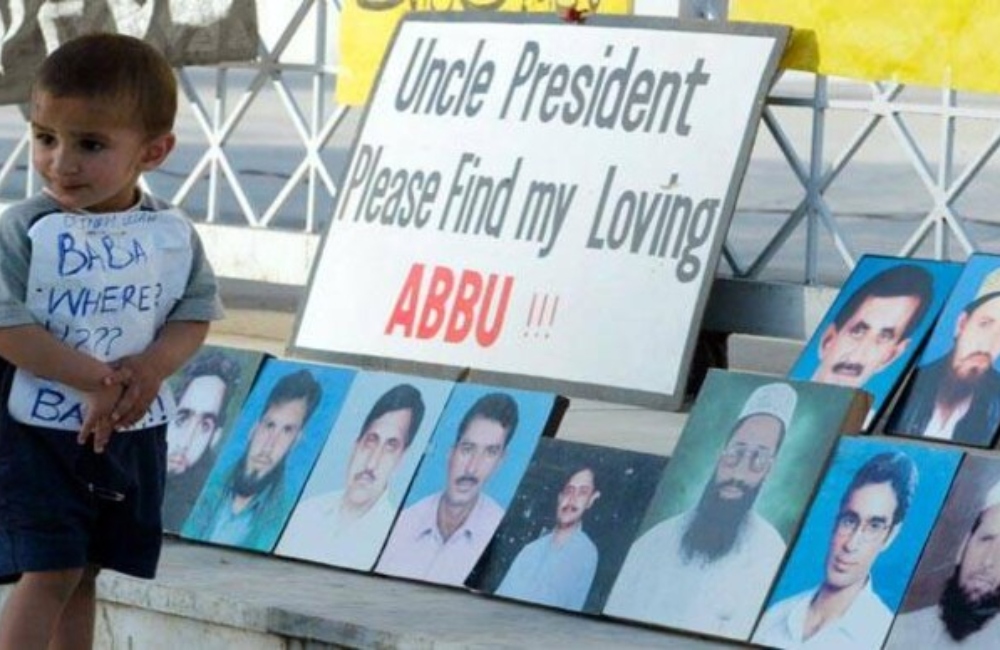 Missing Persons Commission reported that 616 inmates were still in jails while 974 persons who had been labelled "missing" were in detention facilities.
Missing cases in Pakistan is not a new situation, cases of missing person tortured in detention centres has been highlighted time to time. The state's response to the separatist movement is the disappearances. The state has taken away separatists, sympathisers, their family members, supporters, and political workers. However, this fire has claimed the lives of more innocent people than it has rebel backers.
In a recent finding, Pakistan Supreme Court on Thursday stated that number of convicts housed in detention facilities from the Missing Persons Commission. According to the report from the Missing Persons Commission, 616 inmates were still in jails while 974 persons who had been labelled "missing" were in detention facilities.
The Missing Persons Commission stated in the report that 81 persons went home in November. The commission reported receiving 9133 reports of missing individuals. According to a report, the commission was able to locate 5574 of them, while 3,743 of them went back to their homes.
The report states that 241 missing people's bodies were found. The report also disclosed that instances involving 6,926 missing persons had been resolved. In addition, according to a news source from The Express Tribune, 2,207 instances of missing individuals were still open as of November 30. In the report, the Missing Persons Commission revealed that they had received a report of 98 instances in November while 101 were disposed of.
The Islamabad High Court (IHC) received a report from the Commission of Inquiry on Enforced Disappearances in March that said that just 3,284 of the 8,463 missing Pakistani citizens have returned home as of March 2011.
The responsible institutions failed to provide information regarding prisoners in 550 cases despite production directives, according to the Commission, which was founded in 2011 to find the missing and place blame on the persons or organisations.
Between March 2011 and February 2022, the commission received 8,463 complaints concerning forced disappearances. According to the Dawn report, of these instances, the commission has resolved 6214 of them while looking into another 2249.
Furthermore, report claimed 3,284 persons missing had been located and had returned home. Additionally, 228 individuals were "claimed to be killed in confrontations, etc.," and the relevant authorities have filed an FIR in connection with the incident.
Who is to be held accountable?
The military defends it as a necessary measure of national security in a nation where hundreds have died in attacks by Islamic extremists and separatist rebels. It started in the 1970s but after 2001, Pakistan's security agencies, especially the covert Inter-Services Intelligence (ISI), made it a common practise.
The ISI and paramilitary forces in Pakistan, which became a focal point of the US "war on terror," gathered up hundreds of alleged al-Qaida members for the US government, who then surreptitiously transported them to Guantánamo Bay.
The practice's prevalence and entrenchment have been recorded by human rights organisations, notably by the ISI, which has been accused of running a "state within a state" in Pakistan and is said to employ more than 10,000 agents, the majority of whom are serving army officers.
Targets of abductions include alleged Islamic or separatist militants as well as political rivals, activists, students, politicians, human rights defenders, journalists, and lawyers. All are taken away without having been given a fair trial and without having any information provided to the families who remain behind.
A year after the supreme court started considering cases involving Pakistan's "disappeared" and all justices were removed, a state of emergency was imposed by the then-prime minister Pervez Musharraf .
Bein in opposition, Imran Khan always stood to make forced disappearances a crime or ratify the UN treaty prohibiting them. Yet, in his tenure of prime minister he failed to fulfill his commitment to put an end to the disappearances.
Meanwhile, Pakistan established the Commission of Inquiry on Enforced Disappearances in 2011 with the goal of locating the missing and punishing those accountable.