MLA's offered Rs 20 crores: AAP
25 August, 2022 | Pranay Lad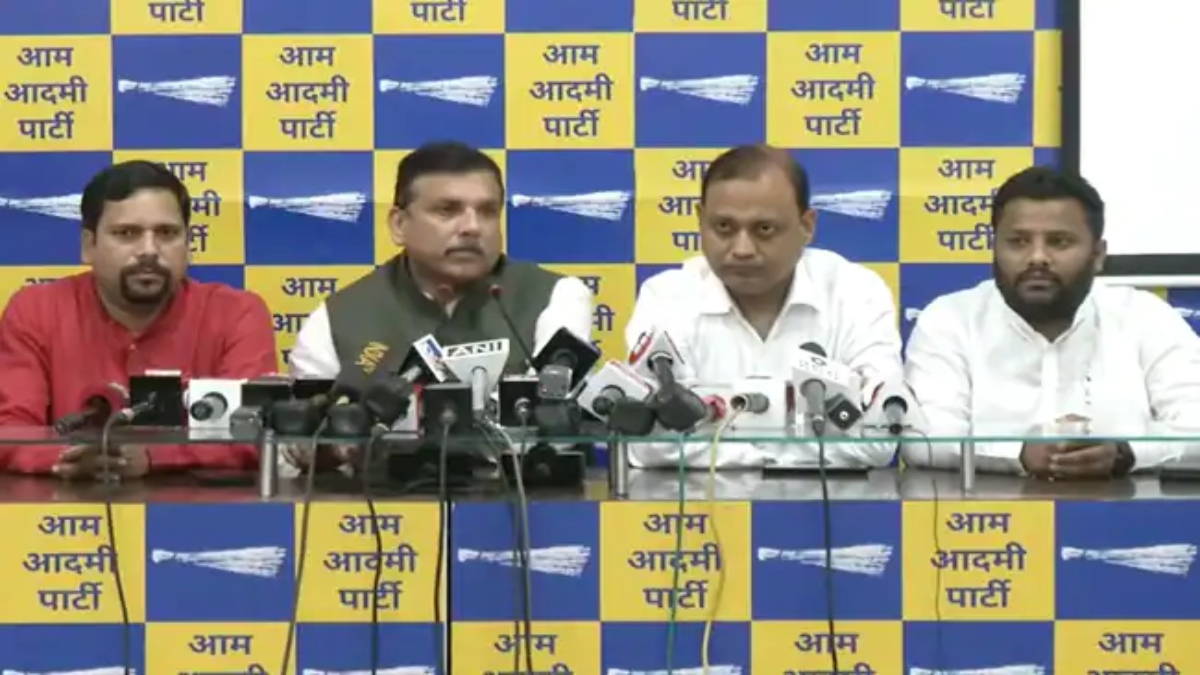 Arvind Kejriwal, the Chief Minister of Delhi, has scheduled a meeting with all Aam Aadmi Party MPs on Thursday to explore "offers" to join the BJP. The AAP's Political Affairs Com...
Arvind Kejriwal, the Chief Minister of Delhi, has scheduled a meeting with all Aam Aadmi Party MPs on Thursday to explore "offers" to join the BJP.
The AAP's Political Affairs Committee, the party's top decision-making body, met on Wednesday to review the alleged offers and the party's strategy.
"The CBI lodged a bogus case against Manish Sisodia a few days ago, and his residence was raided." During the raid, the CBI found nothing – no unaccounted money, jewellery, or Benami property. The next day, BJP leaders contacted Sisodia and informed him that if he joined their party, all CBI and ED proceedings against him will be dropped. They informed him that they would destabilise the AAP administration and install him as Chief Minister… Our MLAs have now been approached and informed that if they remain in AAP, charges would be brought against them and the CBI will raid their homes. "They would be offered Rs 20 crore if they join the BJP," stated AAP Rajya Sabha MP and PAC member Sanjay Singh.
"We want to assure the public that your administration is stable and that no one will abandon the AAP." We want to urge the Prime Minister to spend his time fixing people's concerns rather than seeking to destabilise state administrations. People are confronting unemployment and inflation, yet you are busy destabilising state governments that have been elected by the people. "The public also wants to know where they are obtaining crores of rupees to purchase MLAs," he continued.
Earlier in the day, Kejriwal claimed that BJP leaders were also threatening MLAs. "Some MLAs have been offered money and threatened with CBI and ED action" (cases). "The probe into excise policy, as well as CBI and ED searches, would continue till the Gujarat Assembly elections," he added.
According to AAP, BJP leaders approached 35 of its 62 MLAs and persuaded them to join the party to destabilise the government. Somnath Bharti of Malviya Nagar, Sanjeev Jha of Burari, Ajay Dutt of Ambedkar Nagar, and Kuldeep Kumar of Kondli alleged Wednesday morning that they were approached and promised that they will be paid "Rs 20 crore per head if they join and Rs 25 crore if they bring another MLA with them."
EXPLAINED: WHY IS THERE AN ALLEGATION OF AN OFFER BY THE BJP
The AAP, which commands 62 of the 70 seats in the Delhi Assembly, has only faced a threat of MLAs defecting to the BJP once – in 2014. Since then, the two subsequent AAP administrations in Delhi have been stable due to the overwhelming majority it has had in the legislature — it won 67 out of 70 seats in the 2015 elections.
"Besides the four MLAs, the BJP has reached and is seeking 35 more AAP leaders with an offer of Rs 20 crore if they overthrow the AAP government," AAP national spokesman Saurabh Bharadwaj said. For 35 people, Rs 20 crore apiece equals Rs 700 crore… I'd want to ask the BJP where this money came from… This is the subject that the CBI and ED should look into: where is this black money coming from, and where are they hiding."
"This is not the first time," Bharadwaj noted, "the BJP tried to bribe AAP leaders in 2014, and they caught BJP leaders red-handed in a sting operation." When Kejriwal stood down as CM and President's rule was established in Delhi in 2014, three AAP MLAs — Ashok Kumar Chauhan, Dharmender Singh Koli, and Prakash Jarwal — allegedly fled to Goa to join the BJP so that it could form a government in the city. They were, however, contacted by the landing party and requested to return immediately.
Meanwhile, the BJP argued that AAP should provide proof of these charges, but that it was attempting to divert attention away from the CBI's allegations. "If this is true, why have they not given the identities of those who sought out to them?" BJP spokesperson Harish Khurana said. The fundamental issue is that you did not follow the set of liquor licence and trading standards. Why did you turn over the wholesale industry to private businesses while an Excise Policy Committee advised that it be managed by the government? The committee also proposed that the retail vending industry be provided to people rather than corporate organisations, however, this recommendation was not adopted."
Read more: Arvind Kejriwal's 'BJP terrified in Gujarat' tweet claims about the state chief