MMA Board Members unveil key insights for Modern Marketers at MMA Impact 2023
5 July, 2023 | newsx bureau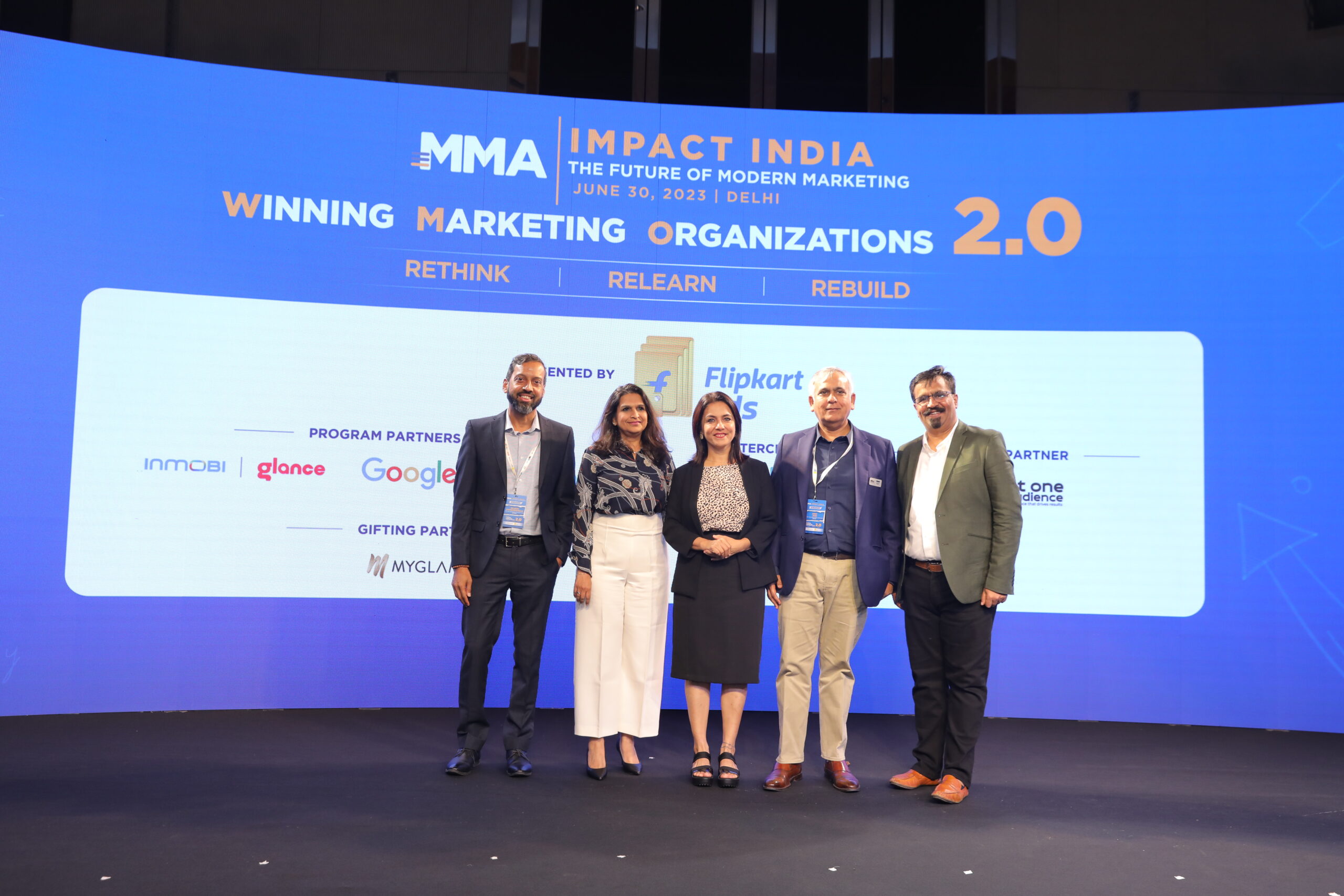 MMA Global India concluded its highly anticipated MMA IMPACT India 2023 conference at Taj City Centre, Gurugram, bringing together some of India's brightest marketing minds.
MMA Global India concluded its highly anticipated MMA IMPACT India 2023 conference at Taj City Centre, Gurugram, bringing together some of India's brightest marketing minds. The event, marked by engaging panel discussions and industry insights, featured esteemed figures such as Moneka Khurana, Ghazal Alagh, Varun Alagh, and Shireesh Joshi, among other notable delegates. With the unveiling of the ONDC Playbook titled "ONDC Advantage x toolkit," authored by Ghazal Alagh and Shireesh Joshi, the conference provided a step-by-step approach to implementing the ONDC, bolstering digitization and democratization for commerce-led growth.
MMA IMPACT India 2023 captivated attendees with its series of captivating panel discussions, where prominent industry leaders shared their valuable insights. Moneka Khurana, Country Head & Board Member of MMA Global – India, set the stage for the event with her compelling welcome address, emphasizing the importance of embracing the non-linear customer journey. She encouraged marketers to stay updated, engage with industry initiatives, and explore new learning opportunities offered by MMA.
During the event, Amit Jain, MMA India Board Chair and Chairman of L'Oréal India, delivered a thought-provoking keynote session. Jain discussed marketing excellence and the significance of embracing the strengths of insurgents, inspiring marketers to break free from conventional approaches and explore innovative strategies.
Rohit Dadwal, MMA Board Member and MD APAC MMA Global APAC, unveiled the Global MMA study on the State of AI in Marketing. His message resonated with the audience, highlighting the need for change, agility, adaptability, and experimentation in the ever-evolving marketing landscape. Dadwal emphasized the importance of crafting personalized playbooks and continuously learning to stay ahead of the curve.
A Resounding Success in the Marketing Industry:
In an exclusive interview with NewsX, Moneka Khurana, Rohit Dadwal, and Amit Jain shared deeper insights into the event and their vision for the marketing industry. They emphasized the importance of collaboration, innovation, and adaptability in driving marketing excellence. The interview shed light on their individual perspectives, offering valuable takeaways for marketers looking to thrive in today's dynamic landscape.
While talking to NewsX, she emphasized that the event aims to shape the future of marketers by focusing on key trends with significant business implications. "The agenda of the event covers diverse areas such as data, AI, digital commerce revolution, and new media touchpoints. By exploring these areas, marketers can improve their return on investment (ROI), enhance productivity, and become more versatile in their decision-making process. With the increasing shift towards digital marketing, it becomes crucial for marketers to think like full stack marketers, embracing various touchpoints to drive better performance," she said.
When discussing the agenda of MMA Impact India, Moneka highlighted the need to rethink execution methods, leverage technological advancements, and rebuild marketing organization structures. She introduced the concept of Winning Marketing Organizations (WMO) and explained that enhancing marketing capability is essential for businesses. "Those who choose not to participate in building a WMO will remain lagging organizations. To achieve WMO 2.0 status, marketers must embrace the principles of rethinking, relearning, and rebuilding. The event focuses on how technology, new media, AI, and the adoption of the ONDC infrastructure can facilitate the journey towards becoming a WMO 2.0. The sessions curated at the event aim to drive this thinking and help marketers deploy these principles effectively."
She further said, "the term "Winning Marketing Organizations 2.0" emerged from a global study called Marcaps Benchmarking Study, which assessed marketing capabilities of organizations against certain benchmarks. It classified businesses as WMO or lagging marketing organizations based on their scores. Recognizing the power of this framework, Moneka and her team actively distributed it in India, providing industry members with the opportunity to understand and implement essential elements for becoming a successful winning marketing organization. This year, they elevated the stature of WMO by introducing the concept of WMO 2.0, indicating the need to evolve and adapt to the changing landscape."
Moneka stressed the importance of data-driven marketing in today's digital landscape, comparing data to oxygen for marketers. She explained that marketers are at different stages in their data journey, gradually moving from one level to another. "Building a robust data ecosystem involves creating value for customers and encouraging them to share more data (first-party data). Additionally, marketers can establish data partnerships to access look-alike customers and engage them, eventually converting them into first-party data. It is also recommended to run campaigns using second-party and third-party data alongside first-party data, as it provides a wider visibility and a better understanding of customer needs beyond a specific product," she added.
Rohit Dadwal, MMA Board Member and MD APAC MMA Global APAC, unveiled the Global MMA study on the State of AI in Marketing.
While talking to NewsX in an exclusive interview, he said, "the research we conducted in the advertising and marketing industry aimed to address the questions surrounding the impact of AI on these fields. As part of the MMA's mission to help professionals navigate the evolving landscape of digital advertising, it became clear that AI will play a significant role going forward. Marketers were eager to understand AI's implications, and through our research, we identified three key points. Firstly, there is a universal interest in AI and a widespread effort to comprehend its applications. Secondly, at least 15% of marketing professionals already have an AI strategy in place. Lastly, certain aspects of AI, such as generative AI, consumer experience, and production, hold significant potential for advertising and marketing. However, we also discovered a crucial insight: while there is a desire to embrace and implement AI, the lack of awareness and knowledge in this area poses risks in terms of regulation, governance, and procurement."
"Marketers are eager to begin working with AI immediately, but decision-making poses a significant challenge. While consumers are aware of missed opportunities, they must understand that embracing AI and continuous learning can mitigate risks and enhance their performance. Thus, self-governance becomes essential, as regulatory measures may take too long to implement. It is crucial to act swiftly, test, and even embrace occasional failures. The opportunities presented by AI are vast, as the amount of data available surpasses human capabilities, and AI can efficiently process it into valuable insights. However, human interpretation remains vital. Moreover, AI can address the longstanding measurement challenge faced since the internet's inception, as it enables the connection of different services, providers, and sets of data. Additionally, AI can expedite this process compared to previous methods like machine learning or manual analysis. Finally, AI has the potential to elevate the consumer experience, bringing us closer to the ideal of personalized advertising," he said.
He further said, "advertising in the Asia Pacific region is experiencing robust growth, driven not only by technological advancements but also by favorable macroeconomic conditions. Even the west is slowing down, and there is a single digit growth that comes from those markets. If the organizations want to grow at the speed that they are used to, it is only going to come from Asia Pacific or Latin America. Consequently, the success of many organizations relies on the critical role of advertising and marketing in Asia. The technological developments originating from these markets must be understood by local players. The adoption of AI, blockchain, and the metaverse will revolutionize advertising and marketing, offering diverse opportunities across the Asian landscape. While China is at the forefront, with a five-year head start, mature markets like Japan and Australia demonstrate unique technology adoption and use cases. Emerging markets such as India and Indonesia also contribute to the evolving landscape. The MMA's mission is to consolidate these learnings, knowledge, and best practices, sharing them with the industry to drive continuous improvement."
"E-commerce is still in its early stages, accounting for only 4% of total retail businesses. However, its growth potential is immense. Initially focused on products, e-commerce is expanding into services, verticals, and segments. This proliferation of services, often referred to as e-tailing, presents significant opportunities for omni-channel strategies, bridging the gap between online and offline experiences. While it is now possible to purchase a car online, the test drive experience remains an essential aspect of the consumer journey—an example of an omni-channel experience. Similarly, viewing a real estate property in 3D is valuable, but the ability to physically visit and explore the house is another crucial omni-channel touchpoint. These experiences are also going to bring Online to Offline (O2O) and vice-versa, please note that it is not a one-way street. Leveraging technologies like AI will further enhance this ecosystem. L'Oreal's success story and other industry research studies demonstrate how these expressions and developments are reshaping the research industry," Rohit added.
Talking about this success story, Amit Jain, MMA India Board Chair and Chairman of L'Oréal India, explains, "The consumer behavior has evolved, and the traditional linear journey of offline versus online has disappeared. Now, it's about understanding the integrated offline and online consumer behavior and following the consumer wherever they are. Our brands must adapt and align with this new reality."
"To build brand intimacy and cater to the changing consumer buying behavior, we focus on three key aspects: consumer insights, brand positioning, and technology. We strive to gain a seamless view of the consumer's omni-channel journey, position our brands accordingly, and leverage tools like virtual try-on and sensory experiences to provide a high-quality consumer experience across channels. Additionally, we have reconfigured our organizational approach to align with the online-offline integration of the omni-channel strategy," he added.
During the event, Amit Jain delivered a thought-provoking keynote session. Jain discussed marketing excellence and the significance of embracing the strengths of insurgents, inspiring marketers to break free from conventional approaches and explore innovative strategies.
Insights for Modern Marketers:
Moneka Khurana, in her address, shared valuable insights and advice for modern and budding marketers. She urged them to take action without hesitation, emphasizing the need to "fly the plane while building it." She stressed the importance of learning along the way and understanding that customers are now part of a non-linear journey. Marketers must engage with their audience in a cross-pollinated manner, leveraging the evolving customer path to benefit their businesses. Khurana also highlighted the significance of staying updated and engaging with the diverse learning initiatives offered by MMA.
Rohit Dadwal echoed Khurana's sentiments, emphasizing the need for marketers to embrace change, agility, and adaptability. He urged marketers to explore different strategies and learn from their own playbooks, emphasizing the importance of continuous growth and personalization.
MMA IMPACT India 2023 showcased the brilliance and expertise of India's marketing community. The conference provided valuable insights into implementing the ONDC, understanding the non-linear customer journey, and embracing innovation. As the industry rapidly evolves, marketers are encouraged to remain agile, continuously learn, and explore unique strategies tailored to their own playbooks. With the guidance and inspiration offered by MMA country heads, the marketing landscape is poised to witness remarkable growth and transformation.