PM Modi holds talks with UN Secretary-General ahead of Mission LiFE launch
20 October, 2022 | Pranay Lad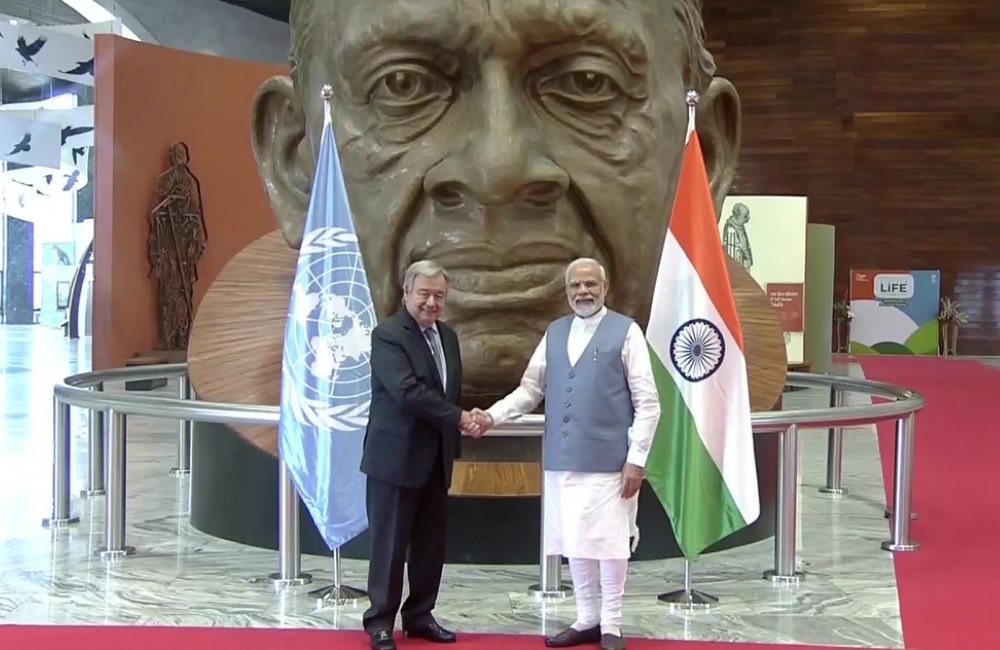 In Gujarat's Ekta Nagar, Kevadia, Prime Minister Narendra Modi and UN Secretary-General Antonio Guterres met in private on Thursday.
The UN Secretary-General accompanied Prime Minister Modi at unveiling the Mission LiFE (Lifestyle for Environment) booklet, logo, and tagline. The two also left floral tributes at the Statue of Unity in Kevadia. The head of the UN is in India for three days.
According to the Prime Minister's Office (PMO), PM Modi's Mission LIFE is a global popular movement that will be led by India and encourage individual and group action to save and preserve the environment.
According to a statement from the Ministry of External Affairs (MEA), Mission LiFE will be India's standout programme at the UN and other international forums for highlighting climate action and early attainment of the Sustainable Development Goals.
On Wednesday morning, Guterres met with External Affairs Minister S. Jaishankar to discuss current global issues and multilateralism problems.
"We are pleased to welcome UN Secretary-General Antonio Guterres to Kevadia's Ekta Nagar. discussed current global issues and multilateralism's challenges, "Tweeted Jaishankar.
On Wednesday, the UN Chief spoke to students at the Indian Institute of Technology (IIT) Bombay and paid respect to the victims of the 26/11 terrorist attacks at the Taj Mahal Palace hotel in Mumbai.
He called India a partner of the UN's choice and claimed that New Delhi had expanded its influence on the world arena by providing medications, supplies, and vaccines to its neighbours during Covid-19.
"Your influence on the global stage is growing, from your gifts of drugs, supplies, and vaccinations during the COVID-19 epidemic to your financial support for development in Sri Lanka and Afghanistan. Today, the UN prefers India as a partner, "Guterres speaking at IIT Bombay.
The head of the UN claimed that India's digital platform Cowin, which has distributed more than 2 billion doses of the Covid-19 vaccine, is the greatest vaccination initiative.
He added that through the India-UN development framework collaboration, India was the first nation to introduce a single-country south-south cooperation support framework.
Regarding India's involvement in UN peacekeeping, Guterres stated, "A first-ever all-female UN police deployment to a peacekeeping mission is one of the many military and police troops that India supplies to UN missions. Since 1948, almost 200,000 Indian men and women have participated in 49 peacekeeping missions, making a significant contribution to global peace."
"India's contributed tremendously to supporting multilateral solutions and addressing crises as a member of the UNSC for two years," he continued.