Punish abuse culture by chanting 'Jai Bajrangbali' when casting vote: Modi slams Congress in Karnataka
4 May, 2023 | Pragati Singh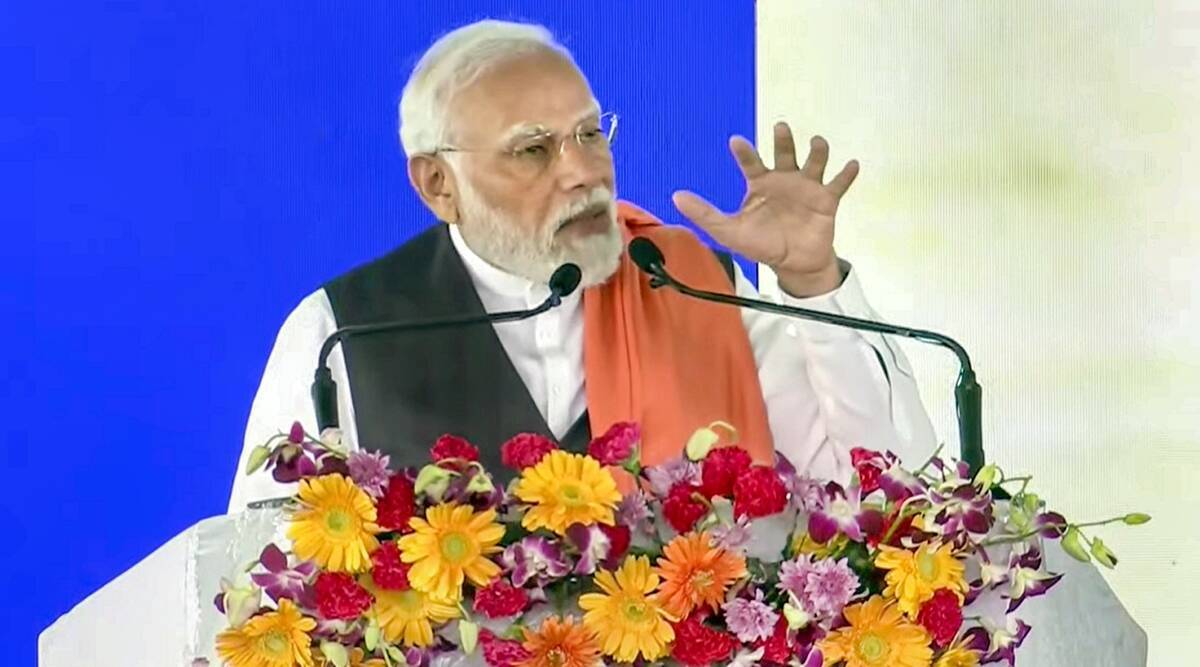 PM Modi claimed the Congress wants to garner votes by abusing him.
Prime Minister Narendra Modi, accusing the Congress of hurling abuse at him, stated on Wednesday that the people of Karnataka do not accept this "black culture" and that they should punish those who hurl abuse by voting 'Jai Bajrangbali'. The Prime Minister stated at a rally here that the BJP wants to make Karnataka the number one state in India and that it has a path and a plan to do so. PM Modi claimed the Congress wants to garner votes by abusing him.
"What is the other way to seek votes, abuse Modi, abuses are being hurled…does anyone in Karnataka accept the black culture, a culture where anyone can abuse, a culture of abuse…does Karnataka forgive those who hurl abuses. What will you do this time, will you punish… when you press the button at the polling booth, punish those (who hurl abuses) by saying 'Jai Bajrangbali'," he said.
On Tuesday, the Congress issued its Karnataka election manifesto, which called for a ban on parties such as the Bajrang Dal and the Popular Front of India. According to the Congress manifesto, the party is committed to taking forceful and decisive action against individuals and groups that promote enmity among communities based on caste and religion.
"We believe that law and Constitution is sacrosanct and cannot be violated by individuals and Organisations like Bajrang Dal, PFI or others promoting enmity or hatred, whether among majority or minority communities. We will take decisive action as per law including imposing a ban on any such organisations," the manifesto said.
Karnataka elections will be held on May 10, with voting beginning on May 10 and ending on May 13. PM Modi attacked Congress for its Karnataka election manifesto at a rally in Vijayanagara on Tuesday, saying the party was aiming to imprison individuals who worship Lord Hanuman.
"Today it is my great fortune to bow down to this holy land of Lord Hanuman. But see the misfortune, today when I have come here to bow down to Hanumanji, at the same time the Congress party has decided to lock up Bajrangbali in its manifesto. Earlier Shri Ram was locked up and now they have taken a pledge to lock up those who chant Jai Bajrangbali. It is the misfortune of the country that the Congress had problems even with Lord Shri Ram and now it also has problems with those who say Jai Bajrangbali," he had said.
PM Modi blasted the Congress and the Janata Dal-Secular (JDS) at an electoral rally in Bailhongal earlier on Wednesday, saying people in the state must be wary of the two parties' "shortcut politics."
"The people of Karnataka have to be careful of the shortcut politics of the Congress and JD-S. This shortcut governance gave birth to the vote-bank politics in the country. Whenever a party does this sort of politics, they think of dividing society, just like Congress. The youth who are born in the 21st century do not want to be cut short by leaving their future in the hands of shortcut people."
PM Modi claimed that hundreds of Indian villages lacked electricity despite having been independent for many years. Similarly, crores of Indians lacked a roof over their heads, bank accounts, and access to running water.
"However, the Bharatiya Janata Party (BJP) is working to get rid of shortcut governance," he remarked.
PM Modi stated that the Congress leaders are accountable to "the royal family" in Delhi.
"The royal family controls the leaders through its remote control. JD-S is a private limited company. However, for the BJP, every family in Karnataka is our family and we have accountability towards the people," he said.
"For whom the glorification of their family is the only agenda, they cannot worry about the sacrifices of the ordinary family and their sorrows and happiness. That is why they repeatedly abuse Veer Savarkar ji and spreads lies against him. When Baba Saheb Ambedkar was alive, he was insulted repeatedly," he added.
The BJP has increased its campaigning in Karnataka, with prominent leaders campaigning there.