New Footage Of Satyendar Jain From Jail Surfaces
26 November, 2022 | Riya Girdhar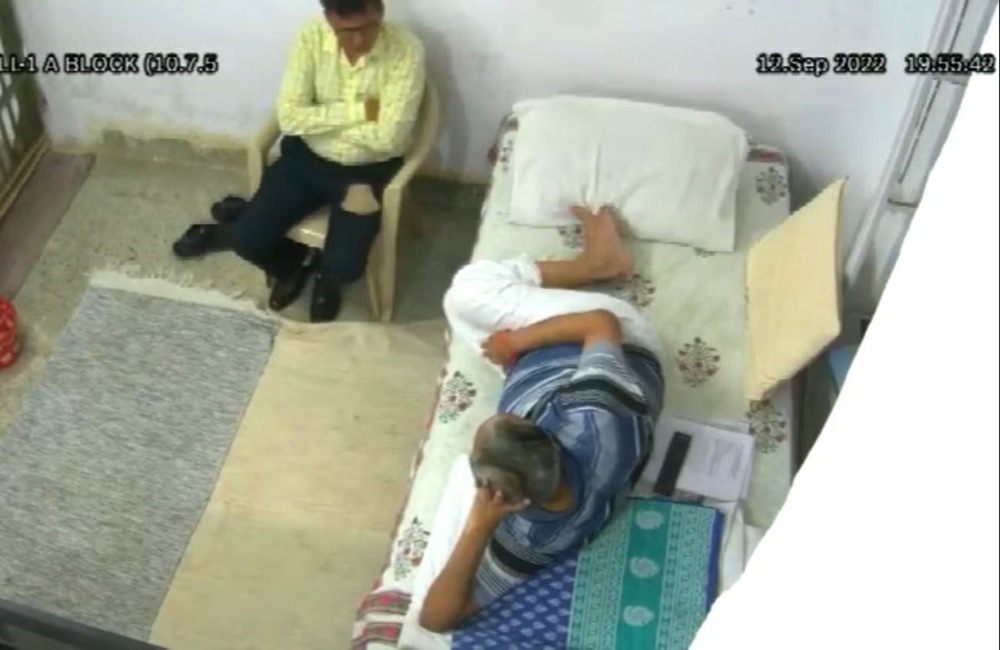 The imprisoned AAP minister had previously filed a request with the Delhi Court asking for an order prohibiting media from airing or broadcasting any CCTV footage that was linked to him.
On social media, a fresh CCTV image of AAP politician and Delhi Minister Satyendar Jain from Tihar prison has surfaced. Ajit Kumar, the Tihar Jail's suspended superintendent, is heard conversing with the imprisoned AAP minister in the video.
Inmate conman Sukesh Chandrashekhar had accused Jain's guardian, the superintendent of jail number 7, of giving Jain undue favours.
The Jail Superintendent was then placed on administrative leave. According to the Delhi Government's Prison Department and news outlet ANI, "He has prima facie been proven to have committed irregularities that need enquiry."
Prior to his imprisonment, the AAP minister was spotted receiving lavish meals and massages inside Tihar Jail.
"After curfew, unidentified individuals were massaging feet and providing Jain massages. He was fed specially, "According to news source PTI, Additional Solicitor General (ASG) S V Raju spoke on behalf of the ED.
Jain filed a lawsuit in Delhi seeking an order prohibiting the media from airing or broadcasting any CCTV footage pertaining to him.
Senior Advocate Rahul Mehra, his lawyer, further claimed that despite the trial court's decision and an assurance made in court, the Enforcement Directorate was releasing private information to the public.
Jain stated, "I am defamed by their behaviour every single minute."
Additionally, Mehra denied the ED's charge that Jain is enjoying special care in Tihar Jail. He questioned, "What privilege are they talking about?"
"In prison, I have dropped 28 kg. Is this the treatment a prisoner with privilege receives? I don't even get healthy meals. What kind of privilege are they referring to? If an undertrial presses his hands or feet, no jail regulations are broken "Satyendar Jain remarked.
A few days after con artist Sukesh Chandrashekhar allegedly claimed that Goel and Jain demanded Rs 10 crore in exchange for safety in prison, it is noteworthy that Director General (Prisons) Sandeep Goel was transferred from the Tihar Jail.
The Aam Aadmi Party rejected the accusations.