Opposition MPs seeking JPC probe into Adani issue detained in Delhi during protest march
24 March, 2023 | Vaishali Sharma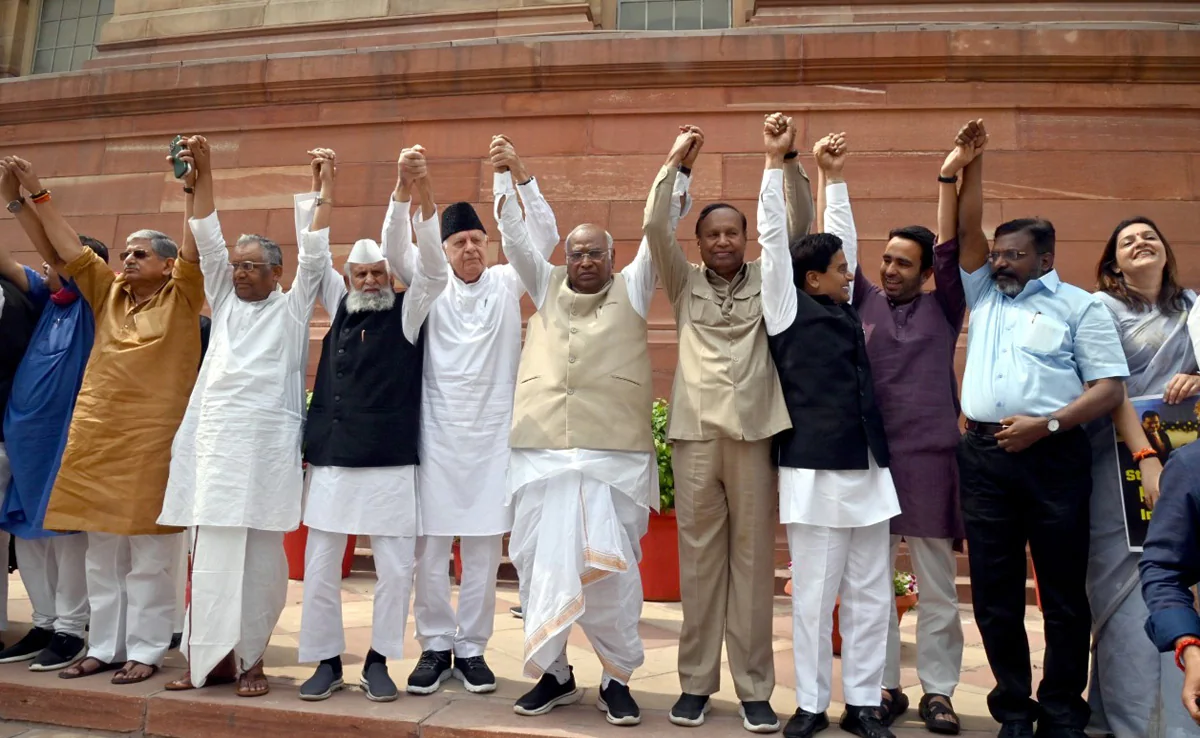 Heavy security outside the Congress headquarters in the national capital as party workers protested Rahul Gandhi's conviction in the criminal defamation case
On Friday, police detained opposition MPs marching towards Vijay Chowk in Delhi, demanding a joint Parliamentary committee investigation into the Adani Group issue. The protesting MPs were detained and taken to nearby police stations in a bus because police said they didn't have permission for the march and Section 144 of the CrPC had been imposed in the area, which prohibits agitation on Vijay Chowk.
Before the police escorted the protesting MPs away, Congress President Mallikarjun Kharge stated that the protest at Vijay Chowk was held to demand a JPC to investigate the Adani stocks issue and that PM Modi was concealing something from the people.
Talking to the media persons, Kharge said, "We are holding a protest here to demand JPC. PM Modi wants to hide something from the people. Lalit Modi, Nirav Modi, and Mehul Choksi looted crores of rupees from the government and fled from this country and PM Modi is not speaking about them."
Meanwhile, there was heavy security outside the Congress headquarters in the national capital as party workers protested Rahul Gandhi's conviction in the criminal defamation case over his remark about the "Modi surname." Police apprehended the protesters.
Also today, in Benguluru, Karnataka police detained Congress state president DK Shivakumar and other party leaders and workers who were protesting the Surat Court verdict against Rahul Gandhi.
"Their (BJP) party will collapse in Karnataka. It is on the verge of collapse. They are just trying to blackmail all leaders & contractors. We're with people and people are with us. Their voice is our voice. We want to see Karnataka regain its glory," Shivakumar told mediapersons in Bengaluru.
The Congress had called an emergency meeting of its steering committee members, senior leaders, state chiefs, and legislative party leaders earlier in the day to devise a strategy in the aftermath of Gandhi's conviction.
The Wayanad MP was sentenced to two years in prison, but the court granted him bail and suspended his sentence for 30 days to allow him to appeal the decision.
The Surat District Court pronounced the verdict in the case for his alleged "how come all the thieves have Modi as the common surname?" remarks on a complaint lodged by BJP MLA and former Gujarat minister Purnesh Modi.
Gandhi allegedly made the remarks about Modi's surname at a rally in Kolar, Karnataka, ahead of the 2019 Lok Sabha elections.
Meanwhile, both Houses have been adjourned several times, with the Opposition demanding a Joint Parliamentary Committee probe into the Adani Group issue and the Treasury benches clamouring for Rahul Gandhi to apologise for his remarks.