Over 4,000 people killed in deadly earthquakes in Turkey, Syria
7 February, 2023 | Pragati Singh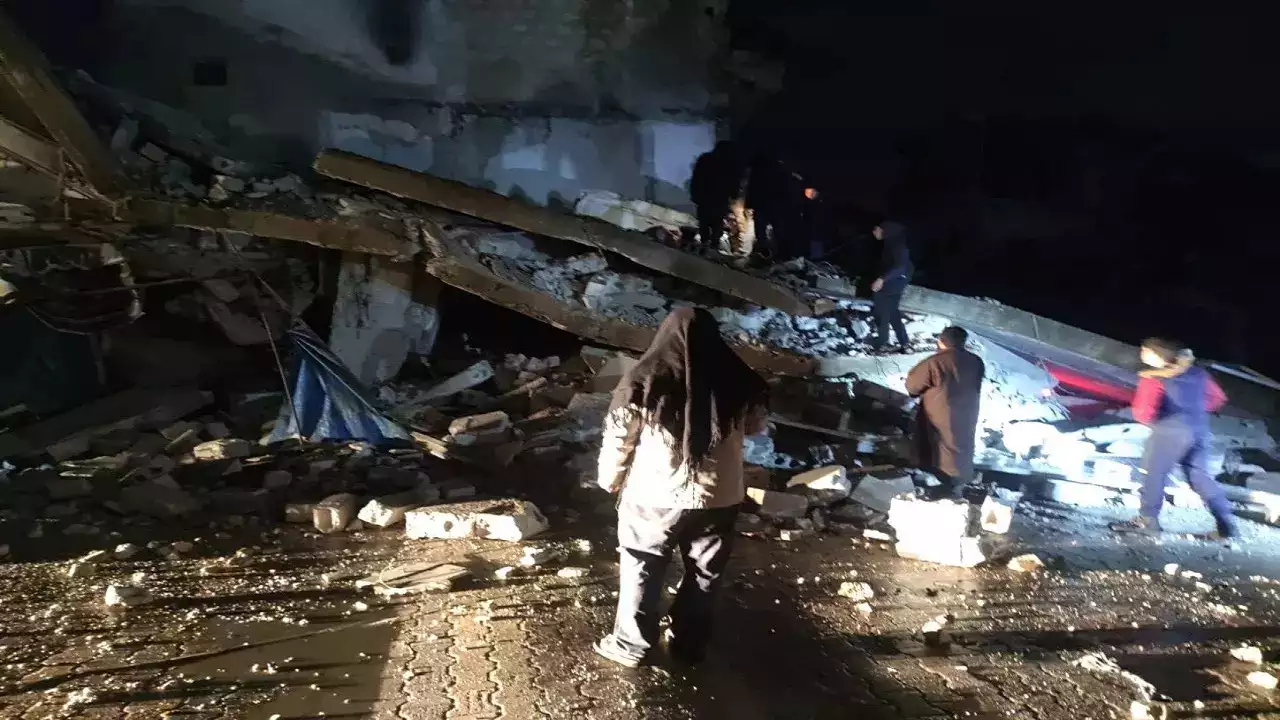 Over 4,000 people have died as a result of the strong earthquakes that struck Turkey and neighbouring Syria.
Over 4,000 people have died as a result of the strong earthquakes that struck Turkey and neighbouring Syria on Monday, according to the Washington Post. According to the Washington Post, three deadly earthquakes with magnitudes of 7.8, 7.6, and 6.0 struck Turkey and Syria on Monday. Initial reports indicated a magnitude 7.8 earthquake struck early on Monday at 04:17 local time (01:17 GMT) at a depth of 24.1 kilometres (14.9 miles), 23 kilometres (14.2 miles) east of Nurdagi in Turkey's Gaziantep province close to the Syrian border.
According to the US Geological Survey, this was followed by an earthquake with a magnitude of 7.5 that occurred 130 kilometres north of Gaziantep and had its epicentre in the Elbistan region of the Turkish province of Kahramanmaras. There were tremors detected in several adjacent nations, including Syria and Lebanon.
On Monday, Goksun, Turkey, had its third earthquake of magnitude 6.0 on the Richter scale. The Kahramanmaras province, north of Gaziantep and close to the Syrian border, was the location of the earthquake, which was felt as far away as Lebanon, Jordan, Israel, and Egypt. At least 4,372 deaths have been documented by officials and agencies in Turkey and Syria, and the World Health Organization (WHO) estimates that the death toll may exceed 20,000.
According to Yunus Sezer, Turkey's chief of disaster services, the death toll in Turkey increased to 2,921 as of Tuesday morning. 15 834 injuries in all have been documented, according to Sezer, who spoke during a news conference in Ankara. At six am local time, Sezer promised to give a more thorough update (10 pm ET).
According to officials, there have been 1,451 fatalities and 3,531 wounded in Syria, according to CNN.
Rescue operations are still going on, and according to the Washington Post, the number of fatalities, injuries, and displaced persons is certain to rise. Numerous strong aftershocks, including one measured at 7.5 magnitudes on Monday afternoon in the same fault zone of south-central Turkey, were felt after the initial 7.8-magnitude earthquake.
Southern Turkey and northern and central Syria have sustained the majority of the damage. Turkey has not experienced an earthquake of this magnitude in more than 80 years. Numerous medical teams have been attending to the injured as thousands of emergency responders have been looking for persons among the building debris. The extent of the damage is still being assessed, according to the Washington Post.
The devastating earthquake and the dozens of aftershocks it caused, including one nearly as big as the first one, occurred in Syria during a time of humanitarian crisis brought on by more than a decade of destructive civil war and in the midst of bitterly cold winter weather.
According to CNN, tens of thousands of structures have collapsed in both nations, and aid organisations are especially concerned about northwest Syria, where more than 4 million people already depend on humanitarian aid.
According to Turkish Health Minister Fahrettin Koca, who spoke at a press conference broadcast live on CNN Turk on Monday evening from the Hatay Emergency Coordination Center, the weather and the severity of the crisis are making it difficult for aid workers to provide assistance.
"The weather conditions and the scale of the disaster make it hard for our teams to reach the region," Koca said, adding "our helicopters could not take off today due to weather conditions." "Heavy snowstorms have also recently hit parts of Syria and Turkiye, with further sub-zero temperatures forecasted," UNICEF said in a statement released on Monday.
The Disaster and Emergency Management Agency, the national police, municipal employees, the Disaster and Emergency Management Agency, and the Gendarmerie, an armed general law enforcement organisation that is a part of the Interior Ministry and maintains security and safety, have all been mobilised in the recovery effort. The health minister reported that at least 2,256 emergency medical personnel employees have already arrived in the earthquake-affected provinces.
From nearby cities, at least 602 ambulances and two ambulance planes have been sent. Additionally, 187 teams from the National Medical Rescue Team of Turkey (UMKE) have been sent. "We have moved teams from surrounding provinces to the region," the minister said. The earthquake caused Iskenderun State Hospital, a hospital in the city, to collapse.