Pakistan Floods: Death toll reaches near 1,200
2 September, 2022 | Pravina Srivastava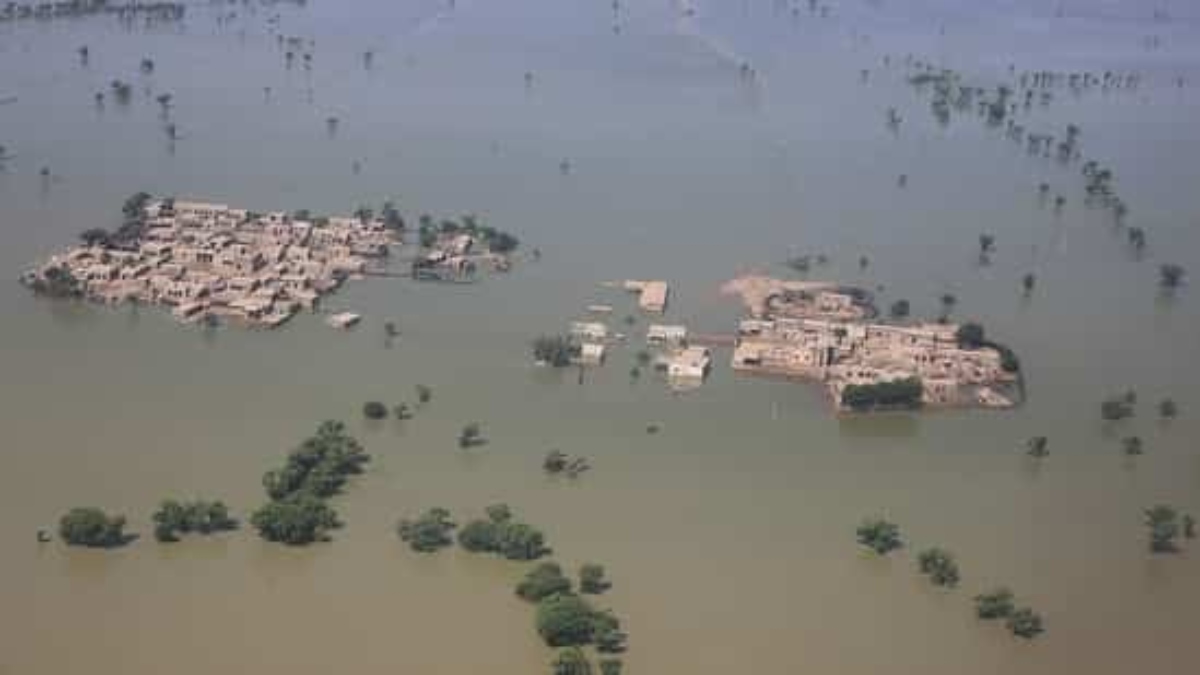 Nearly 1,200 people have died as a result of floods in Pakistan; 19 more have perished in the past day.
Nearly 1,200 people have died as a result of floods in Pakistan; 19 more have perished in the past day.
According to media report from the National Disaster Management Authority (NDMA), at least 1,186 persons have perished as a result of the rain and flooding since June 14. In the past 24 hours, 12 persons have passed away in Balochistan, four in Khyber Pakhtunkhwa, and four in Sindh, according to the report. Nine children are among the dead.
According to the emergency management organisation, 256 individuals were hurt as a result of flood-related occurrences around the nation.
80 districts around the nation have been severely damaged by the flash floods.
According to the NDMA data, at least 256 persons have passed away in Balochistan since June 14, 268 in KP, 188 in Punjab, and 22 in Gilgit-Baltistan.
The terrible storms, floods, and landslides brought on by this year's high monsoon rains in Pakistan have affected 33 million people, including over 16 million children.
WHO report stated "In Pakistan, the strong monsoon rains that began in mid-July 2022 are still occurring in several areas of the nation and have now impacted 116 districts—or 75%—of the country's 154 districts. Sindh is the province most impacted, followed by Balochistan."
UN organisation added saying "More than 33 million individuals have been impacted as of August 25, 2022. More than 6.4 million people, including 421 000 refugees, are in urgent need of humanitarian assistance. Nearly 15000 people have been hurt, and over a thousand people have died."
WHO reports that the country's health institutions have been badly impacted by the extraordinary flood scenario.
"180 of the 888 health institutions that have been affected as of August 28, 2022, are fully devastated. The key health issues at this time are still access to healthcare facilities, medical personnel, and necessary medications and supplies "WHO reported.
According to a global health organisation, the nation's health system is already dealing with a number of concomitant health concerns, such as COVID-19 and epidemics of cholera, typhoid, measles, leishmaniasis, and HIV.
There was a considerable gap in access to health care between rural and urban communities even before the recent floods. The current environment is quite likely to accelerate the spread of illness, particularly if response capabilities are compromised.
The Government of Pakistan and the UN jointly announced the "2022 Pakistan Floods Response Plan (FRP)" on Tuesday in Islamabad and Geneva, according to the UN Office for Coordination of Humanitarian Affairs (UNOCHA).
Over 33 million people have been affected by the severe rains, floods, and landslides that have hit various areas of Pakistan, according to an announcement from OCHA.