2001 Parliament Attack: PM Modi and Others Pay Floral Tribute
13 December, 2022 | Pranay Lad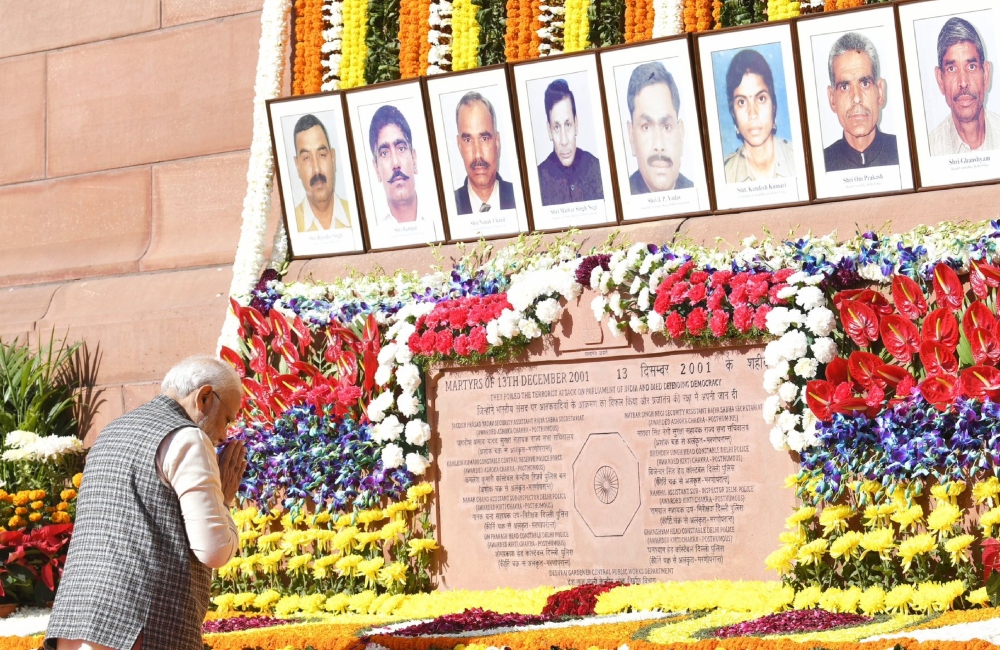 Parliament Attack Anniversary: Five Terrorists infiltrated the parliament house complex, killing nine people.
The country paid respect to the security officers and victims who sacrificed their lives while protecting the Parliament 21 years ago under the leadership of the Vice President and Chairman of the Rajya Sabha Jagdeep Dhankhar and the Speaker of the Lok Sabha Om Birla.
In addition to paying floral homage to the security forces and victims who gave their lives in protecting the Parliament during the terror attack in 2001, Prime Minister Narendra Modi, a number of Cabinet Ministers, and lawmakers also did so.
President of India Droupadi Murmu also paid homage to the victims
Union Law Minister Kiren Rijiju also paid tributes to the victims of the Parliament attack.
It may be noted that on December 13, 2001, the Delhi Police officers Om Prakash, Matbar, Kamlesh Kumari, Nanak Chand, and Kamlesh Kumari, together with Head Constables Bijender Singh, Ghanshyam, and Deshraj, a gardener for the CPWD, gave their lives protecting the Parliament from a terrorist assault.
The perpetrators, who belonged to Lashkar-e-Taiba (LeT) and Jaish-e-Mohammed (JeM), two terrorist groups raised in Pakistan, attacked the Parliament on December 13, 2001, resulting in the deaths of five members of the Delhi Police, two members of the Parliament Security Service, one member of the CRPF, and a gardener. As a result, tensions between India and Pakistan rose, resulting in the India-Pakistan standoff in 2001–2002.
Five terrorists in all were murdered in the attack on December 13, 2001, when they entered the Parliament in a vehicle marked with the logos of both the Home Ministry and the Parliament.
Major lawmakers were among the more than 100 persons present inside the parliament at the time. The shooters effortlessly evaded the security measures set up around the legislative complex by using a phoney identity tag on the car they were driving. The terrorists had handguns, grenade launchers, and AK-47 weapons.
When Krishan Kant, the vice president of India, was inside the premises, the shooters drove into his car, got out, and started firing. Guards and security staff for the vice president fired back at the terrorists before beginning to close the compound's gates.
Officials from the Delhi Police and Indian security services said that the operation was directed by Pakistan's Inter-Services Intelligence (ISI) agency and that the shooters had gotten their orders from that country.