Sudarsan Pattnaik's Sand Art Wishes ISRO Success for Chandrayaan 3 Mission
14 July, 2023 | Nikita Ojha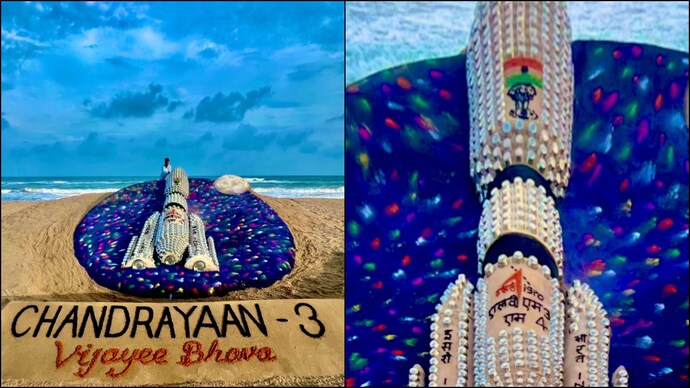 22 feet long sand art at Puri beach in Odisha wishes ISRO success for Chandrayaan 3
The World famous Sand Artist, Sudarsan Pattnaik has come up with his latest artwork to wish Indian Space Research Organization (ISRO) success with its latest space mission- the third Moon lander Chandrayaan 3, scheduled to take off from the Satish Dhawan Space Centre in Sriharikota today.
Pattnaik has created a 22 feet long sand art of Chandrayaan 3 at Puri beach in Odisha installing 500 steel bowls and dishes with Vijayee Bhava (Be victorious) message written on it. After the Chandrayaan 2 mission encountered difficulties during its soft landing in 2019, this will be ISRO's follow-up effort. ISRO has already completed the Launch rehearsal modeling the whole launch preparations and process.
Sudarsan Pattnaik is an eminent sand artist, who has received numerous accolades and praise for his sand creations throughout the years. With his artwork, he has produced several masterpieces that have served to raise awareness, congratulate numerous leaders on their accomplishments, or alert the public to a crucial subject. He has also represented India in countries like the UK, China, Japan, Holland, the US, France, Italy, and many more where his art has been applauded.
The countdown for the historic day launch of Chandrayaan 3, India's third lunar exploration mission, began on Thursday at 14:35:17 IST ahead of its scheduled take-off on Friday. The spacecraft will be launched on a GSLV Mark 3(LVM 3) heavy-lift launch vehicle.