Australian politicians jealous of PM Modi: Aussie leader of Opposition Peter Dutton
26 May, 2023 | Anupam Shrivastav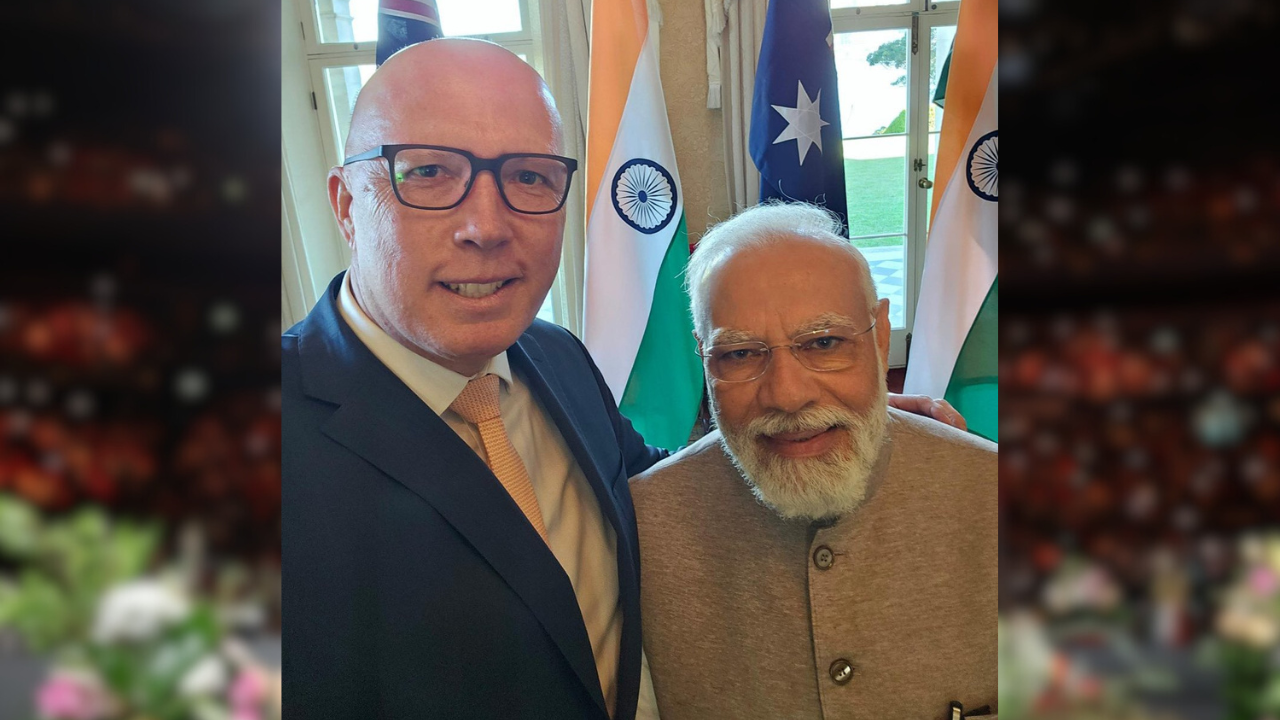 Australian opposition leader also praised PM Modi's speech at Sydney's Qudos Arena calling it 'extraordinary event'.
On Thursday, Australian Opposition Leader Peter Dutton expressed that Australian politicians harbor a sense of envy towards Prime Minister Narendra Modi. Dutton asserts that this envy stems from the fact that none of them can gather a crowd of 20,000 people who would enthusiastically chant their surnames
During his address in Parliament, Leader of the Opposition Peter Dutton highlighted an exceptional occurrence that took place on Wednesday. He mentioned that a substantial number of people, including politicians from various affiliations, were present.
Peter Dutton revealed that during a conversation with the Prime Minister that morning, he expressed how every politician in attendance the previous night was envious of the Prime Minister's ability to gather a crowd of 20,000 individuals who chanted his surname in unison, particularly at Labour Party events held on the other side of the world.
"I thought it was an extraordinary event and I really acknowledge the work of the Indian community in hosting Prime Minister Modi," Peter Dutton said.
He expressed his gratitude, together with the (Australian) Prime Minister, to Prime Minister Modi and his delegation for visiting Australia and honoring the partnership. When asked about his country's relationship with India, he replied it was "quite extraordinary and productive" when his government was in power.
Furthermore, Peter Dutton recognized the efforts of former Prime Minister Morrison and several individuals on the front bench, such as Dan Teen, who played a crucial role in trade negotiations and establishing opportunities. He credited their governance for carrying forward these initiatives, resulting in various noteworthy announcements.
Cordial meeting with PM Modi, discussed bipartisan support for both countries: Peter Dutton
"I'd been meeting with Prime Minister Modi in Sydney this morning (Thursday). It was a very cordial and engaging discussion and the wide-ranging topics that we traversed gave an indication of the bipartisan support in the relationship," Peter Dutton added.
During his visit to Sydney, Prime Minister Narendra Modi delivered a major address to the Indian diaspora, emphasizing that "mutual trust and mutual respect" form the foundation of India and Australia's close historical ties.
Highlighting the evolution of bilateral relations between India and Australia, Prime Minister Narendra Modi observed that the earlier perception revolved around the "3Cs" – Commonwealth, Cricket, and Curry. Later, the focus shifted to "Democracy, Diaspora, and Dosti" (friendship), followed by "Energy, Economy, and Education" as significant aspects.
However, Prime Minister Modi emphasized that he considers the relationship to be even more profound, extending beyond these categories. He described it as based on mutual trust and respect.
During his visit to Australia, Prime Minister Narendra Modi acknowledged the significant role played by the Indian diaspora in fostering mutual respect and trust between India and Australia. He also engaged in meetings with business leaders from leading Australian companies, emphasizing the need for enhanced collaboration in technology, skilling, and clean energy.
Wrapping up his three-nation tour, Prime Minister Modi departed from Australia, having previously visited Japan and Papua New Guinea as well.
In the final part of his three-nation tour, Prime Minister Narendra Modi visited Australia and met with Australian Prime Minister Anthony Albanese. To illustrate the strengthening relationship between India and Australia, PM Modi employed the concept of "cricket diplomacy" and expressed that their ties have entered a dynamic phase, comparable to the fast-paced nature of a T20 cricket match.
"I am visiting Australia within two months of the visit of my friend Prime Minister Albanese to India. This is our sixth meeting in the last one year. This reflects the depth of our comprehensive relations, convergence in our views and maturity of our ties. In the language of cricket, our ties have entered the T20 mode," PM Modi told reporters in joint press briefing with his Australian counterpart. He also invited PM Anthony Albanese and all Australian cricket fans to visit India for attending the world cup.
PM Modi and PM Albanese also discussed attacks on temples in Australia and the activities of separatist elements. They emphasized their commitment to maintaining the strong India-Australia relationship and pledged to take strict action against any elements that could harm it.