PM Modi addresses Rajya Sabha amid opposition's heavy sloganeering
9 February, 2023 | Vaishali Sharma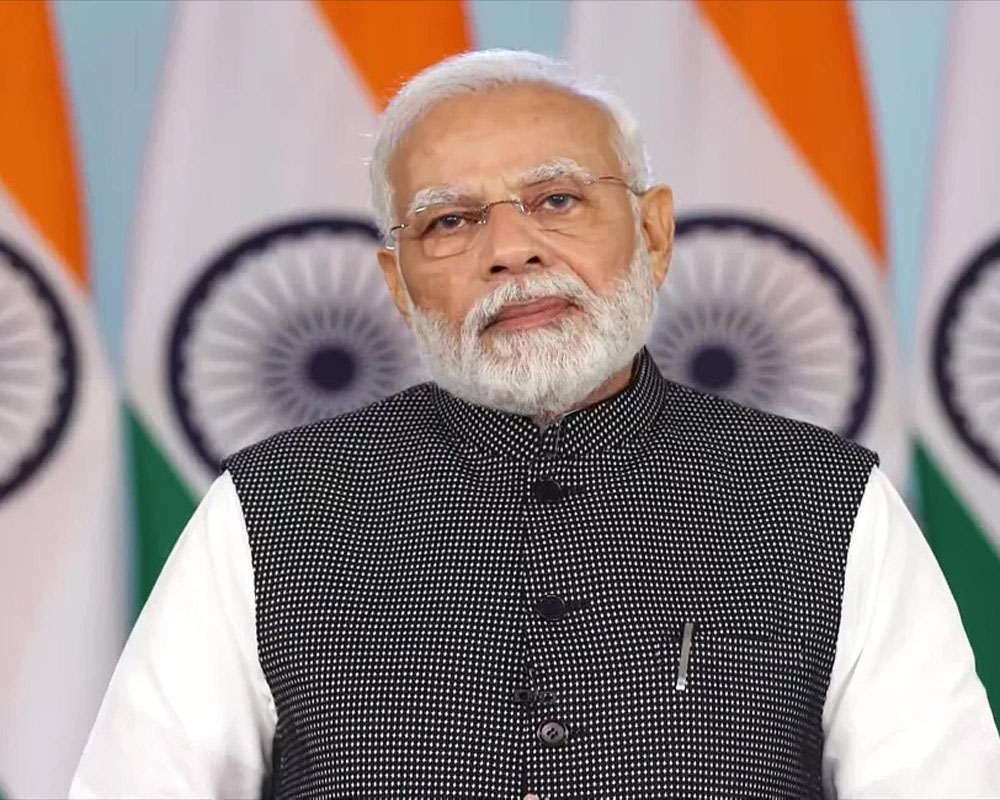 A day after a fiery speech at the Lok Sabha, Prime Minister Narendra Modi addressed the Rajya Sabha on Thursday amid the opposition sloganeering.
A day after a fiery speech at the Lok Sabha, Prime Minister Narendra Modi addressed the Rajya Sabha on Thursday amid the opposition sloganeering.
"The country has seen a culture of complacency in their government, that changes with us coming to power; we fixed a number of problems including water shortages. In the last few years we have given 8 cr plus people tap water connections. Talking about the empowerment of common people, we stated the Jan Dhan account movement. In the last 9 years, 48 crore accounts were opened across the country," PM Modi said.
"Congress rule has setback progress of the nation and India witnessed the change after 2014. the previous government lacked intent and did not prioritise India. They used to say 'Gareebi Hatao' in did nothing in the last 4 decades. While we world hard to meet the expectations and aspirations of the citizens. Today, the nation gets permanent solutions to issues," he said.
Prime Minister Modi said, "There were 14 crore LPG connections in the country since independence. Our government decided 'Har Ghar LPG' and since 2014 we supplied gas connections to 25 crore families. Our priority is the common public."
He further said, "More than 18,000 villages did not have electricity supply till 2014 and these villages included tribal areas and the North-East also. We pledged and supplied 'bijli' to 18,000+ villages. It was not an easy task, but we did it and we are proud of delivering 24×7 electricity for which we had to work for new energy resources, explore renewed energy arena and lay multiple transmission line."
"True secularism is making sure that the benefits of different government schemes reach all eligible beneficiaries. We identified 110 aspiration districts in the country. Education, infrastructure and health have improved in these districts due to continued focus and performance review. This has benefitted more than 3 crore tribals and 500 Eklavya schools were built for tribals in 9 years," PM said.
PM Modi added, "Our government worked towards the upliftment of our daily wagers and launched schemes targetting the daily wagers."
"Today, more than 350 private companies have come into the defence sector. Our country is doing exports worth almost Rs 1 lakh crore in this sector. From retail to tourism, every sector has grown," he said.
"The farming sector is dependent on the small farmers of the country. We connected small farmers with the banking sectors and today we directly transfer money to the small farmers of India. We focused on popularising the Indian millet and linked millet producing farmers to the Global Market."
Emphasizing on women empowerment, PM said, "Our government believes that the society progresses when the women progress. We delivered 11 crore new toilets which changed the lives of women. Today we are ensuring safe births and launched 'Beti Bachao Beti Padhao'. Money is directly delivered to the pregnant women today and launched schemes for women since their birth to the adulthood. Today, young girls have access to toilets and have to no longer drop out of schools. We have opened doors to the Indian forces for women."
"We have proved the power of Aadhar. Ayushman Bharat gave access to healthcare and ensured it reaches women. Over 200 Crore vaccines and certificates were provided to the people of the country via CoWin platform. Hard work has defeated all sinister attempts. Our nation is emerging as a power in the pharmacy sector in the world today. There were attempts till yesterday to insult our scientists but my country's scientists made vaccines that were approved & benefitted 150 countries," he said.
The Prime Minister added, "There was a time when India used to import mobile phones, while today we export mobile phones with the production of over 800 cr phones. Be it 5G or AI, the country now leads in all tech sectors. India is now leading in Geo-Spatial and Drone sectors."
"There was a time when India used to import mobile phones, while today we export mobile phones with the production of over 800 crore phones. Be it 5G or AI, the country now leads in all tech sectors. The nation has reached new heights in digital economy via expansion of Digital sector. 5 lakh common service centres are flourishing in remote areas delivering common services to the people."
"Some people have issues even with the names of the schemes of the government. Earlier, more than 600 schemes were named after Gandhi-Nehru families. They have claimed that we purposely undermine 'Nehru' name. I want to ask why the grandkids of Nehru won't adopt his surname?"
He said, "We have named islands after our brave Param Veer Chakra awardees. We are accused of harassing many states. I have been a CM myself for a long time and understand the meaning of federalism therefore we emphasized cooperative, competitive Fraternity. Our government focusses on National Progress, Regional Aspirations"