PM Modi declares today to be historic as India moves in a new direction
15 August, 2022 | Pranay Lad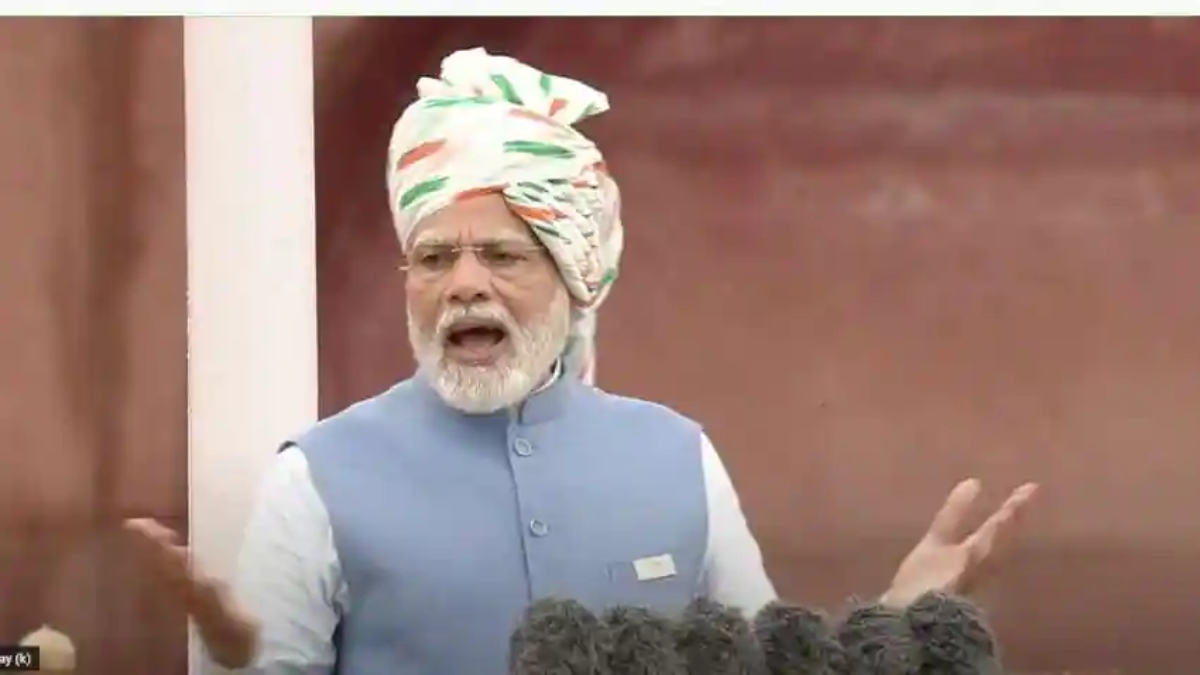 Beginning with this speech from the Red Fort, the Prime Minister of India, Narendra Modi, stated it is a historic day as the nation takes a new path, a new pledge with new vigor. He also remembered...
Beginning with this speech from the Red Fort, the Prime Minister of India, Narendra Modi, stated it is a historic day as the nation takes a new path, a new pledge with new vigor.
He also remembered women freedom fighters and stated that every Indian is filled with pride when they remember the vigor of the women of India, be it Rani Laxmibai, Jhalkari Bai, Chennamma, Begun Hazrat Maha.
He also mentioned the pivotal contribution made by the tribal community of India. This came in interestingly keeping in mind that the current elected president Draupadi Murmu also hails from one.
He also mentioned the pivotal contribution made by those who fought for independence or created the nation – Dr Rajendra Prasad, Nehru ji, Sardar Patel, SP Mookerjee, LB Shastri, Deendayal Upadhyaya, JP Narayan, RM Lohia, Vinoba Bhave, Nanaji Deshmukh, Subramania Bharati – today is the day to pay tribute to such outstanding characters.
Modi added, "We remembered our great national heroes during 'Azadi Mahotsav.' We remembered the tragedies of division on August 14. Today is a day to recognise all individuals who have helped move our country ahead over the previous 75 years."
During his speech, he also mentioned "India's strength lies in its diversity. "India is the mother of democracy, capable of causing difficulties for even the most powerful sultanates."
He also urged the nation to remove every trace of colonialism and must resolve to work towards a 'viksit bharat' (industrial India).
Continuing with this speech, he envisaged the plan for the next 25 years, with enumerating five promises (panchpran) for the nation.
To progress with greater commitment and resolve of developed India.
Remove all vestiges of servitude.
Be proud of our heritage.
Strength of Unity.
Responsibility to make India formidable.
He also insisted that we must be proud of every language spoken in our country. Whether we know a language or not, we should be proud of it since our forefathers gave it to us.
He lauded the Digital India Initiative, by saying that "Digital India is slowly turning into a reality and startups are expanding throughout the country, and a lot of talent is coming from Tier 2 and Tier 3 locations. We must have faith in our talents."
The Prime Minister urged the citizens of India from Red fort to keep the country first, as it will pave the way for a united India.
There would be no unity in diversity if daughters and sons are not treated equally. The diversity of India is the foundation of its unity. To achieve this unity, we must secure gender equality. PM Modi stated, "I hope we can do away with this mindset of upper-lower, or mine-others."
He also urged everyone to get rid of any mindset or conduct that is disrespectful to women, he also remarked that women suffer numerous obstacles in India and that Indians must resolve to eliminate any attitude or conduct that disrespects women.
PM Modi was proud of the ATAGS howitzer cannon, which was the first indigenously built weapon to participate in the 21-gun salute on Independence Day.
By lauding the Make in India initiative, he added that even a 5-year-old is rejecting foreign-made toys and wants to play with Indian-made toys, as he had earlier mentioned in his radio show "Mann ki Baat," the extensive growth of the toy industry of the nation has colossally expanded post the outbreak of the pandemic.
Continuing his address from the Red Fort, PM Modi said, India is increasingly becoming a manufacturing powerhouse, whether it is for electronic items or mobile phones, and will lead the progress of the world, a Digital India is reaching every village of India and with 5G entering the Indian market, development is inevitable.
He also mentioned that we must take pride in our heritage and only when we are deeply rooted in our motherland.
Remembering the time before the Independence of India, PM Modi remarked that people had different ways of working back then but the goal was the same, freedom of India. In this "Amrit Kaal" he urged everyone to unite and work towards another goal – Viksit Bharat."
During his address from the Red Fort, he also reminded the nation of the golden phrase added to the "Jai Jawan, Jai Kisan" by former Late Prime Minister of India Atal Bihari Vajpayee, "We will never forget Lal Bahadur Shastri Ji's phrase, 'Jai Jawan, Jai Kisan.' AB Vajpayee later added 'Jai Vigyaan' to this phrase. 'Jai Anusandhan' is now an additional requirement (research & innovation). Jai Jawan, Jai Kisan, Jai Vigyaan, and Jai Anusandhan."
He also urged the nation to Empower Nari Shakti, "It is critical that we do nothing in our words or actions that diminishes the dignity of women," remarked Prime Minister Modi.
He also announced the expansion of the Space Mission & Deep Ocean Mission and added that it is the endeavour to provide all possible assistance to the country's young for research ranging from space to the depths of the ocean, which is the reason for increasing the 'Deep Ocean Mission and Space Mission'. "The answer to our future can be found in the depths of space and the ocean," he said.
PM Modi remarked that, in addition to cooperative federalism, which is the bedrock of our democracy, we also require cooperative competitive federalism.
"We require competition for growth. If one state has worked hard to make progress, the other must do even better "He stated.
He concluded his address by saying that the nation has to reject dynasty politics as the nation struggles with two major problems – Dynasty politics and Corruption, "Corruption and dynasties/nepotism are two major concerns we face today. Corruption is destroying the country like a termite, and we must resist it. We must promote awareness of 'Parivaarwaad' in order to recognise the strength of our institutions and move the country forward on the basis of merit," says the Prime Minister.
Also Read: Explained: Rules for displaying the tricolour