"PM Modi has done a lot for Sikhs and Sikhism": Former pro-Khalistan leader
17 March, 2023 | Pragati Singh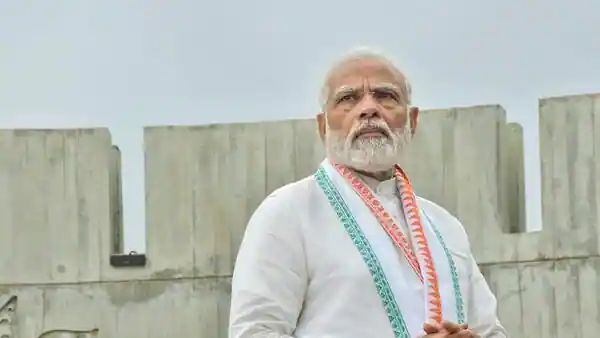 Each member of the group bestowed the titles 'Siropao' and 'Siri Sahib' on Prime Minister Modi.
Jaswant Singh Thekedar, the founder of Dal Khalsa and a former pro-Khalistan leader, has praised Prime Minister Narendra Modi's work for the country's Sikh minority, adding that he admires the community and has done a lot for its people.
Thekedar said, "Our Prime Minister, Narendra Modi, has done a lot for Sikhs and Sikhism. He loves our community. He has done a lot — ended the blacklists, opened Kartarpur Corridor, and talked about Chhote Sahibzadas (the sons of Guru Gobind Singh)."
He stated that the Central government, led by Prime Minister Modi, had worked hard to meet major demands made by members of the Sikh community.
"The government has worked on major demands, and only a few demands and left to be fulfilled. All will be good if they agree to meet these demands," he said.
Prime Minister Modi had earlier met with prominent Sikhs from throughout the country at his official residence, 7 Lok Kalyan Marg. The delegation praised the Prime Minister for taking steps for the welfare of the Sikh community, particularly for honouring Chaar Sahibzaade by declaring December 26 as Veer Baal Diwas every year.
Each member of the group bestowed the titles 'Siropao' and 'Siri Sahib' on Prime Minister Modi. PM Modi stated that many people in the country are unaware of Chaar Sahibzaade's work and sacrifice. He noted that anytime he had the chance to speak in schools or in front of children, he constantly mentioned Chaar Sahibzaade.
PM Modi stated that declaring December 26 as Veer Baal Diwas will help children from all over the country become more aware of them.
He congratulated the Sikh Community leaders for their visit, noting that his door was always open for them. He recalled his friendship with them and the time they spent together during his stay in Punjab.
He also lauded the Sikh community's service ethos, adding that the world needs to be made more aware of it. He stated that his government was completely dedicated to the well-being of the Sikh community. He discussed the government's many actions in this area.
He spoke about the special arrangements made to bring Guru Granth Sahib back from Afghanistan with full honours, as well as the actions were taken by the government through diplomatic channels to open the Kartarpur Sahib Corridor to Sikh pilgrims.
Prime Minister Modi hosted a Sikh-Hindu Delegation from Afghanistan at his 7 Lok Kalyan Marg house in February of last year. They praised and thanked him for safely bringing Sikhs and Hindus to India from Afghanistan through the Citizenship Amendment Act (CAA).
Prime Minister Modi greeted the team, noting that they are not visitors, but rather guests in their own home, and that India is their home. He spoke about the enormous hardships they faced in Afghanistan and the assistance provided by the government in bringing them safely to India.
He also discussed the importance of the CAA and its advantages to the community, promising them of his government's continued support in the future to tackle all concerns and obstacles they confront.
Prime Minister Modi also discussed the importance of the tradition of honouring Guru Granth Sahib, in light of which special efforts were made to bring Guru Granth Sahib's Swaroop back from Afghanistan. He also mentioned the overwhelming love he has gotten from Afghans over the years and fondly remembered his visit to Kabul.
Manjinder Singh Sirsa, a member of the team that met PM Modi, praised him for sending help from India to bring the community back safely, stating that when no one stood with them, Prime Minister Modi ensured steady support and prompt assistance.
Several members of the group thanked PM Modi for standing up for them through difficult times. They stated they were moved to tears when he mentioned making special arrangements to return the 'Swaroop' of Guru Granth Sahib from Afghanistan to India with full reverence.
They also praised him for enacting the CAA, which they stated will be of great assistance to members of their community.
Regarding Amritpal Singh, a pro-Khalistan leader and chief of 'Punjab Waris De' who made news following skirmishes with the police at Ajnala in Amritsar on February 23, Thekedar stated he knew "nothing about Khalistan". He also stated that Singh's initiatives will fail.
"Amritpal is not a Khalistani, he knows nothing about it. But he has certainly made a lot of money in the name of Khalistan. I don't think he will succeed in his plans going forward," the former pro-Khalistan leader said.
Regarding Pakistan's intelligence organisation Inter-Services Intelligence, or ISI, he stated that it does not utilise an asset for a lifetime and will replace them as soon as it is assessed that the prior person is no longer useful.
"When he (Amritpal Singh) was in Dubai, he was clean-shaven. He is not a (traditional) Sikh. He does not know anything about Sikh history. I must add that several more like him will crop up in the coming years. Because the ISI doesn't run its assets for a lifetime. When they feel that a person is no longer of any use, they replace him with others who are in line," Thekedar said.
He went on to say that Pakistan would not allow a separate Khalistan to be formed since the pro-Khalistanis have their sights set on Lahore next.
"Pakistan knows that if a country of Sikhs comes into being, they will target Lahore next. They will come to Nankana Sahib and Panja Sahib. They won't let this happen. It is Pakistan, not India, which is the real enemy of Khalistan," he said.
The former pro-Khalistan leader warned the Punjab administration of the Aam Aadmi Party against being too lenient on pro-Khalistan elements, claiming that the regime of Chief Minister Bhagwant Mann was inadvertently aiding the resurrection of the Khalistan movement by failing to take timely action.
"This Punjab government is not capable of dealing with this (threat of revival of the Khalistan movement). There is not a single person in the administration who handle this. I feel that by not taking timely action, they are only aiding the revival of the Khalistan movement," he said.
He suggested that the Centre consider yielding to the demands of Khalistan leaders since it will prevent the movement from expanding any further.
"Their demands for the release of Sikh political prisoners, and removal of Sikhs from Section 25B-2 could be met. It won't bring any harm to the country if the government were to meet these demands. If the government accedes to their demands, this movement could be nipped in the bud. Every issue has a political solution. The government can also consider putting together a committee comprising former Khalistan leaders. Through such moves, the government can bring the Khalistan movement to an end," he said.