Police in Andhra Pradesh apprehend TDP leaders en route to sand dunes
28 August, 2023 | Shubhi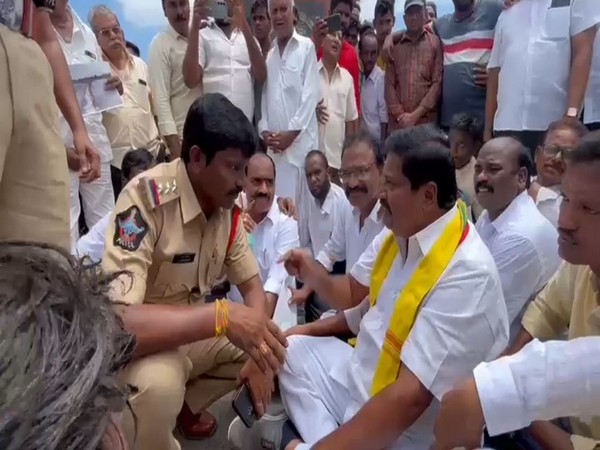 Police in Andhra Pradesh are apprehending TDP leaders on their way to sand dunes.
Amaravati police have detained Telugu Desam Party (TDP) members who were en route to sand dunes in the city to protest against an alleged embezzlement of sand worth Rs 40,000 crore in the last four years. The TDP leaders had declared their intention to blockade the sand mining region in Amaravati. Upon being intercepted by the police, TDP representatives and supporters staged a sit-in protest on the road.
Former MLA Kommalapati Sridhar and ex-minister Pullarao, on their way to visit Konuru and Kottapally sand dunes in Acchampeta mandal of Pedakurapadu constituency within Amaravati police station limits, were among those held by the authorities.
A disagreement arose between party leaders and the police when Amaravati police questioned them. The police officials clarified that TDP leaders would not be allowed to access the sand mining area without prior permission. Consequently, the police detained these leaders and transported them to the police station.
Former Chief Minister Chandrababu Naidu had previously demanded Chief Minister Jagan Mohan Reddy to provide a response within 48 hours regarding the alleged misappropriation of sand worth Rs 40,000 crore over the past four years. Chandrababu Naidu affirmed that, once the TDP assumes power in the future, an investigation into this incident would be initiated.
He presented a PowerPoint demonstration at the party headquarters in Amaravati, detailing how Jagan purportedly orchestrated the siphoning of this substantial sand wealth. Naidu emphasized that implicated officials would also be subjected to scrutiny and consequent penalties if found guilty. The former chief minister underscored the violation of orders from the National Green Tribunal and the Supreme Court in generating Rs 40,000 crore through the sand scandal.
Highlighting the fact that the TDP administration implemented a policy of unrestricted sand access to boost the construction sector, Chandrababu said, "Several lakhs of people benefited from this. DWCRA groups have been given the responsibility to maintain sand reaches to ensure that sand is available to even the common man."
"The person while in Opposition resorted to a vicious campaign at that time that sand was being subjected to looting and he even promised to make door-delivery of sand is successfully ransacking the State in these four years," Chandrababu remarked.
Also Read: Young domestic worker was discovered deceased in Delhi's Mayur Vihar