"Police searched our residence for 3-4 hours, didn't find anything illegal": Amritpal Singh
19 March, 2023 | Pragati Singh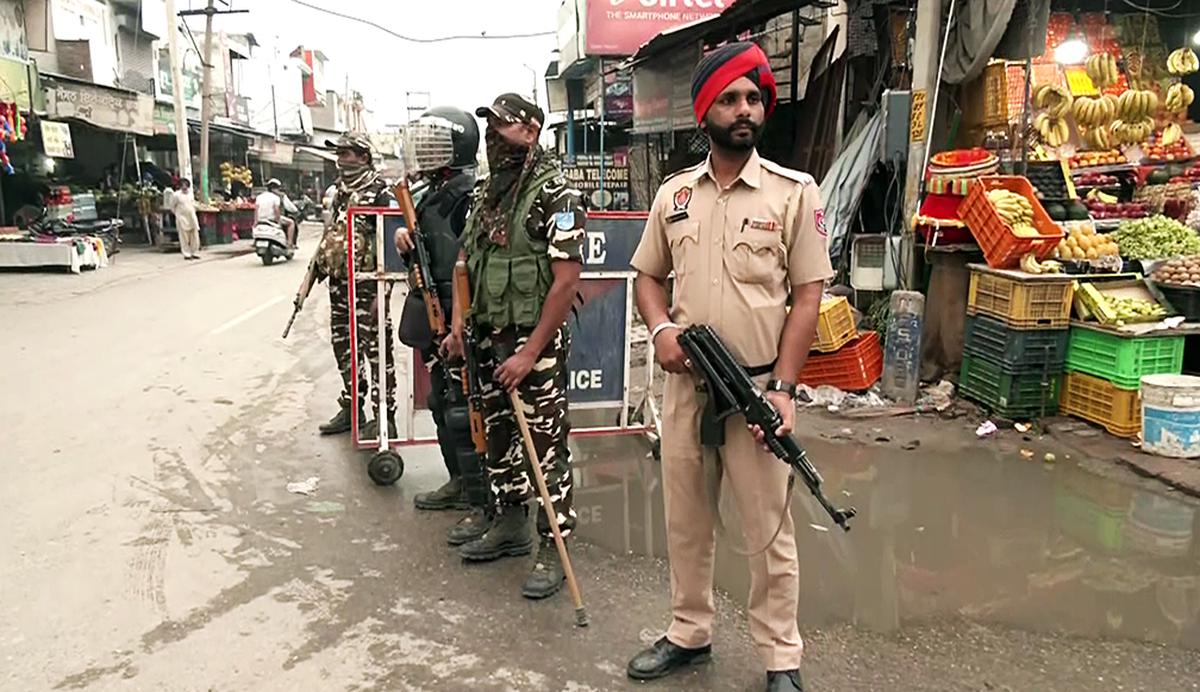 Punjab Police launched a massive state-wide Cordon And Search Operation (CASO) in the state against elements of Waris Punjab De.
The father of pro-Khalistan activist and Waris de Punjab chairman Amritpal Singh, who was proclaimed a fugitive by the Jalandhar Commissioner on Saturday late evening, said the Punjab Police searched his Amritsar home but found no "illegal" items.
Earlier on Saturday, Punjab Police initiated a manhunt for Amritpal Singh and his associates, following a clash between his supporters and uniformed officials outside Ajnala police station for the release of a member caught in an abduction case. Amritpal's father, Tarsem Singh, believes the police should have apprehended him before he left the house.
"We don't have any information about his whereabouts. They carried out a search at our residence for 3-4 hours but did not find anything illegal. Police should have arrested him before he left home," said Tarsem Singh in an exclusive interview with ANI on Saturday.
Meanwhile, Jalandhar Commissioner Kuldeep Singh Chahal verified the extremist leader's status as a "fugitive" late Saturday evening.
"Waris Punjab De' chief Amritpal Singh has been declared a fugitive. His two cars were seized and gunmen nabbed. We also checked if the firearms of his security escorts had been procured legally. A case has been registered. Punjab Police have launched a manhunt for Amritpal Singh and we are hopeful that he will be arrested soon. A total of 78 people have been arrested so far and further searches and raids are underway," Chahal said in an exclusive interview with ANI.
Earlier on Saturday, Punjab Police began a huge state-wide Cordon And Search Operation (CASO) against Waris Punjab De (WPD) militants, against whom many criminal complaints have been filed. So far, 78 people have been arrested as part of the investigation, while numerous more have been held for interrogation.
Sharing more details, the official spokesperson of Punjab Police said, "On Saturday afternoon, several activities of WPD were intercepted by the Police at the Shahkot-Malsian Road in Jalandhar district and seven persons were arrested on the spot. Several others including Amritpal Singh are on the run and a massive manhunt has been launched to nab them."
"During the statewide operation, nine weapons, including one .315 bore rifle, seven rifles of 12 bore, one revolver and 373 live cartridges of different calibres have been recovered so far," said an officer.
According to the spokesman, WPD members are implicated in four criminal cases including promoting discord among classes, attempting to kill, striking police officers, and obstructing the proper fulfilment of public employees' responsibilities.
"Case FIR No. 39 dated 24-02-2023 stands registered against WPD elements for the attack on Ajnala Police Station," he added.
He stated that all people implicated in criminal offences will be dealt with according to the law, and that anyone wanted by the police should submit to the legal process. Their fundamental rights to legal representation would be safeguarded, he emphasised. Meanwhile, the police have asked all residents not to believe bogus news or rumours.
Earlier in the day, mobile Internet services in many regions of Punjab were also banned till 12 noon on Sunday. Last month, Amritpal followers battled with uniformed officers at the Ajnala police station on the outskirts of Amritsar, demanding the release of one of Amritpal's close aides, Lovepreet Toofan.
"Situation in the state is completely stable. All persons indulging in mischievous activities for disturbing peace and harmony in the state shall be dealt with strictly," the police said.