Pooja Bedi, Gurmukh Kaur Khalsa enliven 'Ageing Blissfully' conclave
13 March, 2023 | Vaishali Sharma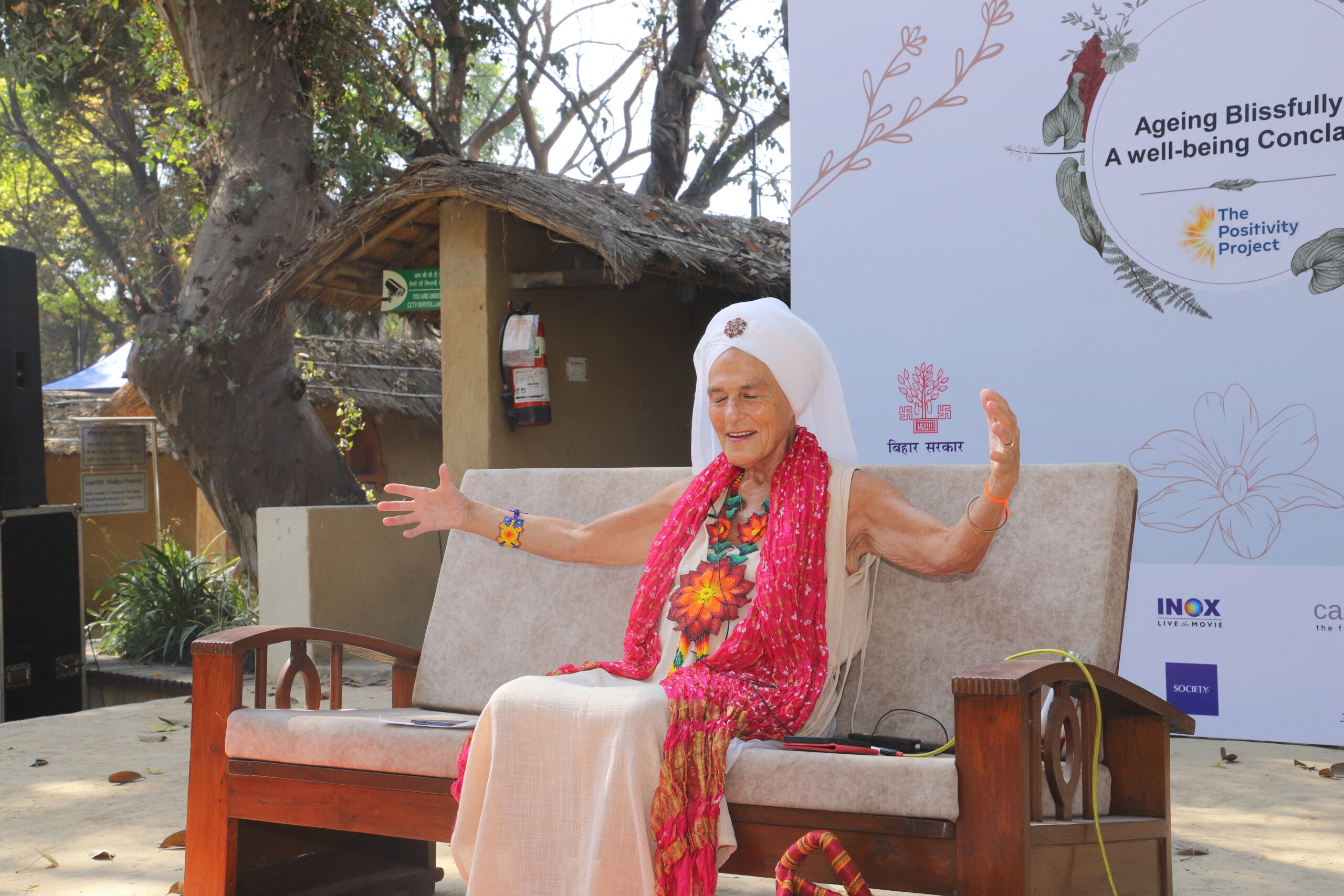 From Gurmukh Kaur Khalsa, the yoga guru to Madonna and Reese Witherspoon, Positivity Project Foundation's global well-being conclave enthrals Delhi.
The Positivity Project Foundation's two-day global well-being conclave 'Ageing Blissfully' hosted some of the most invigorating discussions and workshops by top teachers, spiritual masters and wellness masters. The audiences were enchanted by spiritual sound healing, Sufi music and Bharatnatyam performances.
Hollywood's renowned Yoga guru and Kundalini Yoga teacher Gurmukh Kaur Khalsa kickstarted the conclave with an aim to encourage people to accept, discover and embrace the joy of living and ageing to help add years to life and life to years.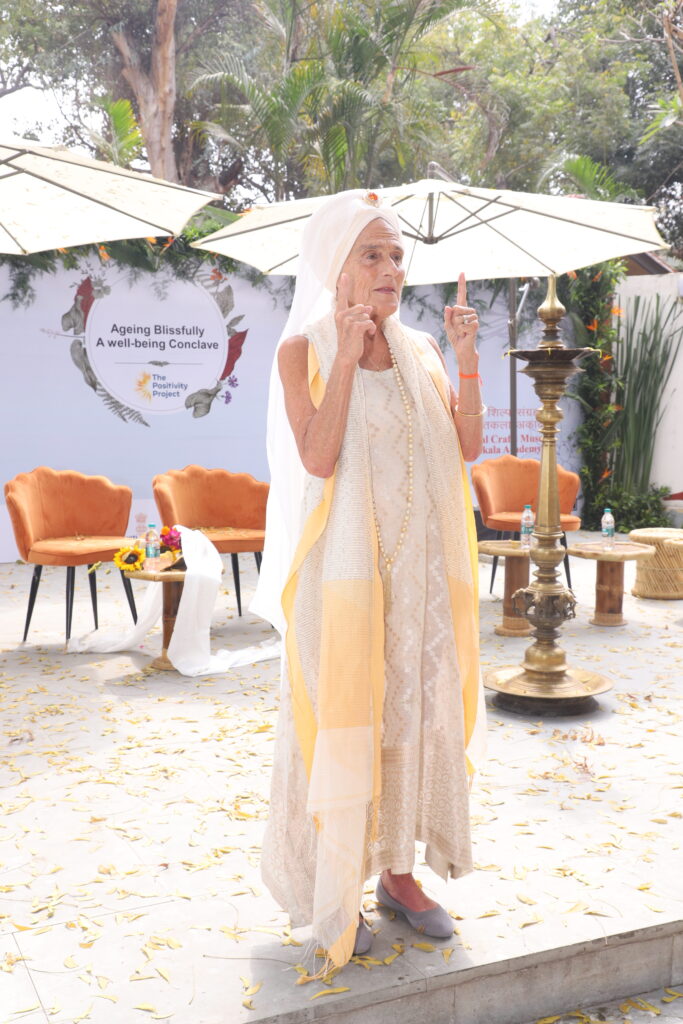 Other renowned speakers included Brahma Kumari Hussain, actor Pooja Bedi, Sadhvi Bhagwati, designer Suneet Varma, Namgyal Taklha and many more.
'Ageing Blissfully' aimed at spreading awareness by creating an alternative conversation on a subject that is feared, ignored, or simply brushed under the carpet. It emphasizes that ageing can be blissful and beautiful.
The initiative is, supported by the Ministry of Art & Culture, Government of Bihar, Mission Life (Niti Aayog) and G 20 (C 20) and offered a transformational experience like no other.
The conclave had called upon a few of the most sought-after and experienced teachers in the world to understand how to live, and age with total bliss. Much care has been taken in choosing the masters of their fields and to bring great minds together. The wellness conclave themed 'Ageing had invited few of most sought-after and experienced teachers in the world to understand how to live, age with total bliss.
The illustrious list of speakers included Gurumukh Kaur Khalsa, Hollywood's popular Yoga Guru & Kundalini Yoga teacher, Dr Geeta Prakash (one of the most sought after faces in the modelling world), Designer Suneet Verma, Kalyani Chawla, Actor Pooja Bedi, Brahma Kumari Hussain, Namgyal Lhamo Taklha ( translator and interpreter of His Holiness the Dalai Lama), Jai Madaan (one of  India's most popular lifestyle coach ) and celebrity skin healer Dr Dinyar Boxwalla & Dr Shruti Kothari. Dr Sanjay Arora and Amandeep Choudhary gave a performance on sound healing (Gongbath & hand pan recital). There was also a soulful Sufi singing rendition by Raju Mishra & Group.
Karan Shah, Director Society Tea and Pallavi Nigam Sahay, renowned chef and tea connoisseur partook in a session on tea drinking for the soul, a spiritual practice that helps bring mindfulness in our daily lives.
There were meaningful Kundalini Yoga sessions, interactive sessions with life coaches, Pooja Bedi, Author Pallavi Nigam , Karan Shah , Director Society Tea and the audience was enriched with the life experiences of the speakers.
Gurmukh Kaur Khalsa, Hollywood's own 80 years Yoga teacher addressed the inaugural session and conduct a Kundalini yoga workshop .
Sadhvi Bhagwati, a renowned spiritual teacher, the best-selling author of Hollywood to the Himalayas and UN secretary general for Water, Sanitation and Hygiene (WASH), addressed the inaugural session with Gurmukh Kaur Khalsa and spoke about how simple acceptance of this inevitable part of life bring a completeness to our lives.
Actor Pooja Bedi talked about how to 'Timepass' with joy the brief time we have on this earth.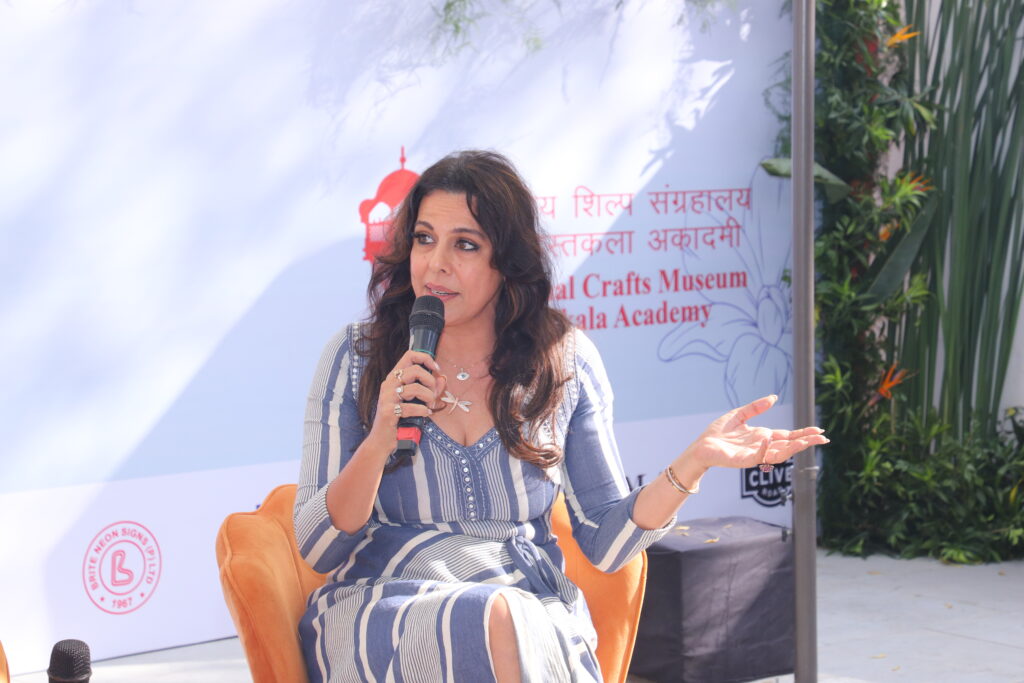 The campaign ambassador of Ageing Blissfully, Gurmukh Kaur Khalsa who has 52 years of experience in teaching Kundalini Yoga in the tradition of Yogi Bhajan. Gurumukh is also Hollywood's most popular Yoga Guru who has taught the likes of Madonna, Reese Witherspoon and Gwyneth Paltrow and is one of the strongest proponents of Indian spirituality overseas. Gurumukh said, "I am very happy to be part of this conclave as I believe strongly in the principle that ageing need not have negative implications that most of the people associate with it . Rather, it can add more beauty and grace.'
On the conclusion of the wellness conclave , Chef Pallavi Nigam said, 'Tea has always played an important role in my life and the entire process of brewing tea, preparing tea time snacks for my loved ones helps bring the needed love and camaraderie in my life. I am happy if my experience helped the participants discover how to bring awareness and add beauty to the routine activities in life.''
Karan Shah, director, Society Tea, said , "Three generations of my family have been involved in the Tea industry before me. I feel I owe to my customers to give them the best. Not only in taste , me and my dedicated team ensure that our factory adheres to the highest standards of cleanliness and utmost care is taken during each and every step right from procurement to when the product reaches our customer."
After the resounding success of the first wellness conclave on Rejuvenate in 2022, The Positivity Project staying true to its values has sought to shed light on another important subject of ageing blissfully.