Indian President Murmu Hosts Banquet for Saudi Crown Prince, Emphasizing Saudi Arabia's Vital Strategic Partnership with India
12 September, 2023 | Akshara Tyagi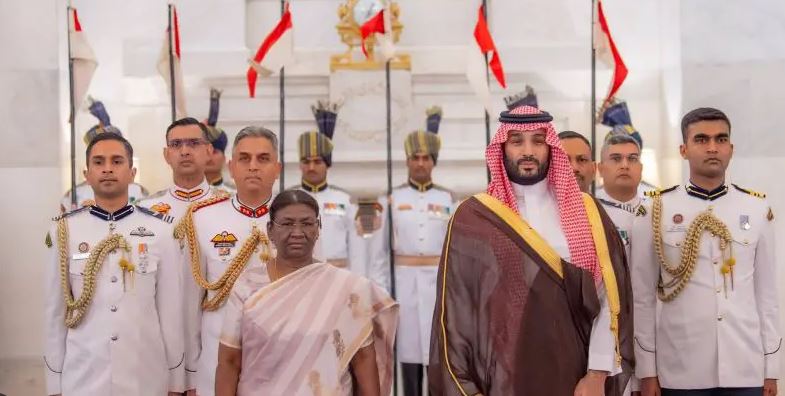 On Monday, President Murmu hosted a banquet at Rashtrapati Bhavan in honor of Saudi Arabia's Crown Prince and Prime Minister
On Monday, President Murmu hosted a banquet at Rashtrapati Bhavan in honor of Saudi Arabia's Crown Prince and Prime Minister, Mohammed bin Salman bin Abdulaziz Al Saud. The event was attended by Vice President Jagdeep Dhankhar, Prime Minister Narendra Modi, and other dignitaries.
President Murmu highlighted the cultural connections, economic cooperation, and shared commitment to global peace and sustainability that exist between the two nations. She commended Saudi Arabia for its constructive role in promoting peace and stability.
In her welcoming remarks to the Saudi Crown Prince at Rashtrapati Bhavan, President Murmu underscored Saudi Arabia's significance as one of India's most crucial strategic partners. She also acknowledged the significant strengthening of bilateral relations between the two countries in recent years.
According to Rashtrapati Bhavan's statement, "The President said that the economic component of the India-Saudi Arabia partnership has also grown in recent years. She added that there are ample opportunities for increasing Saudi investments in India across several different sectors."
President Murmu highlighted Saudi Arabia's welcoming of a substantial number of Indian expatriates, providing them with opportunities to thrive and prosper. She acknowledged the significant contributions made by Indian workers in Saudi Arabia, attributing their dedication and hard work to the country's growth and prosperity. She expressed gratitude to Saudi Arabia for taking care of them.
The banquet featured a diverse menu, including dishes like leek and celery soup, Kabuli chana kebab, Moti-e-Zamin (a dish with bell peppers, pineapple, and cottage cheese), tender cheese cottage cubes in a rich cashew gravy, spinach corn, roasted potatoes in peppery onion and tomato curry, eggplants, green chilies, black lentils, dahi bhalla, vegetable biryani, and various types of rotis.
The musical selections played during the banquet encompassed a range of music, including classical Indian raag Mayamalavagowla, a patriotic song from Maharashtra called Jayostuthe Shree Mahamangale, Odisha's folk song Rasarkeli, classical Indian raag Raag Yaman, a dedication to Saudi Arabia's Kingdom, an Arabic song Walhan, and tunes from Bollywood songs like "Awara Hoon," "Lag Ja Gale," and "Yeh Dosti."
President Murmu emphasized the deep-rooted historical ties between India and Saudi Arabia, tracing back centuries. She highlighted how the exchange of stories and knowledge between the two regions has significantly contributed to the world's art and science. President Murmu also recalled the visits of the Saudi Arabian Crown Prince to India in 2019 and Prime Minister Modi's visits to Saudi Arabia in 2016 and 2019, underscoring their pivotal roles in strengthening bilateral cooperation.
President Murmu expressed confidence that the engagements between the Saudi Arabian Crown Prince during the G20 Summit and his interactions with PM Modi at the Strategic Partnership Council have further enhanced the multifaceted partnership between the two nations.
In her remarks at the banquet, President Murmu said, "As you know, Your Royal Highness, in the modern world, our shared cultural experiences, economic synergies, and shared commitment towards a peaceful and sustainable world make us natural partners. We deeply appreciate the role of Saudi Arabia as a positive force for peace and stability."
Saudi Arabia's Crown Prince arrived in India on Saturday for a state visit, which included his participation in the G20 Summit and bilateral meetings with Prime Minister Modi. The two leaders also convened the inaugural leaders' meeting of the India-Saudi Arabia Strategic Partnership Council.
Following their bilateral meeting, Prime Minister Modi shared on 'X,' stating, "His Royal Highness Prince Mohammed bin Salman bin Abdulaziz Al Saud and I had highly productive discussions. We assessed our trade relations and are optimistic about further strengthening our economic ties in the future. There are extensive opportunities for collaboration in grid connectivity, renewable energy, food security, semiconductors, and supply chains."
In his opening remarks, PM Modi emphasized the significance of these talks in reinvigorating the relationship between India and Saudi Arabia, highlighting the importance of Saudi Arabia as one of India's key strategic partners.
He stressed that both nations, as large and rapidly growing economies, play a pivotal role in promoting peace and stability in the region. The discussions identified numerous initiatives to elevate their partnership.
PM Modi also pointed out that the economic corridor connecting India, West Asia, and Europe would stimulate economic growth and digital connectivity in these regions. He underlined the vital role of economic cooperation between India and Saudi Arabia in ensuring peace and stability throughout the region.
On Monday, Mohammed bin Salman Al Saud received a ceremonial welcome at the forecourt of Rashtrapati Bhavan in New Delhi. The Saudi Crown Prince's visit extended beyond the G20 Summit as he stayed on for his state visit, further enhancing diplomatic ties between the two nations.
Also Read: Only India can prevent Genocide in Europe in 21st Century?
Catch all the Latest Business News, Breaking News Events, and Latest News Updates on NewsX