Jaishankar's 'Namaste' reciprocates with Qin Gang's 'fist and palm' salute at SCO meet in Goa
5 May, 2023 | Anupam Shrivastav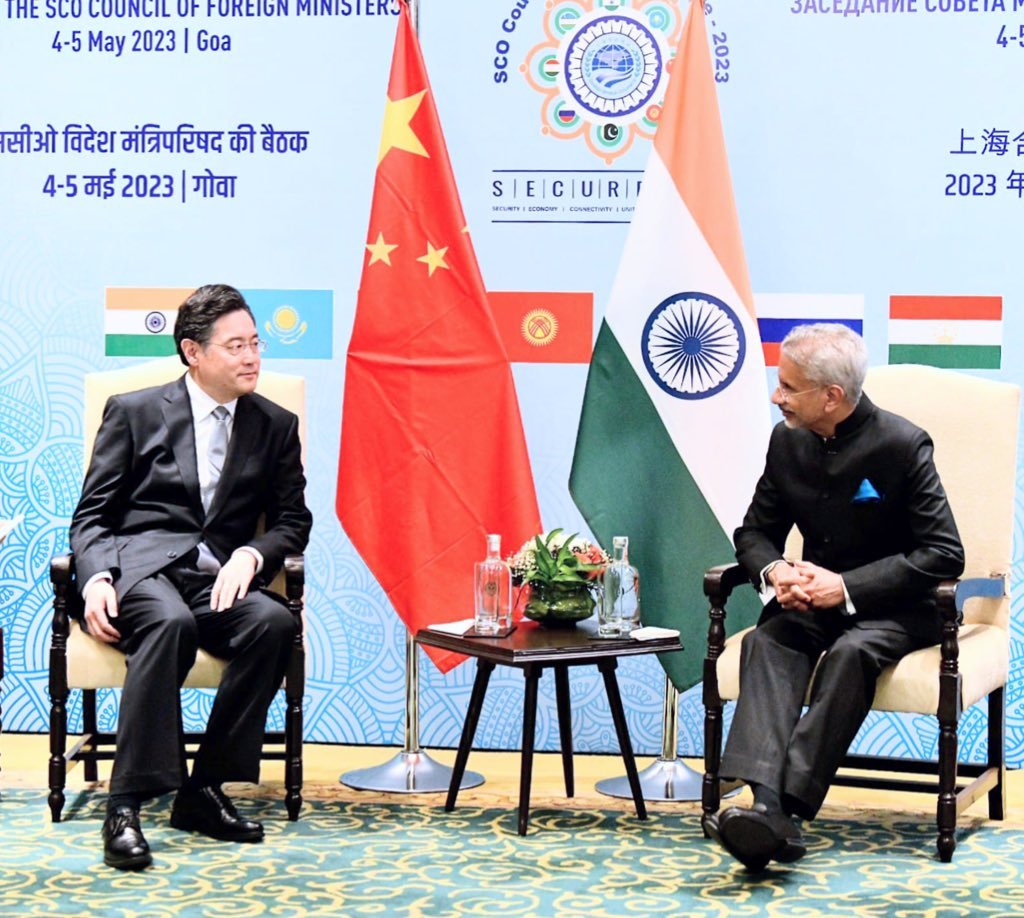 The two ministers met on the sidelines of SCO Foreign Ministers Meeting in Goa where Qing said that situation on the border is stable and the two countries should maintain peace.
Chinese Foreign Minister Qin Gang on Friday met External Affairs Minister S Jaishankar at the venue for the Shanghai Cooperation Organisation Foreign Ministers meeting in Goa. Qin Gang returned Jaishankar's traditional 'Namaste' salute with a traditional 'fist and palm' salute. Jaishankar and his Chinese counterpart met here on Thursday for bilateral discussions.
During the discussions, Qin Gang focused on "drawing experience and lessons from history", while pointing out that the current situation on the border is "generally stable" and that the two neighboring countries should maintain "sustainable peace and tranquillity" in border areas.
The Chinese foreign minister Qin Gang also pointed out that China and India, the world's two most populous developing countries, are both in the process of modernizing.
"We should draw experience and lessons from history, grasp bilateral relations from a strategic height and a long-term perspective, respect each other, learn from each other, achieve mutual success, and embark on a new path of harmonious coexistence, peaceful development, and common rejuvenation among neighboring major countries, and provide assistance for the rejuvenation of our respective nationalities," he added.
An official statement by the Chinese Ministry of Foreign Affairs, said that Qin Gang also discussed injecting stability and positive energy into global peace and prosperity.
"China is willing to work with India to carry out bilateral consultations and exchanges, enhance dialogue and cooperation under multilateral frameworks, deepen coordination and cooperation on international and regional issues, and push China-India relations back to the track of healthy and stable development," it stated.
Situation on the border is stable: Qin Gang
According to the official statement, Qin Gang also stated that the current situation on the China-India border is generally stable and that the two sides should continue to implement the important consensus reached by the two countries' leaders, consolidate existing achievements, strictly abide by relevant agreements and agreements, promote further cooling and easing of the border situation, and maintain sustainable peace and tranquillity in border areas.
In the meantime, Jaishankar outlined India's perspective on India-China ties, stating that India and China must strengthen collaboration in several areas. Through negotiations with the Chinese side, the Indian side seeks to maintain peace and stability in the border area.
Qin Gang also stated that China welcomes India's hosting of the SCO summit and expects that India, as the rotating presidency, will play an active role in ensuring that the summit is a success in the spirit of unity and cooperation. The two sides also discussed international and regional topics of mutual significance.
Among the things discussed, the two ministers held detailed discussions around SCO, G20 and BRICS, Jaishankar said. Jaishankar tweeted shortly after starting bilateral discussions with his Chinese counterpart, "A detailed discussion with State Councillor and FM Qin Gang of China on our bilateral relationship. The focus remains on resolving outstanding issues and ensuring peace and tranquillity in the border area. Also discussed SCO, G20 and BRICS."
Chinese Foreign Minister Qin Gang came to Goa on Thursday to attend a two-day meeting of foreign ministers from Shanghai Cooperation Organisation (SCO) member states, that began yesterday in the coastal state here.
It's the second time that the Chinese Foreign Minister has arrived in India this year. Earlier he came to New Delhi in March this year for the G20 Foreign Minister's meeting.