Rahul Gandhi defamation case: Surat court extends his bail till April 13, hearing on May 3
3 April, 2023 | Vaishali Sharma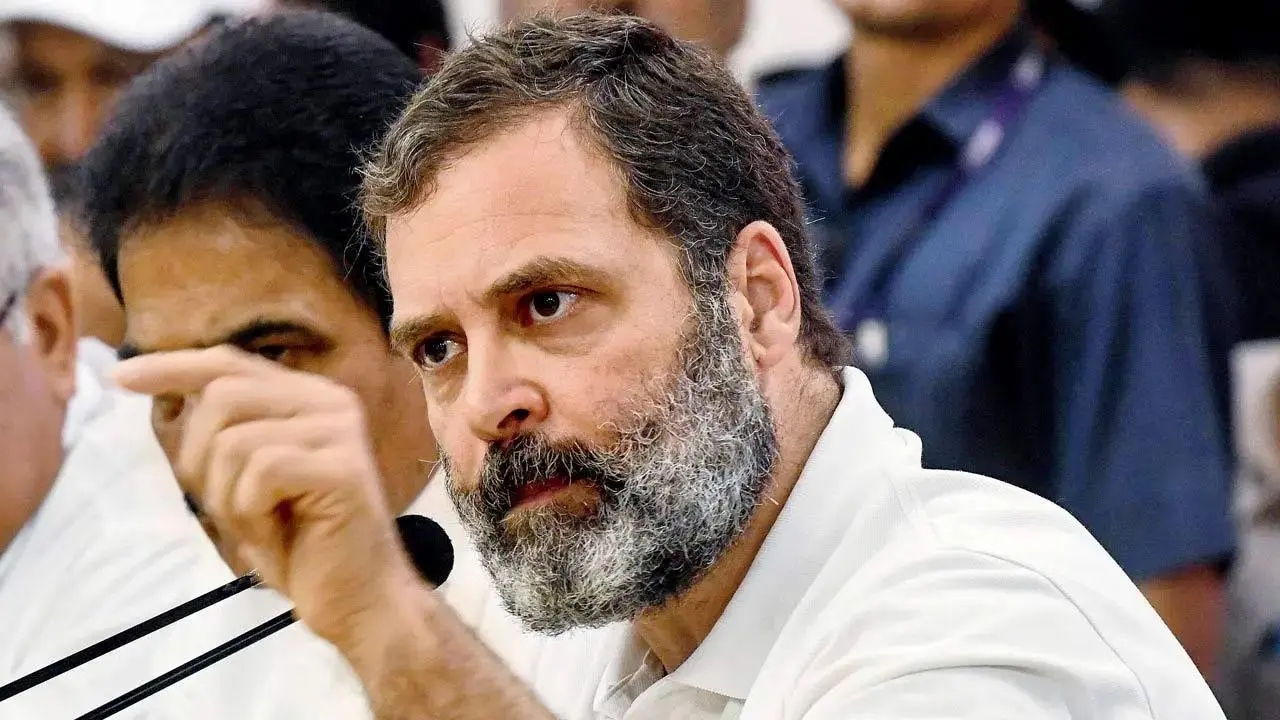 The court had already granted the Congress leader 30 days to challenge the order.
The hearing in a case contesting Congress leader Rahul Gandhi's conviction in the 2019 defamation case will be heard on May 3 at the Surat District and Sessions Court, which extended his bail till April 13 on Monday. Rahul Gandhi, the Congress leader, arrived in Surat today to submit an appeal seeking a stay on his conviction in a defamation case involving his remark about the 'Modi surname' by a Surat magistrate court.
The court had already granted the Congress leader 30 days to challenge the order. Rahul Gandhi was disqualified as a Lok Sabha MP as a result of the Surat court's decision. Priyanka Gandhi Vadra, Congress general secretary, and prominent politicians from Rajasthan, Chhattisgarh, and Himachal Pradesh travelled to Surat from their respective states to accompany Gandhi to the Gujarat court. Priyanka was photographed with Rahul Gandhi on an IndiGo flight from Delhi.
The former Wayanad MP was convicted and sentenced to two years in jail by Chief Judicial Magistrate H H Varma on March 23 in a defamation case in Karnataka over his 'Modi surname' statement in 2019.
Purnesh Modi, a Bharatiya Janata Party (BJP) MLA, and former Gujarat minister brought a defamation complaint against Gandhi for questioning, "How come all thieves have the common surname, Modi?"
The Bharatiya Janata Party chastised Rahul Gandhi for accompanying his family and party leaders to file an appeal in Surat against his conviction by a magistrate court in a criminal defamation case in 2019.
Earlier today, a BJP spokesperson lashed out at Rahul Gandhi, alleging that the Congress leader is traveling with his family and certain chief ministers "with pomp and show" to "repeat and add to the humiliation" of the OBC group.
"Rahul Gandhi, his family members, CMs Ashok Gehlot & Bhupesh Baghel are going to Surat & will be creating mayhem in the name of appealing (against the two-year sentence) verdict. What's the need for this ruckus?" Patra said.
"Rahul Gandhi, is it not true that you used a casteist remark against the OBC community? You called them a thief and abused them. You are going to Surat with your family and some chief ministers with pomp and show. Do you want to pressurise the judiciary? Appealing is a democratic right. You are going to augment the insult that you have thrown to the OBC community by going and staging this kind of protest in Surat. Are you trying to pressurise the Indian judiciary through these gimmicks of yours?" Patra said.
Rahul Gandhi was also chastised for his "arrogance," with the BJP leader claiming that he was unwilling to apologise to the lower court for his remark.
"The lower court had given him (Rahul Gandhi) the opportunity to apologize, but he denied stating that he is Rahul and will not apologize. Rahul and responsibility never go together. Why is this arrogance? The Supreme Court had pulled him up for his remarks about Narendra Modi. He wasn't ready to apologize in Supreme Court, but the court made him apologize in writing in the form of an affidavit," Patra said.
Union Law Minister Kiren Rijiju alleged that the Congress party is doing drama to "threaten the judiciary". "They (Congress) are doing a drama to threaten the judiciary. I condemn it. If a court has convicted somebody, then the drama is basically about pressuring. Congress party considers a family above the country…" told reporters outside Parliament today.
Rijiju also posted a tweet saying, "Rahul Gandhi might be going to Surat to file an appeal. It is not required of a convict to go personally to file an appeal. Generally, no convict goes personally. His going personally with a motley group of leaders and aides accompanying him is only a drama."
The Union Minister said, "What Rahul Gandhi is doing is also a childish attempt to bring pressure on the appellate court. All courts in the country are immune from such tactics."
Union Minister Anurag Thakur also hit out at the Congress. "India won't tolerate the insult of backward…Earlier, PV Narasimha Rao, P Chidambaram, and DK Shivakumar went to jail too, how many Congress people went with them? Is one family bigger than the country?" Thakur asked.
But, Congress officials have stated that they are joining Rahul Gandhi to demonstrate solidarity.
Chhattisgarh chief minister and Congress leader Bhupesh Baghel questioned the BJP's logic. "I am going with my leader (Rahul Gandhi), how can this be pressure on the judiciary? They (BJP) are creating a ruckus in West Bengal and Bihar. Till now no appeal has come from PM Modi and Amit Shah…," Baghel told reporters.
Congress president Mallikarjun Kharge said, "We will not debate the court's decision but will fight against injustice. It is not a show of strength. He is our leader. Everyone goes to stand by a leader. The family members go along when there is even a normal case. This is a party and we are fighting for the country. We will reach there. It is the decision of the whole party, he has not called us."
Himachal Chief Minister Sukhwinder Singh Sukhu, who is accompanying Rahul, dismissed the BJP's charge of "drama."
"No one can pressurize judiciary. We are going to Surat. Congress is the main opposition party and Rahul Gandhi is a big leader of our party. This is not a political drama. We stand by him…," Sukhu said.
Similarly, significant security was deployed in Surat, where Congress party workers gathered outside the District and Sessions Courts to show their support for their party's leader.
"Given the presence of Rahul Gandhi in Surat district court the Surat city police have deployed the police force wherever there is a possibility of movement. We will also be starting frisking and checking," Sagar Bagmar, DCP Zone-4 Surat told ANI.