Rajnath Singh criticises Pakistan's response to Indo-US joint statement, says "PoK will join India."
27 June, 2023 | Muskan Menghani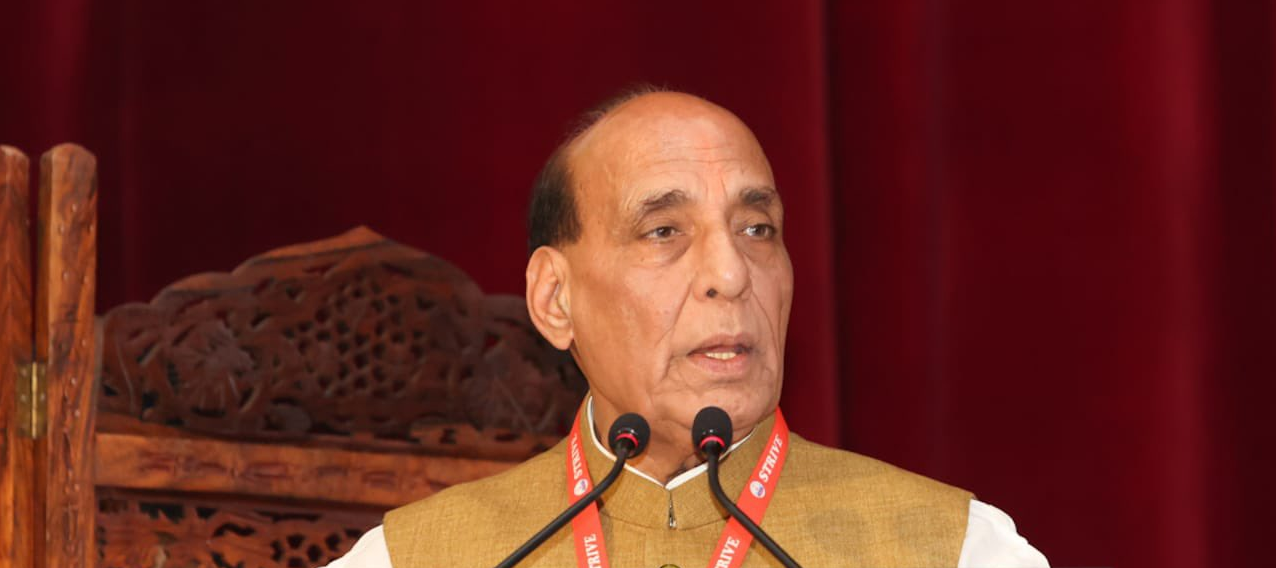 A joint statement from India and the US condemning cross-border terrorism and urging Pakistan to act was released during PM Modi's state visit to the US.
Rajnath Singh, the defence minister, said on Monday that instead of talking about Kashmir, the Pakistani government should focus on bringing the nation into order. Rajnath Singh responded to Pakistan's rebuttal of the joint statement from Prime Minister Narendra Modi and US President Joe Biden while speaking at a National Security Conclave in Jammu.
Both leaders criticised Pakistan for allowing its territory to be used as a base for terrorist attacks and terrorist training. The Pakistani government described the joint statement as "unwarranted, one-sided, and misleading," adding that it went against diplomatic protocol.
Rajnath Singh criticised Pakistan's statement on Monday, saying: "Pakistan felt belittled by the joint statement from Prime Minister Modi and US President Joe Biden. They made the same statement that they always do, claiming that India is diverting attention away from Kashmir.
They are right, and we have succeeded in shielding Kashmir from the gaze of the outside world. I want to make it clear to the Pakistani government that citing Kashmir over and over again will not benefit it in any way. "Get your home in order," or "apna ghar sambhaliye."
At the moment, Pakistan is dealing with high inflation, a dearth of foreign exchange reserves, and difficulties securing funding to prevent defaults. In addition, there have been reports of targeted attacks on minority communities, such as the recent murder of a Sikh man in Peshawar on Saturday, the second attack in the previous 48 hours. Rajnath Singh added that Pakistan does not have any legitimacy in the area as a result of its illegal occupation of a portion of Kashmir. The people of Pakistan-occupied Kashmir (PoK) will soon demand to be a part of India, the Union minister emphasised.
"What is happening in the PoK right now is being seen by you. We won't need to do a lot. The tortured people of PoK will clamour to join India on their own terms. They have been shouting slogans about joining India", according to Rajnath Singh.
He continued by saying that seizing PoK illegally does not give Pakistan diplomatic immunity in the region. India adamantly insists that PoK is a fundamental component of its territory. The Union minister cited current events in PoK, where the oppressed population has been using protests and slogans to express their desire to join India. According to the minister, the populace's aspirations will eventually result in integration with India.
A joint statement from India and the US condemning cross-border terrorism and urging Pakistan to act right away to stop its controlled territory from being used to launch terrorist attacks was released during Prime Minister Narendra Modi's three-day state visit to the US.
According to their joint statement, "The United States and India stand together to counter global terrorism and unequivocally condemn terrorism and violent extremism in all its forms and manifestations."
The statement went on to say that "they (India and the US) strongly condemned cross-border terrorism, the use of terrorist proxies, and called on Pakistan to take immediate action to ensure that no territory under its control is used to launch terrorist attacks."