Rajya Sabha adjourned for day on 5th consecutive day
17 March, 2023 | Pragati Singh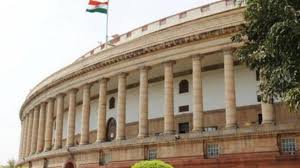 In the midst of the uproar, Rajya Sabha Chairman Jagdeep Dhankhar adjourned the House until 11 a.m.
The Rajya Sabha adjourned for the day on Friday within minutes of assembling for the fifth day in a row, as both the Treasury and Opposition benches caused a fuss over remarks made by Congress leader Rahul Gandhi in London about democracy in India and the Adani issue.
The commotion began shortly after the papers were placed on the table as the Rajya Sabha convened at 11 a.m. Members of the ruling Bharatiya Janata Party (BJP) demanded an apology from Rahul Gandhi for his remarks about democracy in India and criticism of Prime Minister Narendra Modi in London.
Meanwhile, Congress lawmakers raised issues and began speaking out against the administration, urging that a Joint Parliamentary Committee investigate the Adani Group.
In the midst of the uproar, Rajya Sabha Chairman Jagdeep Dhankhar adjourned the House until 11 a.m. on March 20. The debate over Gandhi's remarks in London has been echoing in the House since March 13–day one of the second half of the Budget Session—resulting in daily adjournments.
The Rajya Sabha was adjourned for the entire day on Monday, Tuesday, Wednesday, and Thursday as treasury benches requested an apology for Gandhi's remarks on democracy in India in London, and the Opposition objected and demanded a Joint Parliamentary Committee examination into the Adani Group.
In a veiled attack on Rahul Gandhi, Rajya Sabha Leader Piyush Goyal highlighted the issue on Tuesday, stating that "this is the first time" that a Member of Parliament used comments against India's democracy while on a vacation outside the nation, and seeking an apologies.
"He (Rahul Gandhi) should apologise…," Goyal had said.
Opposition lawmakers, on the other hand, requested a Joint Parliamentary Committee (JPC) investigation into the Adani Group on Tuesday, accusing the Centre of remaining mute on a study by a US firm alleging stock manipulation and accounting fraud by the group.
During a recent speech to British parliamentarians in London, Rahul Gandhi claimed that "working microphones of Opposition leaders in Parliament are frequently muffled." He also made claims against Prime Minister Modi, a 'assault on democracy,' and the China issue. The Congress MP in Cambridge claimed once more that the Opposition's voice was being muzzled in Parliament.