Ranchi girl sets a new Guinness World Record
9 January, 2023 | Vaishali Sharma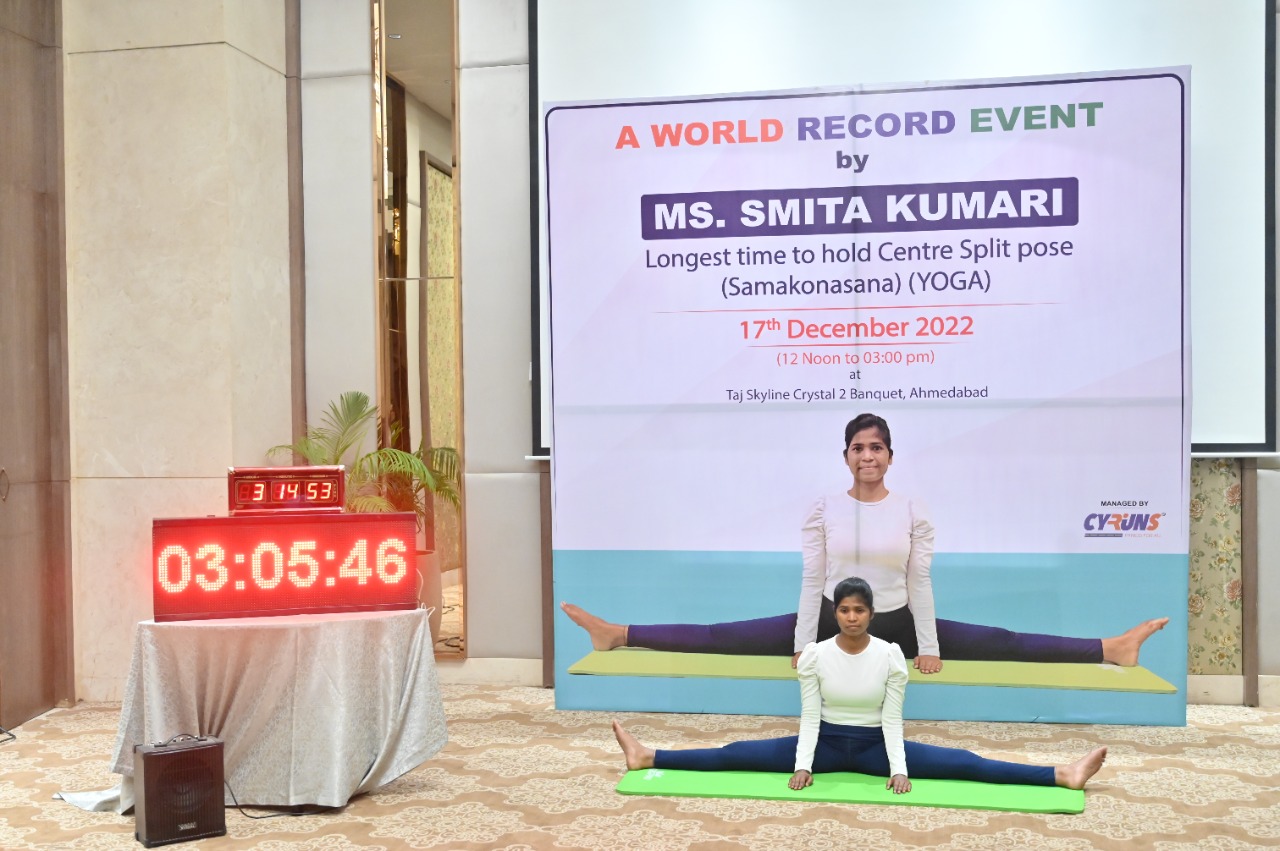 Smita Kumari has set a new world record in an exceedingly tough yoga position.
Most people cannot do a center split, much less stay in that position for more than a few minutes. The center split is considered one of the most difficult positions to learn, master and maintain. However, it is a necessary sub-routine on the path to expertise in disciplines like yoga, ballet, dance, gymnastics, and the martial arts.
An Indian yoga instructor has now set a world record in maintaining this difficult position. Ranchi-based Smita Kumari was recently acknowledged by Guinness World Records for setting a new world record for holding the center split – (Samakonasana, Yoga) – pose for a record 3 hours 10 minutes and 12 seconds. The record setting effort took place in Ahmedabad.
"Growing up, I never thought of working as a yoga instructor, let alone set a world record," says an elated Smita Kumari, who is presently an in-house yoga instructor with the healthcare department at the Adani Group.
Smita, had always aimed at joining the IES (Indian Economic Service) and was preparing for Master's in Economics when fate intervened.
"After completing my graduation in Economics from Ranchi University, I had applied for my Master's in Economics and was awaiting the results," says Smita. "With an aim of not wasting a year if I didn't get through, my elder brother suggested that I enroll for a diploma in Yoga Science, and that U-turn changed the course of my life," she shares.
With no grounding at all in yoga, the 29-year-old had to overcome several challenges to find her footing in this field. "It would dishearten me to see others holding a yoga pose for hours when I couldn't be in one asana for more than two minutes during the initial days of my training. Post finishing my classes I would stay back and practice asanas till I perfected them," says Smita.
Slowly, as she found her footing, her interest in the subject was piqued leading her to pursue Master's in Applied Yoga and Human Science from Dev Sanskriti Vishwavidyalaya, Uttarakhand where she was conferred with a gold medal.
In 2019, she joined Adani Enterprises Ltd, Ahmedabad as a professional yoga instructor. "Just like how yoga was never a planned part of my goals, moving to Ahmedabad was also the same as this move proved a life-changing experience for me. I even found a family in my colleagues," shares Kumari.
Like every major decision of Smita's life was accidental yet rewarding, aiming to set a world record was also unplanned. "Last year, while talking to a senior colleague, I decided to set a world record. As I started my research, I came across many national and international record books and decided to apply for the Guinness World Records," she says.
For Smita, holding the center split pose was challenging since her graduation days but she decided to go ahead with it as there was no one who had attempted to hold this pose for the Guinness World Records. "During the first practice session I could hold only for 16 minutes and by the 10th day of my practice session I was able to stay in the position for an hour," she says exuberantly.
Cramps and muscle soreness would often dampen her spirits. But controlling her mind and heart was her toughest enemy on this journey. "Chanting OM, Gayatri Mantra, and Hanuman Chalisa helped me stay focused even when I was internally whining in pain," she adds.
As she progressed with her research and practice, she realized that there are many aspects that needed her attention. "From registration, initial paperwork, and fee payment to the final day event prep, a lot of work was involved, which would often distract me during practice sessions, even at work. But when I informed my colleagues about my initiative, they proactively helped me in every way possible.
That's when the Adani Sportsline intervened to assist Smita. From financial to emotional, the Adani Sportsline team along with the in-house physiotherapist and dietician helped me plan out my journey meticulously, till the event day," shares Smita.
Along with her family, her team members were also cheering for her with gusto every time they saw even the slightest discomfort on her face during her D-day. "My workplace has given me my strongest cheerleaders and I will always be grateful for everything they have done to help me achieve the unthinkable."