Honoring the real Sikh Heros of India, stories of Grit and Valour
21 April, 2023 | Anupam Shrivastav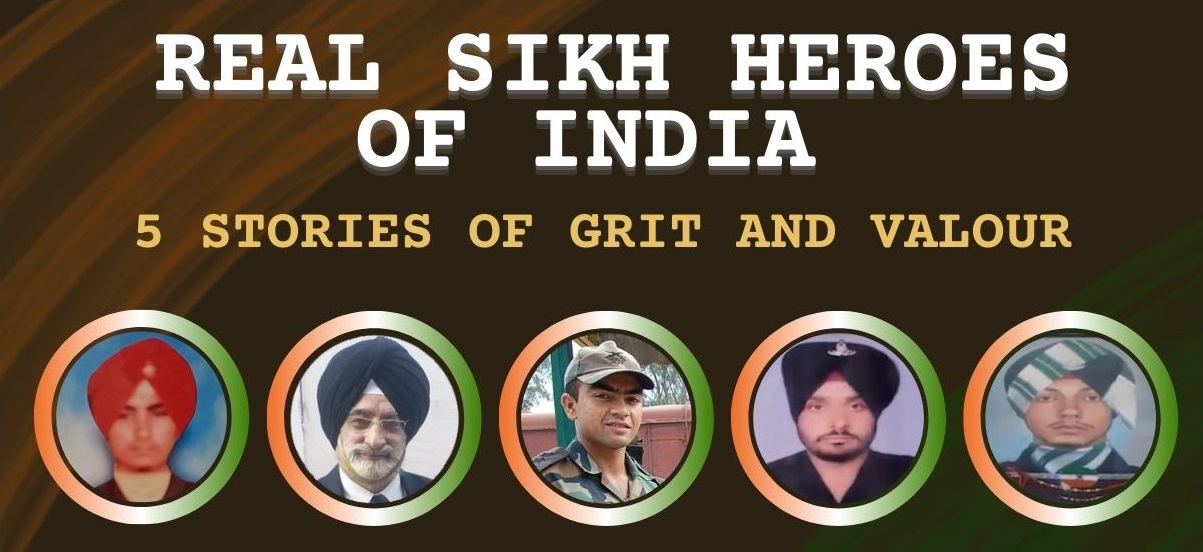 NewsX brings you some of the biggest Sikh Heros and their tales to inspire the youth of India.
Since India's Independence in 1947 there came several times when Sikh Heros of India rose up to the occasion of safeguarding integrity and sovereignty of India. Whether it is the last stand of 21 Sikh soldiers in Saragarhi in 1897 or Kuldip Singh Chandpuri holding an entire Pakistani Tank column, Sikhs have been a part and parcel of Indian valor.
According to Sikh scriptures War is a Khalsa preserver, while peace is a dissolvent. When one comprehends how this is possible, one has a better understanding of what Sikhism has accomplished for its adherents. Sikhs consider themselves as a community rather than a race. A community that is loyal and faithful to the very end. Which is the reason why we have an entire history commemorating the lore of valiant Sikh soldiers that have been passed on through the generations.
In a bid to relive this glorious past, NewsX brought together some of the biggest Sikh Heros and their tales to inspire the youth of India. Many of these present day warriors took inspiration from their ancestors who served their country well. Here are some of them narrating their experience as a soldier:
1. Sikh Hero Brigadier Harcharan Singh, Madras Regiment
Brigadier Harcharan Singh is a fourth generation army officer and a proud son of soil. According to Brig. Harcharan, his grandfather suffered war injury in 1st World War and since then it became a tradition to join Indian Army. He says his father joined Indian Army, he joined Indian Army and even his nephew has served Indian Army. Brig. Harcharan had grown up watching Ramayana, Mahabharata as well the tales of great Chhatrapati Shivaji, Maharana Pratap and Guru Gobind Singh which ultimately inspired him to join the army. A proud soldier Brigadier Harcharan Singh says he is part of the great Indian civilization and motivates Sikhs to sacrifice blood and sweat whenever the need arises. He also goes on to say how Indian Army teaches the ethos of togetherness and instills the emotions of MMG or Mandir, Masjid, Gurudwara as part of the drill.
2. Martyr Lieutenant Navdeep Singh, 15 Maratha Light Infantry
Subedar Major and honorary Captain Joginder Singh is the father of Martyr Lieutenant Navdeep Singh who was his eldest child. Subedar Joginder Singh remembers how his Son Martyr Lieutenant Navdeep Singh joined Indian Army in 2010 and later went to Officers Training Academy in Chennai. He trained there for nine months and had his passing out ceremony in March 2011. Subedar Joginder Singh further adds that he got in 15 Maratha Light Infantry and was posted in Gurez sector. Given his efficiency and good work, Navdeep's commanding officer inducted him into Ghatak platoon. Martyr Lt. Navdeep had a degree in hotel management and was a MBA pass out from Army School of Management, Kolkata. Navdeep's mother recounts how he used to tell her that he was posted in a safe area free from terrorists. Navdeep laid down his life fighting terrorists at LoC on the night of August 19 when 17 terrorists attempted an infiltration bid. Navdeep and his platoon neutralized 13 of them. Unfortunately, Navdeep took a bullet on the head trying to save one of his wounded soldier. Martyr Lt. Navdeep Singh was awarded Ashok Chakra (posthumously) and is known as the Tiger of Gurez. His actions have made him a one of the Sikh Heros.
3. Martyr Lance Naik Satnam Singh
Lance Naik Pratap Singh chokes while remembering his son Lance Naik Satnam Singh's father as he recalls his words "He used to say that he too wanted to do something for the nation and was happy to sacrifice his life if need be". Lance Naik Navdeep Singh was posted in Uri sector when their camp came under attack from terrorists killing five jawans. The platoon killed all the six terrorists in the encounter. Satnam's wife Parminder Kaur recollects his conversations with Satnam Singh "He used to speak to me daily over the phone, the area where he was deputed was risky". She adds "I had spoken to him that night. I didn't exactly what happened. All I got to know was that a terrorist attack ha taken place. The Army was able to neutralize six terrorists in Uri". According to Satnam's wife, he used to tell how much he loved his nation, and how far he can go to protect it if needed. Like a brave wife of a True Sikh Hero, Parminder says she's proud of his husband's sacrifice as she raises his young son.
4. Martyr Constable Palwinder Singh
Constable Palwinder Singh was killed in action at Poonch Sector in the year 1999 during Kargil war. When Palwinder came to know about what was happening in Kargil, he cut short his leave and reported to his battalion in Poonch on 9th May 1999. Constable Palwinder Singh laid down his life on 2nd August 1999 at the peak of the Kargil war. He was not able to speak to his family members on the day he sacrificed his life since there was no phone service available to the jawans during Kargil war. Palwinder's wife received his last letter three days prior to his death. She feels immense pride on his husband's supreme sacrifice. Today this Sikh Hero has a stadium named after him.
5. Martyr Sepoy Sukhchain Deep Singh, Punjab Regiment
Another Sikh Hero that laid down his life in Kargil war was Martyr Sepoy Sukhchain Deep Singh from Punjab Regiment. Sepoy Sukhchain Deep Singh belonged to village of Ghudani Kalan in Payal Tehsil, Punjab. Sukhchain was born on 25th February 1977 and joined Indian Army in 1994 and sacrificed his life in the war at Batalik sector. Father Sudhir Singh says his son was passionate about joining the forces as he wanted to be recruited. Due to his passion for the forces, his uncle who was a colonel in the Army assisted him in the recruitment. Sukhchain's old parents lead a simple life as government allotted them a gas agency after his death. His sister was given employment while a school was also named after him. The country is forever indebted to Sukhchain Deep Singh's sacrifice.
Read Also : Kejriwal loves power, position, corruption money": BJP spokesperson Sambit Patra
Follow US : Twitter